Sweets Victorious Over Victoria
Sweets take game 1 over the Victoria HarbourCats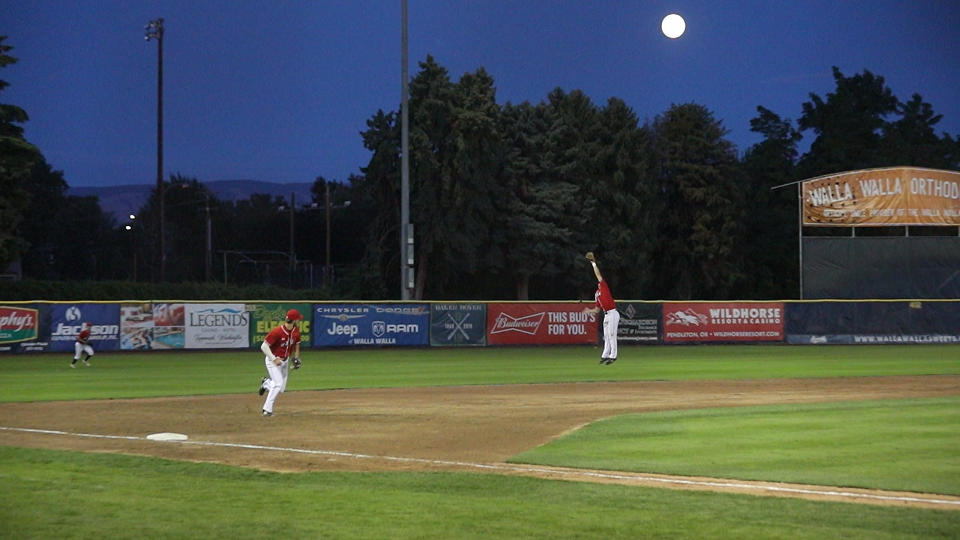 Two big swings proved to be enough for the Walla Walla Sweets Monday night in the opening game of a three-game West Coast League baseball series with the Victoria HarbourCats at historic Borleske Stadium.
Chazz Martinez belted a three-run home run and Ryan Johnston hammered a three-run double in the Sweets 6-3 victory.
Walla Walla is now 2-1 in the WCL's second half, 20-10 in all league counters, and 25-10 overall. Victoria is 5-3 and 23-11.
Sweets starting pitcher Travis Craven admittedly did not have his best stuff, but it was good enough to get him through four representative innings. He retired the first two hitters in the opening inning, then allowed the next two batters to reach base before striking out Nick Plaia to end the inning.
Johnston worked HarbourCats' starter Mitch Lines for a one-out walk in the home first. Cesar Lopez, who connected for three hits on the night, singled Johnston to second. Martinez followed with his fourth home run of the season – a 381-foot fly that cleared the left-field wall.
Kyle Harper got a run back for Victoria in the second inning when he sent Craven's first delivery over the wall in left. Harrison Spohn doubled five pitches later, and went to third on an infield out. But Craven struck out Chase Meidroth and got Parker Bramlett to ground out to short to end the frame.
The HarbourCats got their first two hitters aboard in the third. But Jason Willow, who led off with a single and went to second on a Chase Wehsener walk, was thrown out by catcher Michael Petrie in what turned out to be a futile attempt to swipe third. Tyson Hays singled and, after Plaia advanced Wehsener to third with a fly to center,  Craven exacted revenge on Harper by striking him out.
Craven faced the minimum number of hitters in the fourth. He allowed a two-out single to Meidroth, but Petrie closed out the inning by eliminating the Harbourcats' No. 9 hitter 2-to-4.
Emanuel Dean, Petrie, and Patrick Caulfield singled with one out in the last of the fourth. Johnston worked the count to 2-and-2, then cleared the bases with a two-bagger that split the left-center alley and gave the Sweets a 6-1 lead.
Andrew Mosiello made the lead stand up. He retired nine of the 11 batters he threw to in innings five through seven and fanned four.
"I threw all my pitches for strikes and pounded the zone," Mosiello said. "With the lead, you're not to worried about giving up the lead, so you can be more aggressive and try different things out."
POST GAME INTERVIEW WITH CHAZZ MARTINEZ, RYAN JOHNSTON, AND ANDREW MOSIELLO
Victoria got a two-run home run from Tyson Hays in the eighth and Plaia doubled after that. Nick Irwin entered the game out of the bullpen and recorded three outs. He allowed a line drive to Harper that shortstop Caleb Farmer leaped into the air to glove for the first out, then got Spohn and Clayton to fly out to right and left, respectively.
Reid Sebby allowed back-to-back singles to start the ninth inning before putting the hammer down. He K'd Willow, then yielded a ground ball up the middle to Wehsener that Farmer underhanded to Johnston for the force out at second. Johnston then unleashed an accurate throw to first baseman Jordan Stubbings to complete a game-ending, 6-4-3 double play.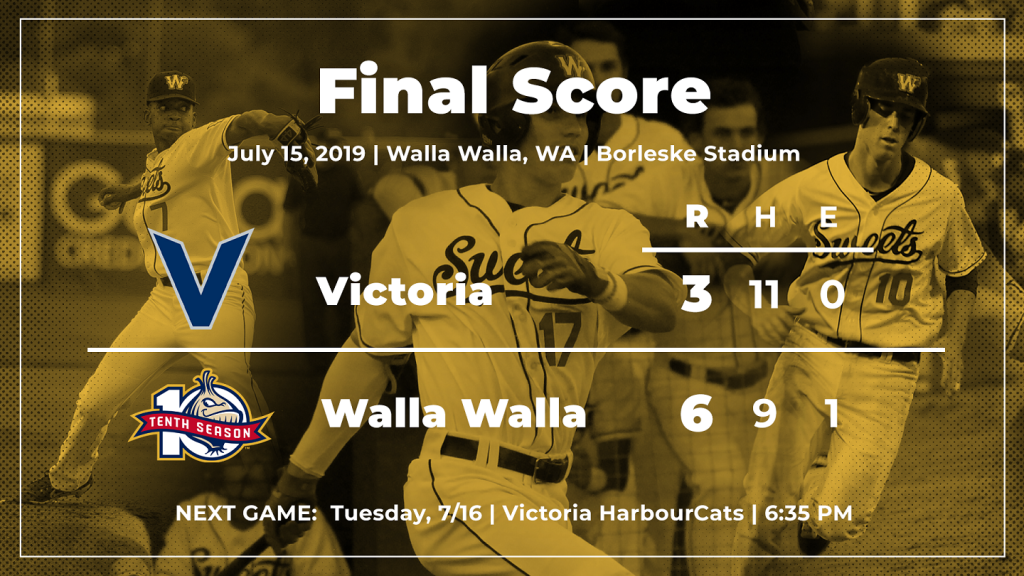 Game two of the series is Tuesday night at 6:35. The evening will include Bud Light batting practice and $1 Del Taco tacos.