Sweets avoid getting swept by the Falcons.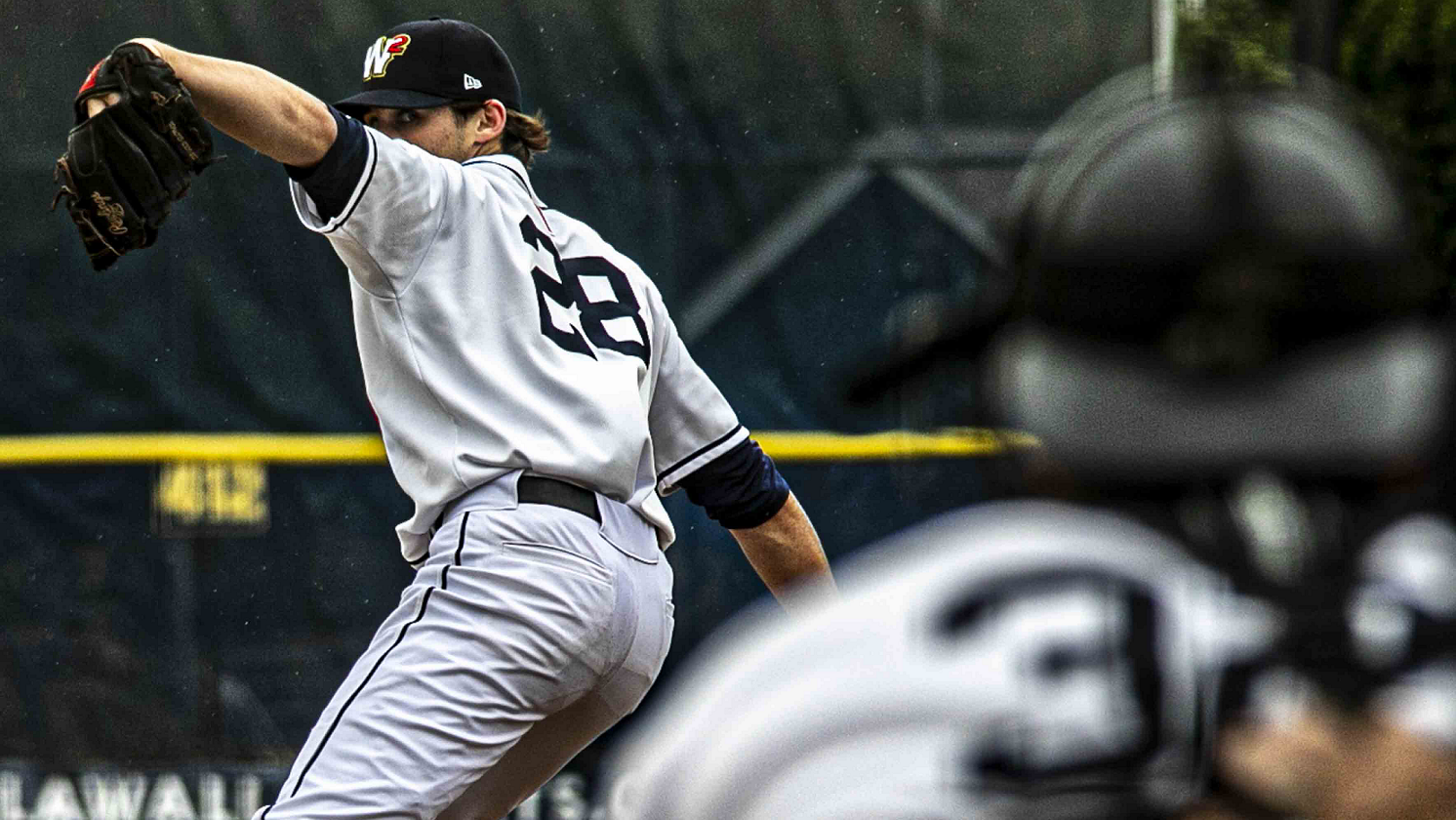 The Walla Walla Sweets salvaged the final game of a three-game weekend series with West Coast League foe Kelowna Sunday night with a 6-3 victory at Elks Stadium.
Walla Walla, which erased the bitter memory of a doubleheader loss on Saturday to the Falcons, ended the first half of WCL play 18-9 after Sunday's triumph.
The Sweets are now 2-3 in Sunday games this season. They had dropped their previous three – at Wenatchee, 11-10, on June 16; versus Port Angeles, 10-5, on June 23; and at Ridgefield, 6-3, on June 30. Their first Sunday tilt was a 16-11 win over Bend on June 9 at Borleske Stadium.
Both starting pitchers – Walla Walla right-hander Nate Dahle and Kelowna lefty Nick Nygard – recorded three-up, three-down first innings. Dahle got Austen Butler to pop out to first, Tyler Grissom to ground out to shortstop, and Cole Cummings 3-unassisted.
The Sweets scored twice in the second inning. Brock Ephan singled with one out and, with two out, Ryan Johnston, Michael Petrie, and Connor Cirillo batted back-to-back-to-back base knocks. The hits by Petrie and Cirillo drove in a run apiece.
A fielder's choice off the bat of Ezra Samperi in the home second produced Kelowna's first run of the game.
Walla Walla raised its advantage to three, 4-1, in the fourth inning. Ephan led off with a walk and went to second on a wild pitch. Johnston drew a one-out base on balls and Petrie singled to right to send Ephan home. Cirillo scored Johnston, who went to third on Petrie's hit, on a sacrifice fly to left.
POST GAME INTERVIEW WITH CIRILLO AND PETRIE
Brandon Hupe drew the Falcons within two, 4-2, with an RBI ground ball to short in the home fourth.
Justin Folz led off the Sweets fifth with his second home run of the season – a blast to left-center. He now has 14 runs batted in on the season.
Mason Kokodynski followed Dahle with three solid innings in relief. Like the Walla Walla starter, he allowed just one run. Kokodynski struck out two and walked one.
Dimick Wood followed Kokodynski with two scoreless frames. Kelowna got runners to first and third in the seventh and first second in the eighth, but Wood got Grissom to ground out to second to end the seventh, and fanned Hupe to conclude inning eight.
Cirillo started the Sweets ninth with a single and scored on a one-out double to left by Caleb Farmer that grew the Walla Walla lead to 6-2.
Bryson Spagnuolo came on in relief for the Sweets in the bottom of the ninth and gave up hits to Samperi, Johnny Carr, and Butler (RBI) to start the inning. But the right-hander outed Grissom on a hard shot to left, Cummings on a bouncer to second, and Marvcus Guarin on a swinging third strike to end the contest.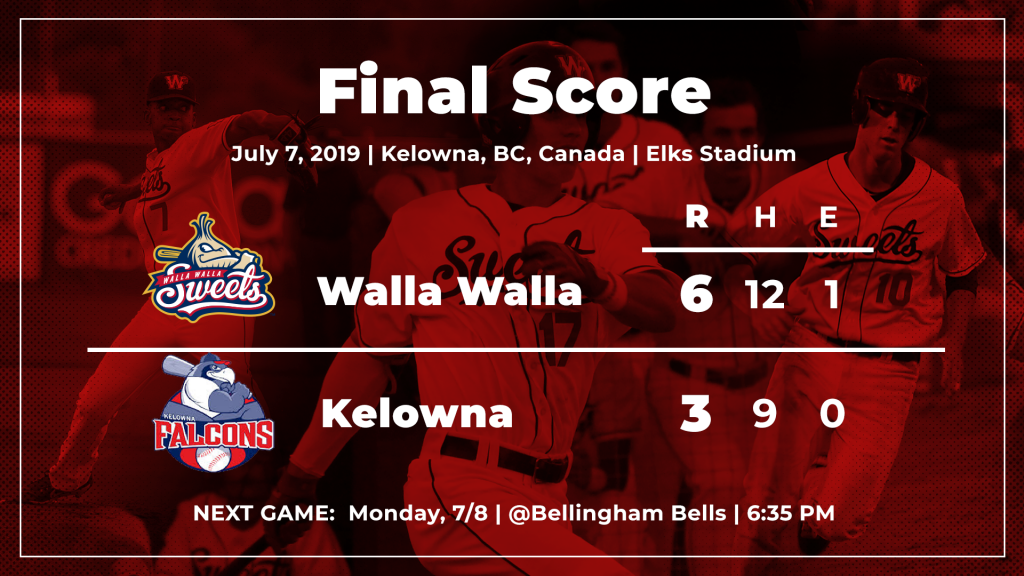 Walla Walla opens the second half of WCL action and a three-game series at Bellingham on Monday.