10 Things to Know About Sweets Baseball – April 17, 2018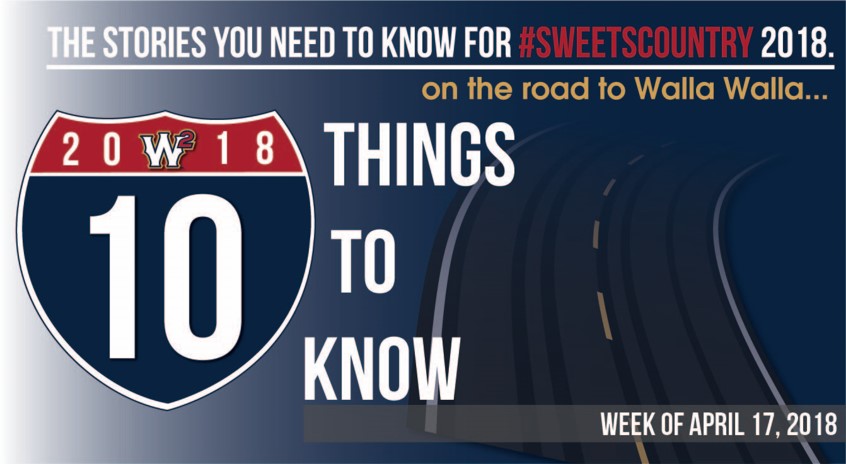 Just 52 days remaining until the Sweets home opener! Stay up to date with how our players are performing with another edition of "10 Things to Know!

1. A conference rivalry matchup saw Harvard drop two of three games against Yale this past weekend. Jake Suddleson (OF) performed well in the series for the Crimson as he went 5-for-14 with two doubles, an RBI and scored a run.

2. Several Sweets squared off as Zach Penrod (Utility) and Northwest Nazarene traveled to take on Jalen Garcia (OF), Carson Woolery (RHP) and Montana State University Billings over the weekend. Penrod went 4-for-16 in the series with three RBI and two runs scored. Garcia helped MSUB take three of the four games against NNU and went 3-for-15 with five runs, three stolen bases and four walks. During the series, Garcia set the single-season record for stolen bases at Montana State and now has 20 on the season. He also made a tremendous defensive play, throwing out the would-be go-ahead run at home plate from center field. (Highlight)

3. Matt Richardson (IF) was finally held in check in the University of Utah's series against UCLA this past weekend. The Utes were swept in three games and Richardson went 2-for-12 with one run and two RBI.
[vc_row][vc_column width="1/2″][vc_single_image image="3191″ img_size="full" alignment="center"][vc_column_text]Zach Penrod (Utility) – Northwest Nazarene University
Image from:
nnusports.com
[/vc_column_text][/vc_column][vc_column width="1/2″][vc_single_image image="3192″ img_size="full" alignment="center"][vc_column_text]Jake Suddleson (OF) – Harvard University
Image from:
gocrimson.com
[/vc_column_text][/vc_column][/vc_row]
4. UC Irvine was able to win two of three games against UC Santa Barbara in their series over the weekend. Ryan Johnston (Utility) got two pinch-hit opportunities for the Anteaters and went 1-for-1 with a walk, a run scored and an RBI. Dylan Riddle (LHP) made an appearance in the game on Saturday for UC Irvine, not allowing any runs and striking out one batter in one inning of work.

5. Santa Clara University was swept in their three-game weekend series against Pepperdine. For the Broncos, Jake MacNichols (C) appeared in all three games and went 2-for-9.

6. Another Ivy League matchup this past weekend saw Dartmouth College take to the road and win two of three games against Cornell University. Nate Ostmo (IF) played in all three games in the series for the Big Green and went 1-for-9 with an RBI and two walks.

7. A matchup where Walla Walla fans will be able to catch several future Sweets in action will be when Santa Clara University travels to Washington State University for a three-game series this weekend. Jake MacNichols (C) will suit up for SCU and be opposed by Danny Sinatro (OF) and Bryce Moyle (LHP) for WSU. The games will be played Friday through Sunday and all the information on the games can be found here.

8. It was former Sweets players who stood out in the series between Washington State and California, Berkeley over the weekend. JJ Hancock (OF) excelled for the Cougars, going 4-for-9 with one run, three RBI, four walks and delivered a walkoff RBI-single in the bottom of the 10th inning to win the game on Saturday. (Highlight) Ripken Reyes (IF) performed well for the Golden Bears, going 3-for-7 with three walks in the series. He is batting .293 on the season.

9. Few hitters have remained as hot as former Sweet and University of Richmond's Vinny Capra (IF) has to this point in the season. The Spiders may have dropped two of three games against George Washington University over the weekend, but Capra still went 4-for-11 with a double, a homerun, a run scored, five RBI and two walks. He has a scorching .349 batting average on the season.

10. The University of Arizona was able to win two of three games against USC this past weekend, thanks in part to the performance by former Sweet Jacob Blas (IF). Although he did not record a hit in the series, Blas still drew four walks, scored two runs, had an RBI and made two great plays defensively for the Wildcats. (Highlight)(Highlight)