10 Things to Know About Sweets Baseball – April 3, 2018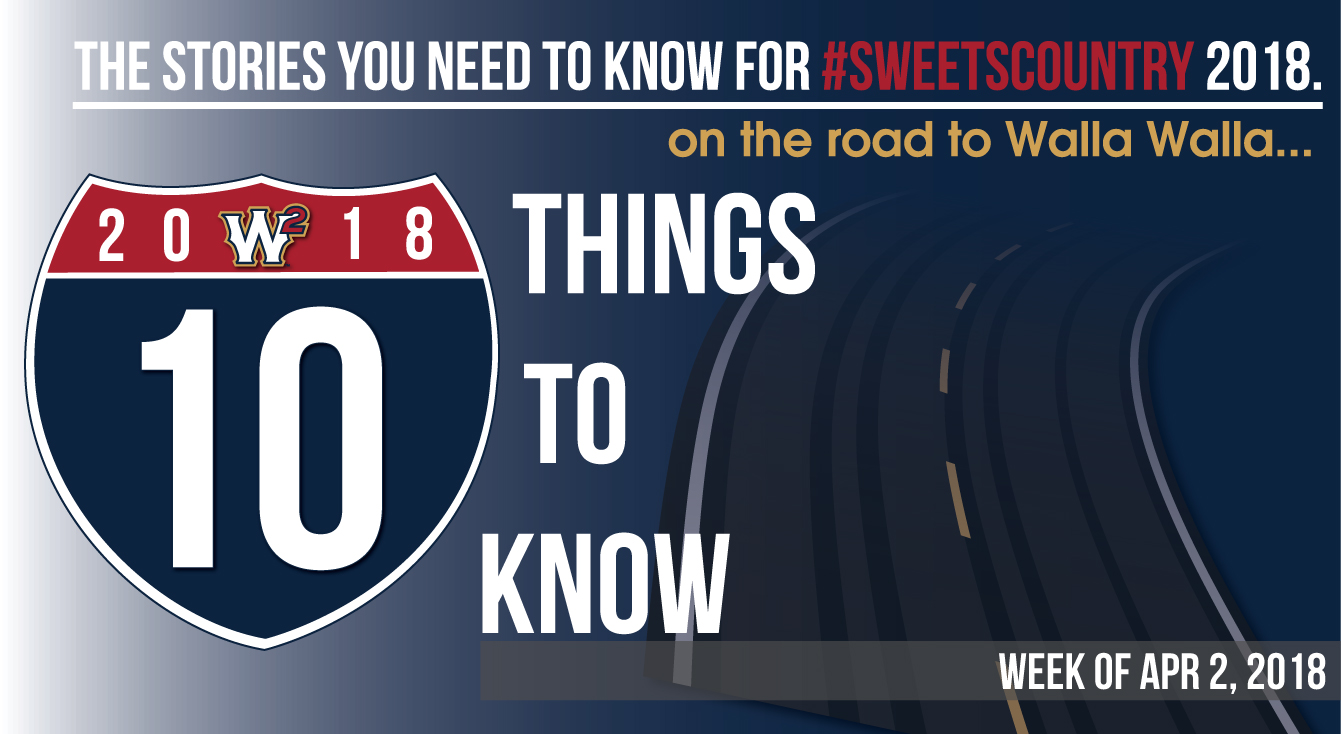 Another week of the college baseball season in the books means another edition of "10 Things to Know" to keep you up to speed with how past and present Sweets are performing!

1. Several Sweets squared off in a series that saw Montana State University Billings take three of four games against Central Washington University over the weekend. The Yellowjackets were propelled by an offensive outpouring from Jalen Garcia (OF) who played in all four games, went 9-for-19, scored nine runs, had three RBI, a double, and two homeruns. Central Washington's Mitch Lesmeister (IF) performed well in the series as he went 3-for-10 with three runs scored and two RBI in three games played.

2. Late-game heroics were the name of the game as Washington State University won two of three in the series against Arizona State this past weekend with both wins coming in walk-off fashion in extra innings. Danny Sinatro (OF) provided the heroics on Friday (3/30) as he was able to single up the middle in the bottom of the 11th inning to drive in former Sweet J.J. Hancock and give the Cougars the win. In his two starts in the series, Sinatro went 4-for-8 with a run scored, an RBI and a stolen base.

3. Harvard's Jake Suddleson (OF) had a big series in an Ivy League matchup against Columbia over the weekend. The Crimson dropped two of three games, but Suddleson went 4-for-12 with a homerun, a double, two runs scored, three RBI and made a terrific running catch deep in the alley to save extra bases.[vc_row][vc_column width="1/2″][vc_single_image image="3067″ img_size="full" alignment="center"][vc_column_text]Jalen Garcia (OF)
Image from: MSU Billings[/vc_column_text][/vc_column][vc_column width="1/2″][vc_single_image image="3068″ img_size="full" alignment="center"][vc_column_text]Danny Sinatro (OF)
Image from: WSU Twitter @Cougbaseball[/vc_column_text][/vc_column][/vc_row]
4. Zach Penrod (Utility) had another versatile performance for Northwest Nazarene University against Western Oregon this past weekend. The two schools split the four-game series and Penrod went 4-for-16 with three runs scored, an RBI and two walks. He also had a brief appearance on the mound and did not allow any runs as he struck out one batter in 0.2 innings pitched.

5. A pair of Sweets from UC Irvine appeared in the team's series against Hawaii this past weekend. Ryan Johnston (Utility) went 1-for-4 with two RBI, a walk and a run. Dylan Riddle (LHP) had two strikeouts and only allowed one hit in 2.0 innings pitched.

6. Matt Richardson (SS) stayed hot over the weekend and helped the Utah Utes win two of three games against Oregon State. In the series he went 4-for-13 with three runs scored, four RBI and now carries a .306 batting average on the season.

7. Tommy Costello (RHP) has been in a groove on the mound as of late for Yavapai College. Over his last two starts, he has 15 strikeouts and just two runs allowed over 12.2 innings pitched.

8. Former Sweet Jacob Blas (IF) had a big game yesterday for the University of Arizona against New Mexico. He went 1-for-4 with a double, three RBI, a walk and two runs scored. On the season, Blas has a solid .304 batting average.

9. There will be quite a few Sweets facing off tonight as Washington State University gets set to host Gonzaga University. Danny Sinatro and Bryce Moyle will be in action for the Cougars and Nick Nyquist will oppose them for the Bulldogs. The game will take place this evening (4/3) at Bailey-Brayton Field in Pullman, Washington with first pitch slated for 5:00 PM (PT).

10. Sweets head coach Frank Mutz and the Chaminade baseball team have gotten off to a great start to their season. They have a record of 9-2, including going 5-1 in Mission League play so far. Their last three games all came against Crespi Carmelite and Chaminade won all three games by a combined score of 35-4. The Eagles next game will be tomorrow (4/4) against Buena High School and will be the team's first game in the Righetti Spring Classic tournament.