Sweets Assistant Coach Tapped As Interim Head Coach
Longtime high school, college coach and scout Larry Price will helm Walla Walla for 2021 Season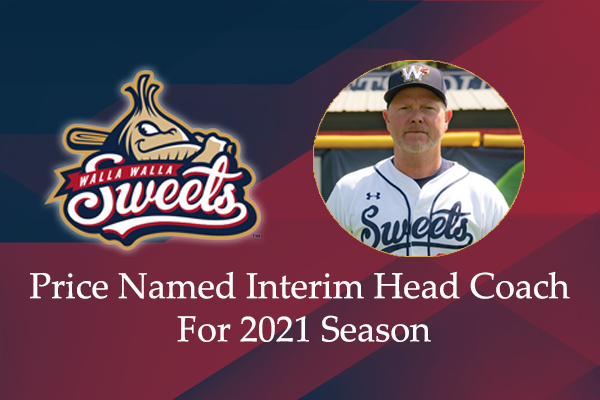 WALLA WALLA, Wash. — Larry Price, who was an assistant coach with Walla Walla in 2019, has been elevated to interim head coach of the Sweets for 2021.
Price, whose baseball history dates back decades at the high school and college levels, steps in for Jeff Cirillo, who was hired as Sweets head coach in early 2020 before COVID-19 canceled last year's West Coast League season.
A family emergency will prevent Cirillo from coaching this summer, and all parties agreed this was the best path forward, Sweets general manager Cody Miller said.
"I'm unfortunately unable to be in Walla Walla this season, but remain fully committed to the Sweets. We've recruited a great team this year and I hope to be able to share in the return of baseball to Walla Walla," said Cirillo, a former Major League All-Star. Cirillo is also a partner of Pacific Baseball Ventures, which owns the Sweets and the Yakima Valley Pippins.
"The baseball community is a family, and there isn't anything more important than family," Miller said. "While Jeff won't be in Walla Walla this year, he and his family will be in our thoughts all summer."
"Taking over as the interim manager has a ton of responsibilities," Price said. "I am eager to accept each challenge and put a winning product between the lines and in our community."
Player development is at the top of both the Sweets' and Price's list. But player expectations are equally important to Price.
"When the season is over, we want each and every player going back to their college team to be improved, and to be a huge contributor the next spring," Price said. "We also want these players giving back to our community. They are given great opportunities to play in the WCL, so it will be preached to be reciprocal and be an outstanding citizen while in Walla Walla."
Though Price has only coached one year as an assistant in the West Coast League, he's looking forward to the challenge.
"The WCL has a lot of great managers running their teams," he said. "To be able to go out and compete against them will be an honor and something I'm really excited about."
Joining Price in the dugout this summer will be Ryan Johnston, who played for the Sweets in 2016 through 2019, and Tyler Roper. Johnston currently is a graduate student at Concordia University Irvine and is pitching for the Eagles. Roper, from Boise, Idaho, was a catcher at Westmont College in 2018 and 2019, and previously played at Treasure Valley Community College.
Price, who also lives in Boise, Idaho, with his wife, Diane, is an associate scout with the Atlanta Braves, a position he's held since 2010. Prior to that, he held the same role with the Boston Red Sox from 1995-2003.
Price was an assistant coach at Northwest Nazarene University in 2018. As a high school varsity baseball coach, his teams won 12 state championships in his 26 years at Boise and Timberline high schools. As an American Legion coach, his Boise Gems team won 10 state titles. Price attended the University of Southern California, where he played for two years.
The Sweets open their 2021 campaign on June 4 with a three-game series against the Cowlitz Black Bears in Longview, Wash., followed by a three-game series in Wenatchee against the AppleSox. Walla Walla's home opener is June 11, when the Sweets will host the Port Angeles Lefties.