Sweets Host Wenatchee, Go to Cowlitz and Portland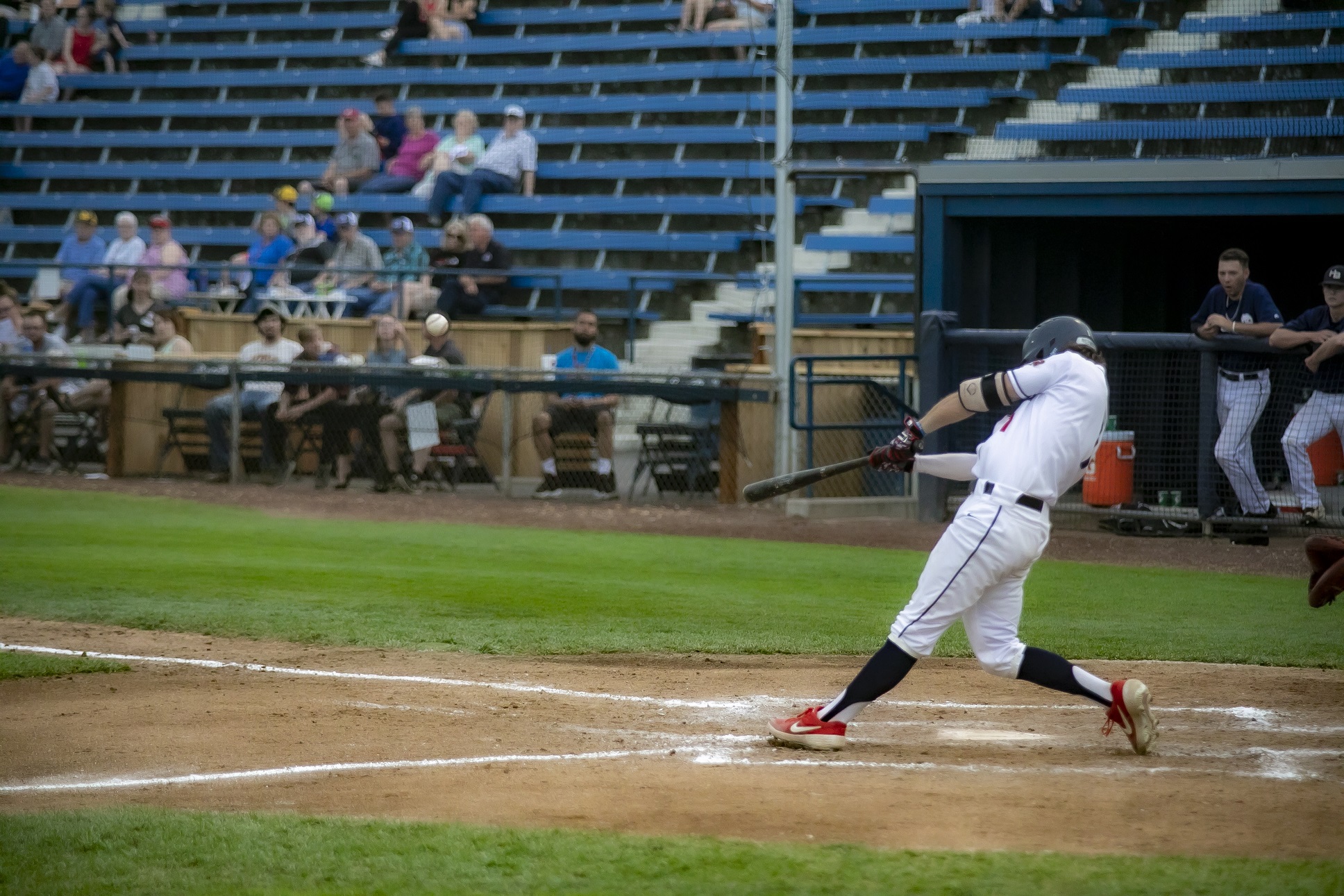 The Walla Walla Sweets (2-6 in the West Coast League's second half and 20-15 in all WCL games) resume league action Wednesday night when they open a three-game series against the Wenatchee AppleSox (8-4, 20-19) at historic Borleske Stadium. Game times are 6:35 Wednesday and Thursday, and 7:05 on Friday.
Walla Walla will then leave town for its last six-game road trip of the season – a rendezvous that will take it to Cowlitz (8-4, 18-21) July 27-29 and Portland (7-2, 16-19) July 30-Aug. 1.
The Sweets are coming off being swept on the road by three-time defending league champion Corvallis. The Knights scored single runs in both the eighth and ninth innings on Sunday for a come-from-behind, 3-2 victory. Corvallis posted impressive wins in the first two games of the set, 9-2 on Friday and 10-3 Saturday.
Walla Walla's Chazz Martinez smacked a 424-foot home run leading off the second inning on Sunday to shatter a scoreless tie and provide the Sweets with their first lead of the series. Starting pitcher Brayde Hirai threw four shutout innings, struck out three and picked off a runner as part of his afternoon in the bright, Corvallis sun. Caleb Farmer went deep with two outs in the seventh to put Walla Walla in front, 2-1.
David Le Bioda and Ryan Johnston lofted long flies to account for the Sweets scoring on Saturday. Le Bioda hit a two-run homer in the fifth and Johnston belted a solo shot in the eighth.
Cesar Lopez drove in Walla Walla's first run on Friday with a 4-6 fielder's choice in the third inning, and a seventh-inning throwing error led to the Sweets last run of the contest.
Walla Walla centerfielder Patrick Caulfield continues to rank among the WCL's top-10 hitters. The UCLA Bruin-to-be and former Santa Barbara City College star is sixth with a .341 batting average. He is second in runs scored (34) and has stolen a league-leading 26 bases. His pre-All-Star break portfolio also includes eight doubles, four home runs and 19 RBI.
Sweets pitchers Travis Craven and Ty Hueckman are in the top 10 in earned run average with marks of 1.91 (second) and 3.18 (ninth), respectively. Craven has allowed just 26 hits and seven earned runs, and has struck out 34 in 33 innings. Hueckman has given up 10 earned run and 12 walks, and fanned 25 in 28.1 frames.
Walla Walla took two out of three games from all three of its upcoming opponents during the WCL's first half. Carson Green hit a two-out, two-run home run in the ninth inning of the opening game of a Father's Day weekend series in Wenatchee. It was the difference in a 3-1 Sweets victory. Justin Folz connected for a two-RBI single in the seventh inning of game two that lifted Walla Walla to a 7-6 triumph that improved its franchise-best record start to 8-0. The Sweets led 7-0 after two-and-a-half innings of the series finale, but the AppleSox Quinn Ayers completed a massive comeback by the home team with a two-run dinger in the seventh inning of an 11-10 win.
Caulfield ripped a three-run home run in the series opener versus visiting Portland June 18 and Walla Walla withstood a bases-loaded, one-out scenario in the ninth inning for a 3-2 conquest. The Pickles scored six times in the first inning the following evening and held on for an 8-7 victory. Connor Cirillo highlighted a five-run second inning in the final game of the series with a three-run long fly and the Sweets won, 9-6.
Walla Walla took the first game of the Cowlitz series two weeks later by a resounding count of 13-4 at Borleske Stadium. The Sweets obliterated an early 2-2 tie with deuces in the third, fifth and sixth innings, and added five runs in the eighth. Walla Walla led the middle game of the set, 6-3, after two innings, but managed just three hits the rest of the way in a 7-6 loss. The Sweets celebrated the Fourth of July with a 6-4 victory. Farmer snapped a 2-2, sixth-inning tie with a two-RBI triple that commenced a four-run uprising.
The AppleSox sport the WCL's No. 4 batter. Outfielder Cole McKenzie is hitting .370. Teammate Kodie Kolden is tied for ninth with Cowlitz's Andres Sosa at .316. Wenatchee's Blake Klassen and Ryan Altenberger are batting .305 and .297, respectively. Portland's Kyle Manzardo and John Jensen have also posted respectable numbers. Manzardo, who is tied for first in the league with 12 doubles, is hitting .295 and Jensen checks in at .289.
Wenatchee has two hurlers that have cracked the top 10 in ERA. Sam Wyatt is at 2.23 and Henrik Reinersten boasts a 3.27 showing.
UPCOMING PROMOTIONS: 7/24 – In-stadium merchandise 40 percent off; 7/25 – Bud Light Batting Practice/ $1 Del Taco Tacos; 7/26 – Top 32 Sweets Moments Poster Giveaway (first 1,000 fans).
SWEET BITES
Sweets scoring by inning – 24 35 29 18 24 20 15 22 13 – 200; Opponents scoring by inning – 24 22 12 28 16 26 16 22 10 – 177* * -includes one run in 19th inning vs Victoria 7-17.
Multi-hit games: Patrick Caulfield 16; Cesar Lopez 9; Justin Folz 7; Parker Price 6; Chazz Martinez 6; Jordan Stubbings 4; Brock Ephan 3; Michael Petrie 3; Ben Fariss 3; Caleb Farmer 3; Carson Green 2; Emanuel Dean 2; Brandon Wagstaff 2; Connor Coballes 2; Ryan Johnston 1; David Le Bioda 1; Connor Cirillo 1; Tristan King 1.
Day Records: Monday: 1-1, Tuesday 5-2**, Wednesday 2-4**, Thursday 5-0**, Friday 5-1**, Saturday 5-3**, Sunday 2-4. ** – includes one non-league victory each of those days.
All-time, regular-season records vs. current WCL members: Corvallis 18-30; Wenatchee 36-31; Kelowna 29-33; Cowlitz 23-28; Bend 27-27; Bellingham 21-31; Victoria 17-15; Yakima Valley 17-16; Port Angeles 4-8; Portland 5-4; Ridgefield 2-1.
Sweets in 2019…
when leading after seven innings: 22-2; when leading after eight innings: 24-2; when trailing after seven innings: 0-9; when trailing after eight innings: 0-11; when scoring first: 13-7; when opponents score first: 12-8; when scoring two runs or less: 0-8; when scoring three runs or more: 25-7. These records include non-league games.