Six Walla Walla Sweets pitchers combined to strike out 19 batters Saturday night during a 5-2 victory over the Cascade Collegiate League at Borleske Stadium.
Walla Walla concluded the non-West Coast League portion of its 2019 schedule 5-and-0. The franchise is now 39-4 all-time against non-league opponents.
Sweets starting pitcher Chazz Martinez stranded baserunners at first and second in the initial inning of Saturday's game and struck out two. Third  baseman Justin Folz ended CCL's threat by snaring a line drive off the bat of Caleb Manuel for out No. 3.
Martinez, a left-hander, ruled in the second inning. He fanned Alex Hussey, Dawson Warner (looking), and Jamey Richardson in succession.
The Sweets produced a two-out run in the bottom of the second. Jordan Stubbings doubled and, after Emanuel Dean was hit by a pitch, scored when Connor Cirillo plopped a single into right field.
Dimick Wood took over for Martinez in the third inning and Alex Ballot greeted him rudely with a lead-off double. He then struck out Alex Schmitz on a called third, but Ballot moved up 90 feet on the play by way of a passed ball. Folz came to the rescue again when he gloved a liner struck by Chase Matheny and stepped on the third-base bag to double off Ballot.
CCL took its only lead of the game in the fourth. Zach Jones led off with a two-base hit and, after Wood struck out Henry Lenaburg, Manuel drove an 0-1 pitch over the left-field wall. Wood regained his cool and K'd Hussey and Warner to close out the inning.
Walla Walla strung three hits together to plate a pair of tallies in the home fourth. Folz and Caleb Farmer both singled, then cruised home on a Stubbings' double to right.
Fellow right-hander Charles Harrison replaced Wood in the fifth inning and got off to a rocky start – hitting Richardson and walking Ballot. But Harrison, in the end, proved to be a portrait of poise. He struck out Schmitz, Matheny, and Jones consecutively to duck any possibility of damage.
POST GAME INTERVIEW WITH CHARLES HARRISON
Patrick Caulfield led off the Walla Walla fifth with a single. He went to second on a Ryan Johnston grounder to third, and scored on a hit to center by Cesar Lopez – one of three base knocks he had in the game.
Lefty Brayde Hirai made his contribution to the Sweets K club when he ended a 1-2-3 top of the sixth by ringing up Hussey swinging.
Johnston moved from second base to the mound in the seventh. He disposed of Warner and Richardson on strikes and, one batter later, retired Schmitz on a fly to center.
The Sweets scored their final run in the seventh. Johnston walked with two out, went to second when Lopez was hit by a pitch, and crossed home plate on an error.
Johnston faced the minimum number of hitters in the eighth. He sat the first two hitters down with third strikes, and Lenaburg hit a comebacker to the hill for the inning's last out.
Reid Sebby gave up a lead-off single to Manuel in the ninth, but struck out pinch-hitter Jack Carper and got Warner to sky to right. After issuing a walk to Richardson, Sebby notched a strikeout to end the game.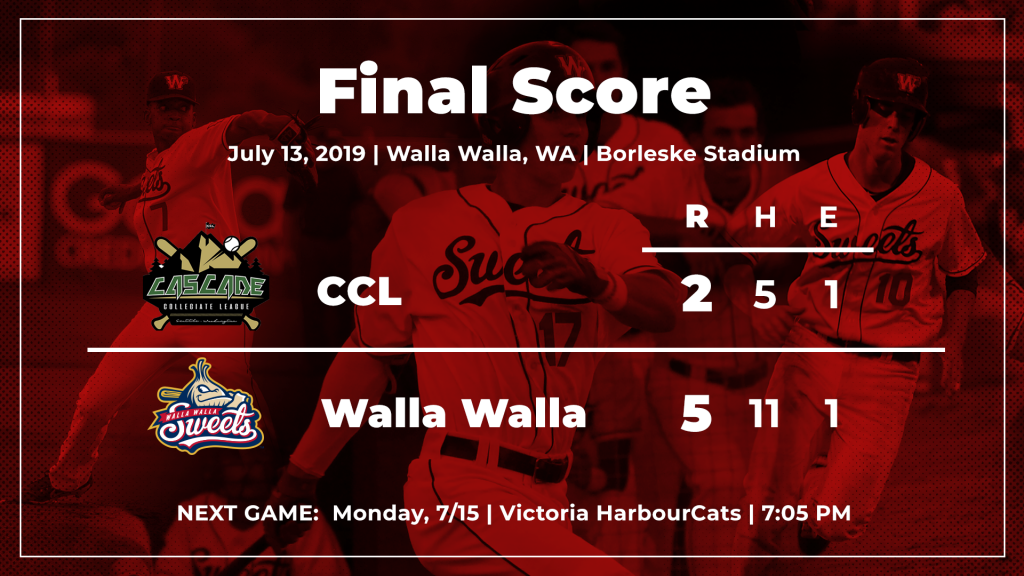 The Sweets host Victoria for a three-game series beginning Monday night at 6:35.