Pickles Relish in Win Over Sweets
Pickles early offense was too powerful for Sweets to overcome
The visiting Portland Pickles scored six times in the top half of the first inning Wednesday night and hung on for an 8-7 victory over the Walla Walla Sweets in the second game of a three-game West Coast League baseball series at historic Borleske Stadium.
Portland improved its record to 5-9 while the Sweets, who lead the WCL South Division by 1.5 games over second-place Ridgefield, slipped to 9-2.
The rubber game of the set, which will be proceeded by Bud Light Batting Practice and $1 Del Taco tacos for fans in attendance, is set for Thursday night at 6:35.
Portland collected four hits and benefited from three walks during their first-inning uprising. John Arndorfer led off with a single against Walla Walla starting pitcher Andrew Mosiello. Two outs later, John Jensen, John Burghardt, and Jonathan Kelly drew walks to force in the first run of the frame. Colton Cassinelli followed with a bloop single to center that scored three runs and gave the Pickles a 4-0 lead. Alex Shanks deposited the first delivery he saw from Mosiello over the left-field wall to complete the scoring in the inning.
The Sweets got a run back in the bottom of the first. Patrick Caulfield reached base on an error, stole second and, with two out, scored on a Jordan Stubbings' double off the base of the left-center field wall.
Portland got that run back in the top half of the second inning. Alex Lambeau connected for a one-out single and scored on a Kyle Manzardo double.
Walla Walla relief pitchers Nate Dahle and Charles Harrison combined to blank the Pickles in innings three through six and thus gave the Sweets an opportunity to scrap their way back into the game.
The Sweets scored twice in the third inning. Caulfield led off with a walk and moved to second on a botched pick-off attempt. He went to third when Carson Green reached on an error. Ben Fariss scored Caulfield with an infield single to third. On the play, Green moved to third and Fariss to second on a throwing error by Kelly. Fariss crossed the plate later in the stanza to make it a 7-3 game.
Walla Walla produced two more runs in the fifth with two out and no one on base. Fariss and Stubbings singled back-to-back. Caleb Farmer sent Fariss scurrying home and Stubbings to third with a single to right field. Stubbings later scored on a balk to bring the Sweets within two, 7-5.
Harrison experienced the lone blemish on his pitching record in the seventh when he uncorked a wild pitch that resulted in Portland's final run of the game.
Walla Walla staged a furious comeback in the bottom of the ninth. Caulfield and Green were hit by pitches from Pickles' reliever Joey Morris. With two out, Farmer brought in Caulfield with a single deep in the hole at shortstop. Emanuel Dean swatted the last of his three singles to bring in Green and send Farmer to third. Conner Thurman replaced Morris and, after allowing Dean to advance to second on defensive indifference, delivered a called third strike to Cesar Lopez to end the game.
Post-Game Interview with Emanuel Dean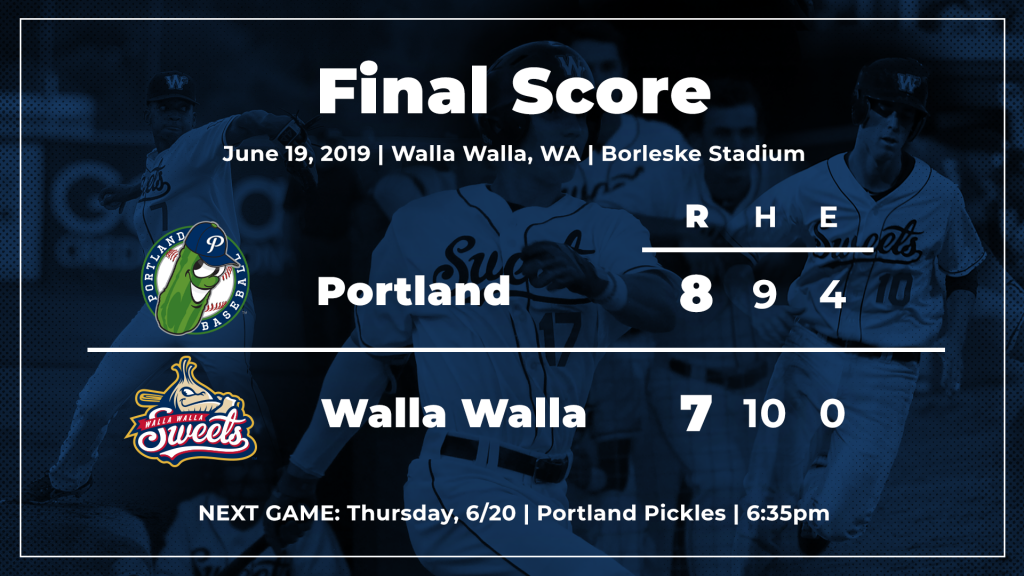 Wednesday's game was the Sweets third consecutive one-run contest. They lost at Wenatchee, 11-10, on Sunday and nipped Portland on Tuesday, 3-2.