Sweets Open Six-Game Homestand Tuesday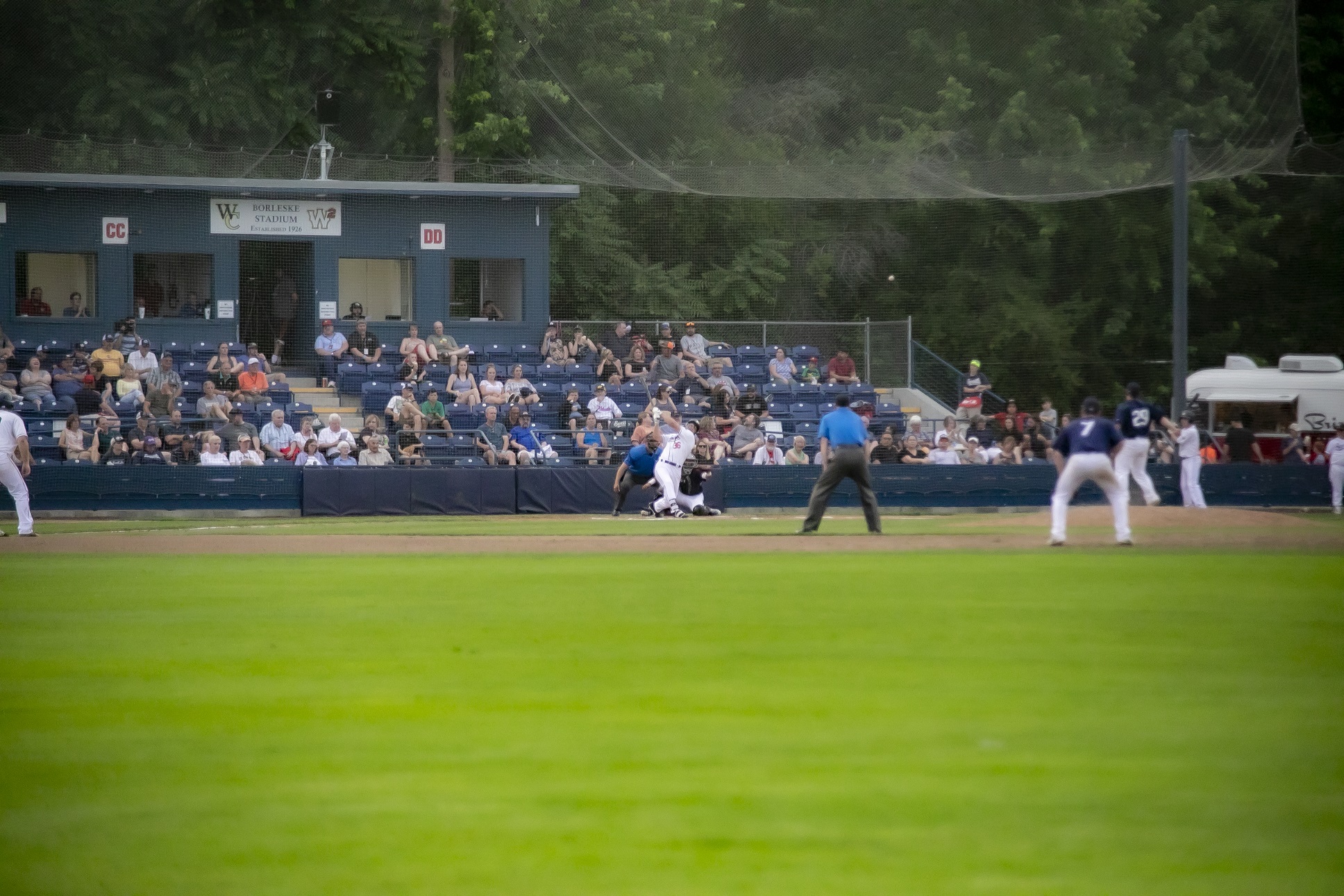 After suffering their first loss of the 2019 West Coast League season on Sunday night, the Walla Walla Sweets will look to reclaim their winning form when they open a three-game series and six-game homestand on Tuesday night against the Portland Pickles at historic Borleske Stadium.
The half-dozen game stay will also include a three-game set with the Port Angeles Lefties over the weekend.
Walla Walla held leads of 7-0 and 10-5 on Sunday night and were positioned to sweep a weekend series in Wenatchee. But the AppleSox came from behind for an 11-10 victory. Quinn Ayers belted a two-run home run in the bottom of the seventh inning to put the home team over the top. The Sweets came up short in their quest for the franchise's first 9-0 start despite a combined five hits and two runs batted in apiece from Colorado Mesa teammates Caleb Farmer and Jordan Stubbings, a pair of run-scoring doubles struck by Tristan King, two hits off the bat of WCL hitting leader Justin Folz, and a two-run knock produced by David Le Bioda.
The Sweets erased an early two-run deficit on Saturday and edged their way past Wenatchee, 7-6. Folz had a pair of two-run hits – a double in the third inning and a single in the seventh. The latter hit put the local nine up for keeps. With runners at first and second in the ninth Dimick Wood, the last of six pitchers used by skipper Frank Mutz, struck out Kodie Kolden looking for the final out.
The series most dramatic moment occurred Friday night when Walla Walla's Carson Green slugged a two-out, two-run home run in the ninth inning to break a 1-1 tie. Reliever Reid Sebby started the last of the ninth with a strikeout and, after the next two hitters reached base, posted back-to-back K's to wrap up the contest.
Folz inched by teammate Patrick Caulfield for the league lead in batting average, .484-.474. Folz is first in slugging percentage (.774), tied for first in doubles (six) and on-base percentage (.600), and second in RBI's (10). Caulfield leads the WCL in stolen bases (11) and is tied for first in hits (18).
Portland comes to town coming off being swept at home by the Bend Elks. The Pickles managed just two hits Sunday in a 3-0 setback. One hit came from Kyle Manzardo – the league's ninth-leading hitter (.385 avg.) coming into the week. Pitcher Titus Groeneweg, named the WCL Pitcher of the Week on Monday, gave up just two hits in four innings on Sunday and struck out five. He worked seven innings for the week and K'd 10.
The teams split six games in 2018. Each side took two out of three in their respective ballparks. Walla Walla bookended 5-4 and 5-3 victories around a 4-1 Portland triumph in June 22-24 meetings at Borleske Stadium. The Pickles posted resounding 10-7 and 12-0 wins around a 2-1 Sweets conquest when the teams got together in Portland July 10-12.
Port Angeles dropped two out of three games at Ridgefield over the weekend including an 8-7 verdict on Sunday. Ronnie Rust paced the Lefties offense with three hits while Trevor Rosenberg and Connor Denning, the WCL's sixth-leading hitter (.414), stroked two apiece.
A trio of Lefties, like Denning, are also hitting above .300 – C.J. Schauwecker (.333), Rust (.324), and Justin Fugitt (.303). Rosenberg (.283) and Damiano Palmegiani (.279) are off to representative starts this season as well.
Port Angeles leads the all-time series 7-2 which includes a 5-1 showing in 2017. The Sweets took the opener of a three-game, July 27-29 series on the Lefties' home turf, 11-6, before Port Angeles notched 3-2 and 7-4 wins.
Game times for the Portland series are 6:35 each night. Probable Sweets starters against the Pickles are Travis Craven (0-0, 0.00 ERA) on Tuesday, Andrew Mosiello (0-0, 0.00 ERA) on Wednesday, and Brayde Hirai (0-0, 1.68 ERA) on Thursday.
Games versus Port Angeles are 7:05 both Friday and Saturday, and 6:05 Sunday.
A quartet of promotions will be featured during the upcoming homestand. Fans purchasing merchandise at Borleske Stadium on Wednesday will receive a 40 percent discount; Bud Light Batting Practice, including $1 Del Taco tacos, is scheduled Thursday; Bread Night, presented by Sara Lee Bread, is set for Saturday – with free bread going to the last 750 fans to exit the park; and Kids Day – presented by Sweets Basil – takes place on Sunday. Kids 12 years of age and under will be admitted into the stadium free of charge.