10 Things to Know About Sweets Baseball – March 20, 2018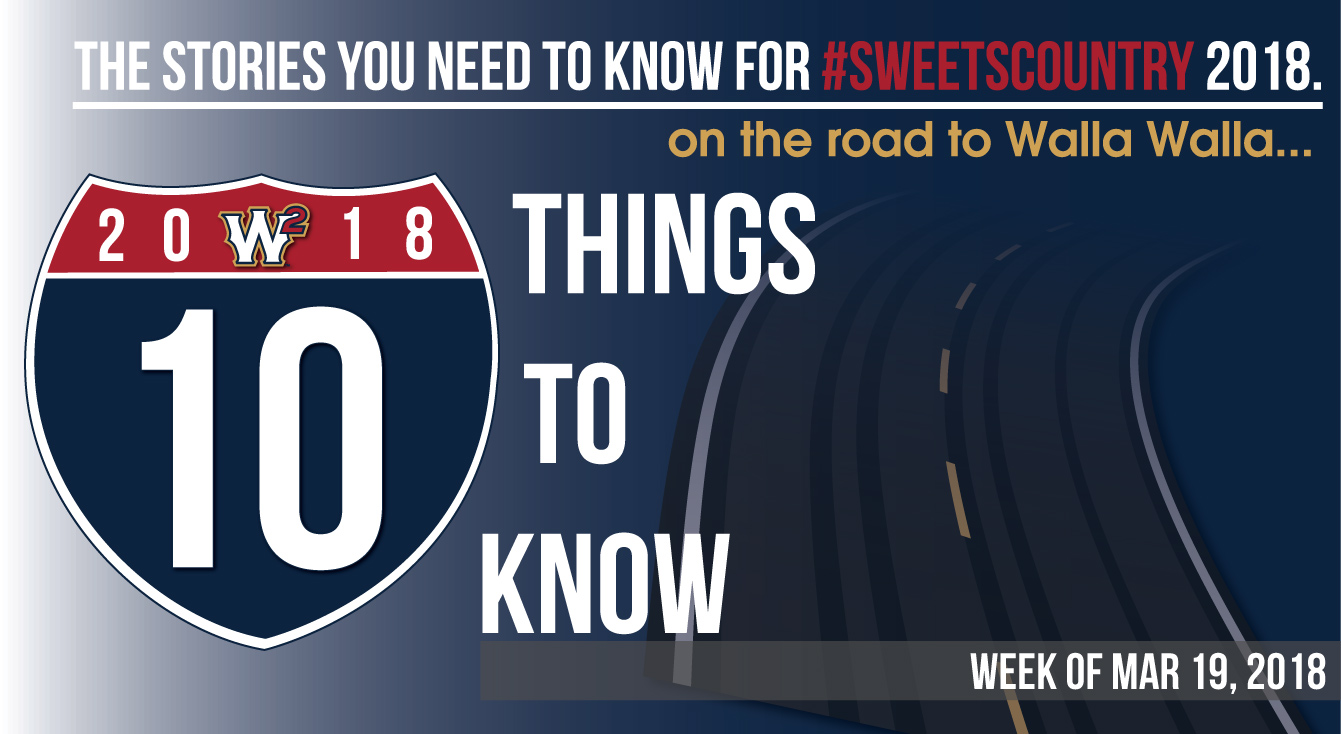 We're back! "10 Things to Know" is ready for the 2018 season. With 79 days until Opening Day, we strongly suggest you read along so that you are fully prepared for Opening Day in #SweetsCountry!

1. Pacing the Gonzaga offense as of late, two-time WCL All-Star Nick Nyquist (IF) put together a great series against Pepperdine this past weekend, driving in four RBI and scoring three runs. In eight starts this season and 10 appearances overall, he has a .320 batting average, two doubles and a homerun.

2. In just his first collegiate season with Central Washington University, Mitchell Lesmeister (IF) is already proving that he belongs. Just over a month into the season, the talented Walla Walla native has compiled a .344 batting average and a .901 OPS in 16 starts.

3. Jalen Garcia (OF) of Montana State University Billings has gotten off to the kind of start to his season that most players can only dream of. He has started all 18 games for the Yellowjackets and has accrued a .418 batting average, a 1.157 OPS, three homeruns, three triples, nine doubles and 26 RBI. In the series against Saint Martin's this past weekend, Garcia helped his team take three of the four games and racked up 11 hits, seven RBI, and was just named the GNAC Player of the Week.[vc_row][vc_column width="1/2″][vc_single_image image="2977″ img_size="full" alignment="center"][vc_column_text]Mitchell Lesmeister (IF)
Image from: wildcatsports.com[/vc_column_text][/vc_column][vc_column width="1/2″][vc_single_image image="2976″ img_size="full" alignment="center"][vc_column_text]Jalen Garcia (OF)
Image from: msubsports.com[/vc_column_text][/vc_column][/vc_row]4. Zach Penrod (OF/LHP) has been doing it all so far for Northwest Nazarene University. On the mound for the Nighthawks, he has a 2.08 ERA in 13 innings pitched and a .333 batting average with four homeruns and 17 RBI. NNU split a four-game series with Concordia this past weekend, but Penrod still showed out with five hits, seven RBI, a triple and a homerun.

5. Bryce Moyle (LHP) has had a strong start to his freshman campaign with the Washington State University Cougars. In four appearances out of the bullpen, he has four punchouts and a 2.08 ERA.

6. One of two UC Irvine Anteaters set to join the Sweets this summer, Dylan Riddle (LHP) is unblemished on the mound to start the season. In four appearances out of the bullpen, he's kept hitters to a .143 batting average and is yet to give up a run.

7. The Utah Utes may have found their staple at shortstop for the next few years. Matt Richardson (SS) has been on a tear to begin his freshman season, compiling a .350 batting average over 12 starts.

8. Several 2018 Sweets players will be in action this evening (3/20) as USC's Trevor Halsema (OF) and Tyler Pritchard (IF) will take the field against UC Irvine's Dylan Riddle (LHP) and Ryan Johnston (OF) at Cicerone Field at Anteater Ballpark with first pitch slated for 6:30 PM.

9. Washington State had a tough weekend series getting swept by #17 UCLA. 2018 Sweet Danny Sinatro (OF) appeared in the final game of the series and went 0-3 with a walk, and former Sweet J.J. Hancock (OF) played in all three games and went 3-11 with 3 runs, a walk, and an RBI.

10. Former Sweets fireballer, Darius Vines (RHP) has been keeping up the form that had him ranked as the #10 JUCO prospect by Baseball America for 2018. So far this season with Yavapai College, he has a 3-2 record with a 2.72 ERA and 38 strikeouts over 36.1 innings pitched.