Sweets Score 7 Runs in The Ninth Taking Down Yakima Valley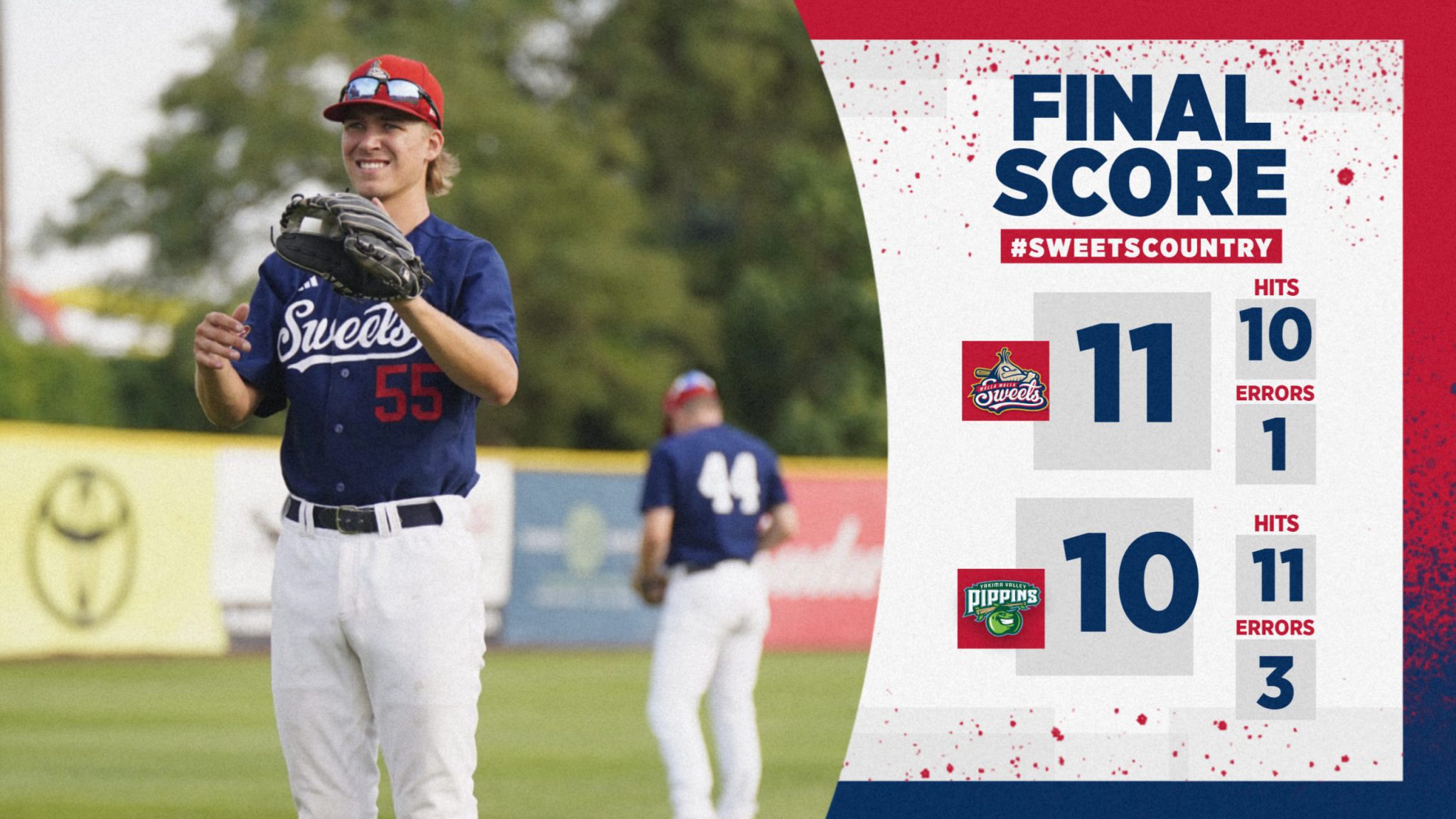 YAKIMA, WA- The Walla Walla Sweets took the series finale with the Yakima Valley Pippins as the Sweets rallied for seven runs in the ninth inning winning game three 11-10. With the win, the Sweets move to 17-31 and 7-14 in the second half. 
Walla Walla trailed through nearly the entirety of the ball game as the Pippins struck first as Jace Phelan drove in the game's first run in the first inning, giving the Pippins a 1-0 lead after one. Yakima followed up the strong first inning with an even better bottom of the second going up 4-0 after the first two frames. 
Walla Walla did find an answer however at the top of the third. Cayden Wotipka helped score Andrew Graham thanks to a fielding error from Yakima shortstop Josh Hankins. Following the run being scored, Aidan Espinoza cut the lead to only one as he soared a two-run homer to right making it a 4-3 ball game midway through the third. 
However, the Pippins offense came alive again adding three runs in the bottom of the third and fourth innings.
Walla Walla went scoreless until the top of the ninth where the Sweets showed a pulse starting with a Pu'ukani De Sa RBI double to get the Sweets back on the board. Mason Millar backed it up with an RBI ground out to make it a 10-6 game in the ninth but put two outs on the board. The Sweets needed to rally and did just that as Vicente Feliciano drove in a pair of runs to cut the lead to one. Feliciano came in to score moments later as Cayden Wotipka was walked with the bases loaded and the Sweets and Pippins were suddenly tied in the final frame.
With the bases still loaded Aidan Espinoza got it done again driving in Kennedy Hara on a base hit up the middle, to give the Sweets an 11-10 lead in the ninth which the Sweets held onto taking the final game of the Battle of the Basin.
Sweets by the Numbers
Vicente Feliciano has hits in six of seven 

Aidan Espinoza continued his hit streak moving it to eight straight with a hit.

Espinoza hit his first Sweets homerun

Landon Webb got the win going 5 scoreless innings in relief 
 Up Next
The Sweets travel to Ridgefield to square off with the Raptors on 8/2/23 at 6:35 PM