Sweets 2023 Summer Schedule Announced
Walla Walla Begins Season North of the Border, Open at Home June 9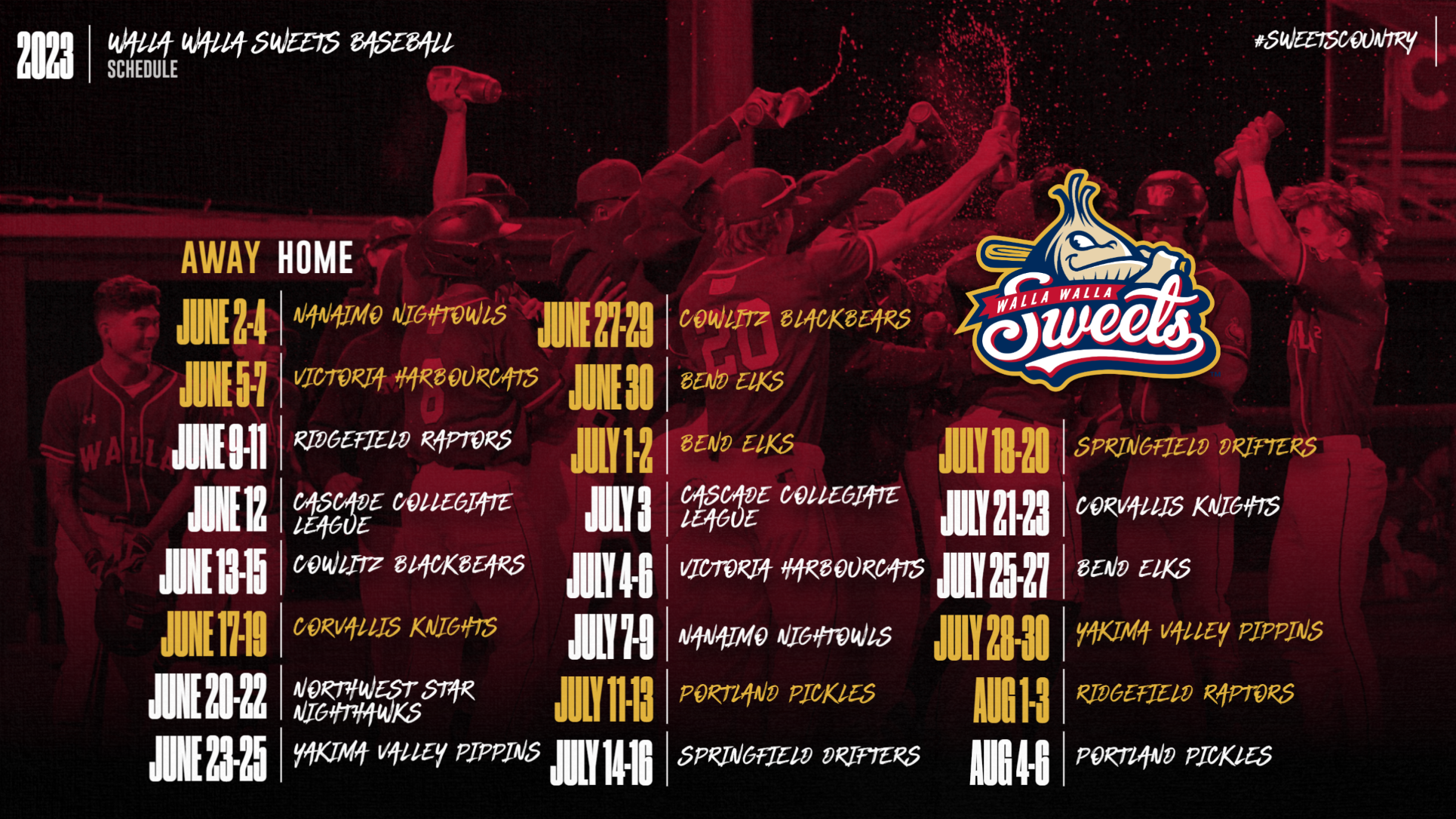 WALLA WALLA, Wash. —  The 13th season of Sweets baseball will start Friday, June 2 in British Columbia, Canada.
This morning, the West Coast League announced the full schedule for the 2023 summer season.  The league returns all 16 teams from the 2022 summer season, with eight teams separated into the north division, and eight in the south division.  The Sweets will be in the south division again this season, along with the Bend Elks, Corvallis Knights, Cowlitz Black Bears, Portland Pickles, Ridgefield Raptors, Springfield Drifters and Yakima Valley Pippins.
The Sweets begin the season with a road trip north of the border, where they will face the Nanaimo NightOwls and Victoria Harbourcats for the first six games.  Walla Walla then returns home for seven home games in a row, with their home opener on Friday, June 9 against Ridgefield.
The Sweets will have 32 home games in the 2023 regular season, consisting of 27 league games and five non-league games.  The Sweets will play 13 home games in June, 16 in July, and three in August.  The season finale is scheduled for Sunday, August 6 against Portland.
A full promotional schedule with finalized game times will be released at a later date.  Season tickets, mini plans, and group packages are currently on sale at the Sweets downtown office, or by calling 509-522-2255.
A printable schedule is available here.  Game times are subject to change.
—–
A full list of the 2023 Schedule
(Home Games in BOLD)
June 2-4: Nanaimo NightOwls
June 5-7: Victoria Harbourcats
June 9-11: Ridgefield Raptors
June 12: Cascade Collegiate League
June 13-15: Cowlitz Black Bears
June 17-19: Corvallis Knights
June 20-22: Northwest Star Nighthawks
June 23-25: Yakima Valley Pippins
June 27-29: Cowlitz Black Bears
June 30, July 1-2: Bend Elks
July 3: Cascade Collegiate League
July 4-6: Victoria Harbourcats
July 7-9: Nanaimo NightOwls
July 11-13: Portland Pickles
July 14-16: Springfield Drifters
July 18-20: Springfield Drifters
July 21-23: Corvallis Knights
July 25-27: Bend Elks
July 28-30: Yakima Valley Pippins
August 1-3: Ridgefield Raptors
August 4-6: Portland Pickles