Sweets Announce Final Additions Before Opening Day
Sweets Bring in a Huge Haul For the Upcoming 2022 Campaign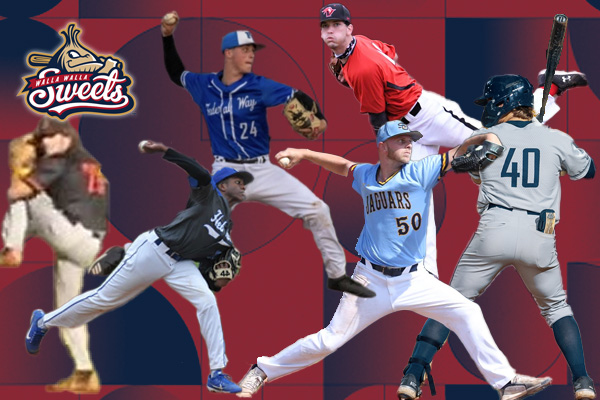 WALLA WALLA, Wash- With the start of the 2022 WCL Regular Season almost a week away the Sweets announce seven new additions to the roster. Cameron Scudder, Tyler Hoeft, Albert Roblez, Michael "Thomas" Rollauer, Anthony Fidanza, and Nick Wilson will be joining Sweets Country this summer. Five of the six newcomers are pitchers bringing an added boost to a smaller bullpen.
Cameron Scudder is a 6'4 southpaw from Utah Valley. The big left-hander joins the Wolverines by way of Yuma, AZ, and Glen Ridge HS. In his lone season at UVU, he posted a 9.00 ERA in 10 innings pitched. Scudder ended his first season with the Wolverines with a 3-inning shutout performance at Pacific.
Tyler Hoeft is a sophomore right-hander for Washington St and gets set for his first season in the Red and Blue. Hoeft has become a big part of the Bullpen for WSU and looks to bring that to the Sweets this summer. Hoeft pitched almost 25 innings and posted a 5.11 ERA in his sophomore campaign with the Cougs. Hoeft hails from Federal Way, WA. 
Albert Roblez is a freshman righty from Riverside. Roblez will be joining college teammate Julian Alvarez this summer for both players' first season in Sweets Country. At RCC Roblez has been used both as a starter and in relief. This past season Roblez posted a 4.09 ERA, with a 2-0 Record in 2 starts and 12 appearances. 
Michael "Thomas" Rollauer is the lone position player joining the Sweets in this group. Rollauer is a freshman at the University of San Diego being used mainly as a pinch hitter this past season for the Toreros batting .400 on the year and coming around to score every time he got on base. Rollauer is making one of the biggest hikes to join the Sweets initially coming from Atlanta, GA.
Anthony Fidanza is Redshirt Junior at Southern and is one of two Jags joining the Sweets this summer. Fidanza previously attended Holmes Community College where he was named 2nd team all MACCC. The Zachary, LA native was a huge part of the Jags' pitching staff posting a 5-5 record with a 5.58 ERA in 9 starts and 50 innings pitched.  
Lastly, Nick Wilson also attends Southern. Wilson hails from Carrollton, TX, and previously attended Vernon College. Wilson was up and down in his first year with the Jags, however, has shown to have some incredible stuff. Wilson posted a 7.34 ERA in 30.2 innings of work. Willson did have one of the best outings of the year for SU vs Prairie View where he tossed 5 shutout innings recording 7 strikeouts.