Sweets Add Versitalie Position Player and Big Southpaw Pitcher for 2022
Sweets add UCSB pitcher and Yakima Valley College utility for the upcoming campaign.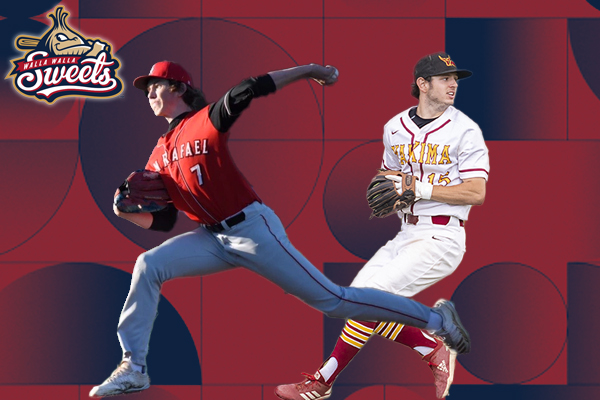 WALLA WALLA, Wash–  Hayden Hattenbach and Danny Burns get set to sport the red and blue this summer.  Hattenbach is a freshman currently attending UC-Santa Barbara, while Burns is a sophomore attending Yakima Valley College. It will be the first time both players will be playing as a Sweet. 
Hattenbach is a big 6'7 southpaw, hailing from San Rafael, California. Hattenbach is currently listed as a true freshman with the Gauchos, however is in his second season athletically with UCSB. In his first year with the 'Chos, Hattenbach made nine appearances with eight strikeouts and 6.75 ERA in eight innings pitched. On the 2022 campaign, he is out to a very strong start with 1.17 ERA in 7 ⅔ innings pitched, while matching his eight punch-outs from a season ago.
"The thing that makes the experience in playing in the West Coast League is having a big group of guys that you spend your whole summer with and get to know really well," said Hattenbach. 
This will be Hattenbach's second stint in the West Coast League as he previously played for the Bend Elks. Hattenbach appeared in five games with two saves, 12 strikeouts, and a 4.32 ERA. 
Danny Burns is a sophomore utility player at Yakima Valley College. He will not be the only Yak joining the Sweets, as he is joined by Jace Hanson, Rowan Ramsey, and Coby Richards. Burns is typically seen in the infield, however he is a guy who can truly do it all, as he's played outfield and pitched with Yakima. 
"I take pride in being an infielder. I can play anywhere in the infield; I can even play first base if you need it. Really I can play wherever you need me to," said Burns. "I think I'll be a good piece to the whole team."
Burns played 26 games with YVC in 2021 and batted .261, with a .393 OB% and 10 RBIs. This year the Yaks are 3-5, with Burns having 2 RBIs and 3 runs in 6 games played on the young campaign.