WCL Rookie and Vet Join Sweets for 2022 Season
Sweets add an experienced college pitcher and a promising upcoming freshman to the roster this summer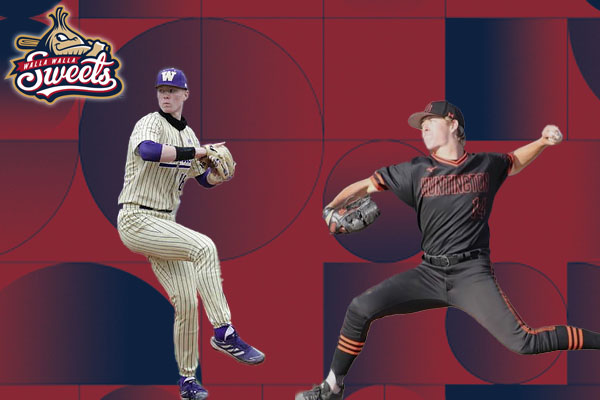 WALLA WALLA, Wash- Pitchers Ben Jacobs and Stu Flesland III will join an already loaded pitching staff in Walla Walla this summer. Both pitchers will be playing with the Sweets for the first time this season. Flesland will be returning to the West Coast League for the first time since 2019.
Flesland is a big 6'5 southpaw from Colbert, Washington, just over 3 hours from Walla Walla. Flesland plays collegiately at the University of Washington, where he posted a 5.59 ERA in 29 innings of relief for the Huskies in 2021. Flesland previously attended Boise State, where he appeared in 4 games with two starts posting a 1-1 record with a 3.38 ERA, before the COVID-19 shutdown.
Flesland brings a focused approach to the Sweets staff, filled with a ton of energy and big personalities.
"I would say I have high intensity… I'm more quiet and focused so I'd say I have more of a focused intensity." said Flesland "Ever since I came to college I go in with the mindset of telling myself I'm better than the hitter and I'm going to go out there and beat him ever time."
Flesland will be returning to the West Coast League after playing for the Badland Big Sticks of the Expedition League last summer. Flesland previously played for the Yakima Valley Pippins in 2019.
Jacobs is another left-hander out of Huntington Beach, California. Jacobs is the number 6 LHP in California and will be attending UCLA next year. While not the biggest pitcher, the soon-to-be Bruin makes up for it with sound mechanics and a strong arm.
Jacobs will be one of three upcoming freshmen joining the Sweets this summer. While young, he feels ready for the challenge of playing against some of the best in the WCL.
"I don't think there's gonna be too much pressure, I think summer ball is meant to have fun," said Jacobs "I'm just gonna focus on having fun this summer and balling out".