College Baseball Weekend Wrap Up: Week Nine
A look around the college baseball world of current and former Sweets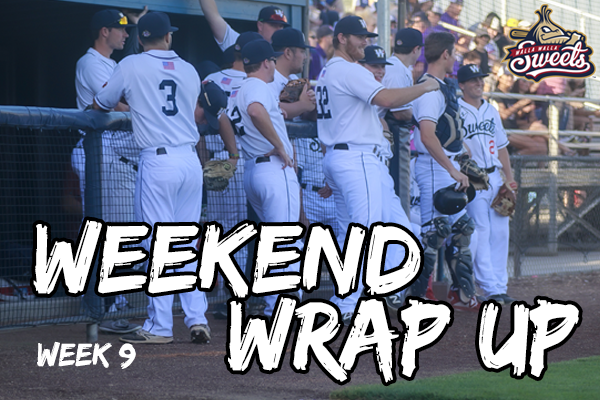 A Tuesday edition of the Wrap Up is here!
With just a month left of games remaining for many schools across the country, teams are beginning to jockey for position in their respective conference standings hoping to secure a spot in the college baseball postseason.
See who left an impact this past week as we dive into another edition of the Wrap Up.
Brock's Big Day
As the weather begins to heat up, so does Brock Ephan.
The power right handed hitter and 2019 Sweets alum continued his recent tear at the plate this weekend on the road against Saint Martin's.  In game one of Friday's double header, the senior infielder feasted at the plate, going 2 for 4, with a double, home run, and three runs batted in for Lewis-Clark State College.
The big day helped propel Ephan and the Warriors to a 10-3 win on the day, and extend their win streak to 22 games in a row.  Ephan raised his batting average to a season high .362 over the weekend, with 12 home runs and 45 RBI's to add to his impressive season stat line.
The Warriors would see their win streak come to an end in the second game of the double header Friday, falling 7-5.  LCSC will look to start a new streak this Friday when they host the College of Idaho.
Folz strong in return to the Diamond
Due to COVID-19 protocols in the St. John's baseball program, the Red Storm had to cancel 7 games between March 26 and April 3.  They recently got the go ahead to return to play last weekend at Xavier, but were missing a key bat in their lineup.
That changed this past Friday, as Sweets signee Justin Folz made his return to the lineup.  And the junior infielder looked ready to be back. 
Folz was in the starting lineup for St. John's on the weekend as they visited Georgetown University for a three game series.  He would go a combined 3 for 10 at the plate, with his best game coming Sunday where he went 2 for 4 with a double, home run, and 2 runs batted in.
Although St. John's would drop 2 of 3 against the Hoyas, being able to return to the field had to feel good for Folz and the Red Storm.  Folz looks to re-establish his early season success this weekend as St. John's returns home to host Seton Hall.
Ayers lifts Nighthawks to victory
With two on and two out in a tie game, Northwest Nazarene was looking for one big hit to take command of Saturday's game one double header against Montana State Billings.  Up to the plate stepped freshman catcher Quentin Ayers.
Four pitches later, Quentin Ayers had left the yard.
The Sweets signee took a 2-1 pitch and smacked it over the left field fence, giving the Nighthawks a 7-4 lead that they would not relinquish the rest of the game.  NNU would add two more insurance runs and take the game 9-5.
The home run was Ayers first on the season, and it couldn't have come at a more important time.  The win helped propel the Nighthawks to a four game weekend sweep of the Yellowjackets, as they continue to put together an impressive 2021 season.  Now sitting with a 23-5 record, Ayers and his teammates seem poised to make some noise in the division II playoffs later this spring.
NNU will host Saint Martin's University next in conference play as they look to add to their impressive season resume.
Across the Diamond
Other notable performances from across the college baseball world:
Cal Baptist first baseman John Glenn (Sweets 2017 alum) was a combined 3 for 13 on the weekend against Dixie State. The senior drove in 2 runs and scored 3 times for the Lancers.
Cal Baptist right hander Matt Amrhein ('17) appeared in all three games this past weekend.  The senior went a combined 6 ⅓ innings, allowing just 3 runs on 6 hits and striking out 4 as the Lancers took two of three games against Dixie State in the series.
Sweets signee Jacob Dahlstrom started two games this weekend for Bellevue College.  The sophomore right hander had his best game Sunday, going 6 innings allowing 2 runs on just 2 hits and striking out 4 in the Bulldogs 5-4 win.
California right hander Sean Sullivan ('18) started Saturday's game against the visiting Oregon State Beavers.  The junior went 6 innings, scattering 8 hits and allowing 2 runs, striking out 5 in a low run scoring 2-1 loss.
Sweets signee Nate Dahle made a relief appearance Sunday for the College of Southern Idaho.  The freshman right hander went 1 inning of scoreless work in the Golden Eagles 10-2 loss against Salt Lake CC.
Another College of Southern Idaho and Sweets signee Jacob Dahle started Saturday's game.  The sophomore right hander went 4 innings, giving up just 3 hits and striking out 2 as he didn't allow an earned run in the 4-2 loss against Salt Lake CC.
Sweets signee Jordan Stubbings went 2 for 5 with a double and an RBI for Colorado Mesa in their 27-4 route of Regis College in Sunday's game one of the double header.
Sweets signee Jackson Lapiner had a pinch hit RBI double to help Golden West Coast win 13-3 against Santa Ana.
Northwest Nazarene senior Ben Johnson ('19) went a combined 4 for 10 with 2 RBI's on the weekend in their four game sweep at Montana State Billings.
Sweets signee Spencer Schwehr picked up the win in NNU's game two one against Montana State Billings.  The left hander went 5 ⅔ innings striking out 4 in the Nighthawks 10-5 win.
Sweets signee Dylan Schwartz pitched 2 scoreless innings for Pepperdine Sunday against Gonzaga.  The freshman right hander allowed just 1 hit and struck out a batter in a 11-6 losing effort.
Infielder Seth Ryberg played both games of Point Loma's Saturday double header against Biola.  The Sweets signee was a combined 3 for 7 with stolen base in the two games.
UCLA freshman outfielder Emmanuel Dean ('19) went 1 for 2 with an RBI in the Bruins 20-0 drubbing of the University of Utah.
Oregon right hander Andrew Mosiello ('19) picked up the win for the Ducks Sunday against USC.  The freshman pitched 2 innings of relief, allowing just 1 run on 1 hit and striking out 3 in Oregon's 7-5 comeback win.
University of Washington redshirt junior Michael Petrie ('19) went a combined 4 for 12 at the plate this weekend.  The Huskies swept their weekend three game series against Texas State.