College Baseball Weekend Wrap Up: Week Eight
A look around the college baseball world of current and former Sweets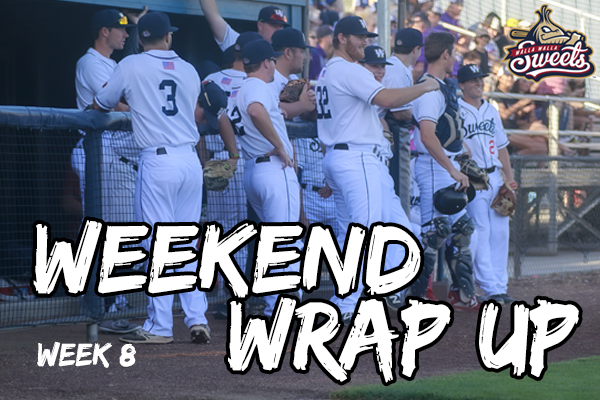 We are now two full months into the college baseball season.
As we take a look back at the week eight performances from current and former Sweets players, one can't help and look at the calendar and realize:  We are almost halfway through April!  Soon enough the college baseball playoffs will be here and the fight for conference championships will heat up.
But before we look too far ahead, let's look back on the week that was in this edition of the Wrap Up.
Sensational Weekend for Stubbings
Colorado Mesa slugger and Sweets signee Jordan Stubbings was in the zone this past weekend.
The power hitting junior infielder brought plenty of offense to the Mavericks lineup in their weekend matchup against visiting MSU Denver.  In the four game series, Stubbings went a combined 9 for 17 at the plate, with 2 home runs and driving in 6 as Colorado Mesa would sweep the weekend series.
MSU Denver, ranked 19 in NCAA Division II, stood no chance against Stubbings and the Mavericks.  The closest game of the series ended in a 7-4 win for Colorado Mesa, with the three other games resulting in the Mavericks scoring at least 12 runs in their wins.
Stubbings continues to put together an impressive season.  Always a presence in the middle of the Mavericks lineup, Stubbings has now raised his season average to .418, with 7 home runs and 27 RBI's in 22 games this season.
The number one ranked Mavericks look to hold on to their spot atop the Division II rankings when they visit Regis University next weekend for a four game series.
Ephan's Power on Full Display
We've mentioned before in the Wrap Up about Brock Ephan's power hitting ability.  This weekend, he showed us again why opposing pitcher's fear him.
Ephan and the Lewis-Clark State Warriors went on the road this weekend to face Corban University and the 2019 Sweets alum made sure to bring some home run swings with him. 
Starting and playing in three of the Warriors four games, Ephan went a combined 7 for 11 on the weekend, adding 2 more home runs to his season total and driving in 8 runs.  LCSC would sweep the four game weekend series and improve their record to an incredible 30-2 mark, and 23-1 in conference play.
Ephan continues to heat up as the season goes on.  He now boasts a .342 season batting average, with 10 home runs and 11 doubles to add to his season tally.  The senior from Hawaii shows no sign of slowing down, as he looks to continue his impressive offensive display next Friday at Saint Martin's.
Solid Debut For Dahlstrom
It was finally time to play ball for Jacob Dahlstrom.
The Sweets signee and Bellevue College right hander kicked off NWAC play this weekend to start their season, and Dahlstrom was ready to go.  Starting in game one of Sunday's double header at Everett, the freshman turned in an impressive performance, going 4 innings allowing 1 run on 2 hits while striking out 7 without walking a batter.
The start by Dahlstrom was complimented by an abundance of run support on the day, as Bellevue scored 8 runs in the first 2 innings as they cruised to a 17-3 win.
Dahlstrom, a tall 6'7" right hander, and his teammates were making their first appearances of the season.  The NWAC conference recently announced approval to play for the spring season for teams across the state of Washington, Oregon, and Idaho.
Bellevue next plays April 16 in their home opener against Edmonds College.
Across the Diamond
Other notable performances from across the college baseball world:
Cal Baptist first baseman John Glenn (Sweets 2017 alum) went a combined 3 for 10 on the weekend with an RBI against Cal State Fullerton. 
Cal Baptist pitcher Matt Amrhein ('17) made two appearances on the weekend.  The right hander went a combined 1 ⅔ innings, allowing 3 hits and struck out 1 while not allowing a run as the Lancers dropped two of three games on the weekend to Cal State Fullerton.
College of Idaho right hander Dimick Wood ('18-'19) picked up the win in his start against Eastern Oregon on Sunday.  The junior went 7 innings, allowing 4 runs on 5 hits while striking out 8 in the Yotes 6-5 win.
Lewis-Clark State College redshirt sophomore Bryson Spagnuolo ('19) pitched in relief in Sunday's game against Corban University.  The right hander went 1 inning of scoreless ball, striking out a batter.
Northwest Nazarene was back in action this weekend against Western Oregon.
Senior Ben Johnson ('19) played in all 4 games for NNU.  He started game one of Saturday's double header that ended in a 9-8 win for the Nighthawks.  The right hander went 3 ⅓ innings, striking out 3.
Right hander Nick Irwin came on in relief for both games on Friday.  The sophomore's best outing was in game two, where Sweets signee pitched an inning of scoreless ball for the Nighthawks.
Freshman catcher Quentin Ayers started in game one of Saturday's doubleheader for NNU.  The Sweets signee went 2 for 4 with an RBI in the Nighthawks 9-8 win.
Left hander Spencer Schwehr started in game two of Saturday's doubleheader for NNU.  The sophomore and Sweets signee went 6 ⅓ innings in his outing, allowing 3 runs on 5 hits while striking out 6.  The Nighthawks would rally for 3 runs in their last at bat to win 4-3.
UCLA junior Jack Filby ('18) pitched an inning of relief for the Bruins in their Saturday matchup against Stanford.  The right hander didn't allow a run in his 1 inning of work as UCLA would drop the game to Stanford 11-6.
UCSB right hander Conner Roberts ('17) came on to pitch in relief of Sunday's game for the Gauchos.  The junior went 2 innings allowing 1 hit and striking out 3 in the Gauchos 7-3 loss to CSUN.
University of Washington catcher Michael Petrie ('19) was a combined 3 for 8 at the plate over the weekend for the Huskies.  The redshirt junior added an RBI in Sunday's win against Arizona State.
USC left hander Isaac Esqueda ('17) was solid again in his latest start for the Trojans on Friday.  The junior picked up his fourth win of the year, going 6 innings, allowing no runs on just 3 hits while striking out 3 as USC beat Dixie State 14-1.
Washington State University right hander Caden Kaelber appeared twice over the weekend for the Cougars.  The Sweets signee went a combined 1 ⅔ innings, striking out 3 without allowing an earned run, as the redshirt sophomore helped the Cougars take two of three games over the weekend against Utah.
Western Oregon senior Mike Peterson ('18) started game one of Friday's double header against Northwest Nazarene.  Peterson went 6 innings, allowing 2 runs on just 3 hits while striking out 7.  The right hander picked up the win as the Wolves would win 3-2.