Walla Walla Sweets Announce 2021 Schedule
Sweets face Corvallis in home opener; feature 32 home games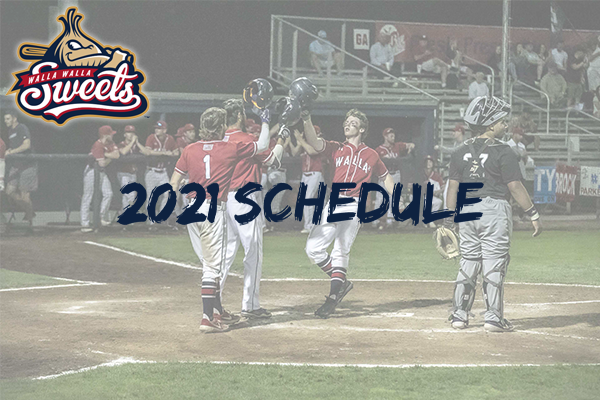 WALLA WALLA, Wash. – The Walla Walla Sweets are ready for 2021.
After the 2020 season was canceled because of the COVID-19 pandemic, the Sweets will return to play next summer at Borleske Stadium with 32 home games.
"It's great to have the schedule for 2021 in hand," Sweets general manager Cody Miller said.  "It gives us a lot of optimism as we go through the offseason and into next summer."
The Sweets will open their 11th season of West Coast League play June 4 with a six-game road trip to the Cowlitz Black Bears and the Wenatchee AppleSox. Walla Walla will play its home opener June 11 against the 2019 league champion Corvallis Knights.
The schedule release comes as the effects of COVID-19 continue to affect day-to-day life in the state and around the world.
"We are committed to providing a safe and healthy environment for all of our fans, players, staff, host families and coaches," Miller said.  "We will follow all local, state, and federal guidelines as we continue to work through the pandemic and prepare for next season."
After opening against Corvallis, the Sweets will host the Kamloops NorthPaws for a three-game series.  The NorthPaws are one of three new teams to join the West Coast League for 2021, joining the Nanaimo NightOwls and the Edmonton Riverhawks and bringing the WCL to 15 teams in Washington, Oregon, and the Canadian provinces of British Columbia and Alberta.
Season tickets and ticket voucher packages go on sale Monday.
June home dates: (11)
June 11-12-13:  Corvallis Knights
June 15-16-17:  Kamloops NorthPaws
June 18-19-20:  Kelowna Falcons
June 29-30:  Cowlitz Black Bears
July home dates: (15)
July 1:  Cowlitz Black Bears
July 2-3: Northwest Star Nighthawks
July 5-6-7: Yakima Valley Pippins
July 9-10-11: Portland Pickles
July 20-21-22: Wenatchee AppleSox
July 23-24-25: Bend Elks
August home dates: (6)
August 6:  Cascade Collegiate League
August 7-8: Highline Bears
August: 10-11-12: Ridgefield Raptors