Sweets see one alumnus, two 2020 signees selected in the MLB Draft
Garrett Mitchell first WCL player picked in 2020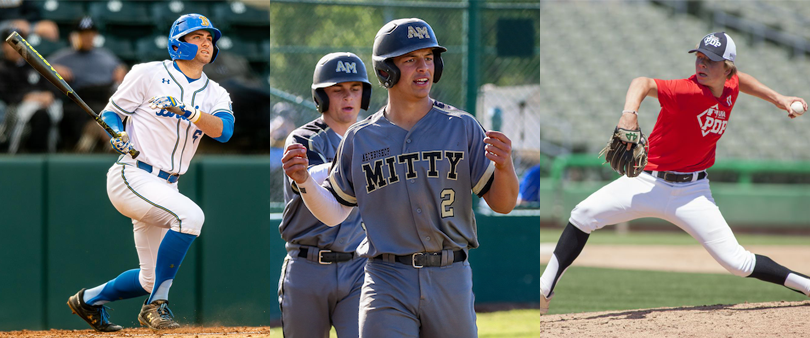 In a shortened Major League Baseball draft, the Sweets saw three players selected in the five rounds on Wednesday and Thursday nights.  Outfielder Garrett Mitchell, who suited up for the Sweets in 2017, was selected 20th overall in the first round by the Milwaukee Brewers.  Two other players who were set to play for the Sweets in 2020, Nick Yorke and Kyle Harrison, were selected by the Boston Red Sox and San Francisco Giants, respectively.
Mitchell, who played at UCLA, was a highly touted prospect coming out of high school, where he was ranked as one of the top 50 prospects in his class.  The California outfielder was originally drafted by the Oakland Athletics in the 14th round in 2017, but ultimately decided to stick with his commitment to UCLA.
For the Sweets, Mitchell made an immediate impact.  Batting leadoff in his first game, Mitchell took the first pitch he saw and launched it over the scoreboard in right field, landing in the parking lot of Borleske Stadium.  Mitchell would finish the night 3 for 4 in his five plate appearances, adding a double and a triple with four runs batted in.  He finished the summer with a .462 batting average and a .563 OBP.
Yorke, who had committed to the University of Arizona, is a middle infielder from Archbishop Mitty in Campbell, California.  He was signed to play for the Sweets this summer with his brother Joey, a freshman at Boise State University, before the COVID-19 pandemic ended the 2020 West Coast League season.  The right-handed hitter was a top-100 player in the country in this year's Perfect Game recruiting class rankings and one who Wildcat coach Jay Johnson last fall described as "Plain and simple, no matter who is out there…is always the best player on the field in my opinion."  The Red Sox selected Yorke with the 17th overall pick Wednesday.  They must sign him before the August 1 deadline.
Another California player, left-handed pitcher Kyle Harrison, was selected by the San Francisco Giants with the 85th overall pick in the third round.  A top-50 prospect in his class, the left-hander was a prized piece of UCLA's 2020 recruiting class, which was ranked 4th nationally by Baseball America.  Harrison was seen as potential impact player during his freshman year, with UCLA manager John Savage describing him as "one of the top left handed pitchers in the country," who "will have an opportunity to be a weekend starter right away."