Sweets Bring Back Infielder and Left-Handed Pitcher
Folz and Hirai return for the 2020 season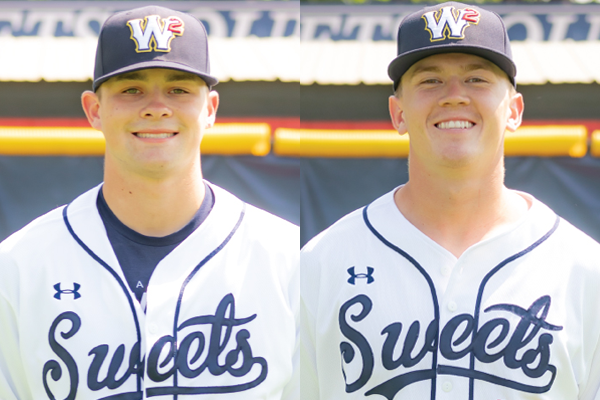 Infielder Justin Folz and left-handed pitcher Brayde Hirai will be returning to the Walla Walla Sweets this summer.
Its the first announced signings for manager Jeff Cirillo, who will begin his first season with the Sweets this summer.
Folz, currently at St. John's, hit .276 with 19 RBI's for the Sweets last season. Before St. John's, the Monroe, Washington, native spent one season each at Palomar College and Northwest Nazarene University. At Palomar, he posted a .333 average with two home runs and 19 RBI's.
Last summer, Folz delivered one of the best moments of the season with a 9th inning, go-ahead grand slam in game two of the opening round of the WCL playoffs agianst the Corvallis Knights. He still remembers how special the moment was.
"The grand slam definitely ranks number one in my favorite baseball moments ever," Folz said. "It's what every kid dreams of in the backyard. I was just fortunate enough to get the opportunity to live it out."
St. John's kicks off its season on February 14th at Kennesaw State, where they begin a weekend trip through the state of Gerogia.  They will also face Georgia State, and the 19th ranked Georgia Tech Yellow Jackets during the road trip.
With Hirai, he returns for his third summer with the Sweets. The Pasco, Washington native and current Central Washington player posted a 1.94 ERA for the Sweets last season, held opponents to a .125 average and threw 11 consecutive scoreless innings to end the season.  He previously played locally at Walla Walla Community College for the Warriors in 2018 and 2019 before transferring to CWU.
While he's enjoyed individual success, Hirai's experiences with teammates, coaches, and the community have stood out to him the most.
"The coaching staff and players are awesome, and the community always provides a lot of support," Hirai said. "Getting to play with and against such great competition has helped me grow as a player, and the coaches have given me great tips to help me develop as well."
Central Washington heads to California to start the 2020 season this Friday, January 31st where they will take on Stanislaus State for a weekend series.
The Sweets begin the 2020 season on Friday, June 5th in Canada at the Kelowna Falcons.  The Sweets first home game is Friday, June 12th at Borleske Stadium.  Season Tickets, mini plans, and now Single Game tickets are on sale at WallaWallaSweets.com.  Tickets can also be purchased at the downtown store at 109 E. Main Street, or via phone at 509-522-BALL.