Sweets Break Records and Bite Pippins
Patrick Caulfield and Travis Craven break WCL records while breaking the Pippins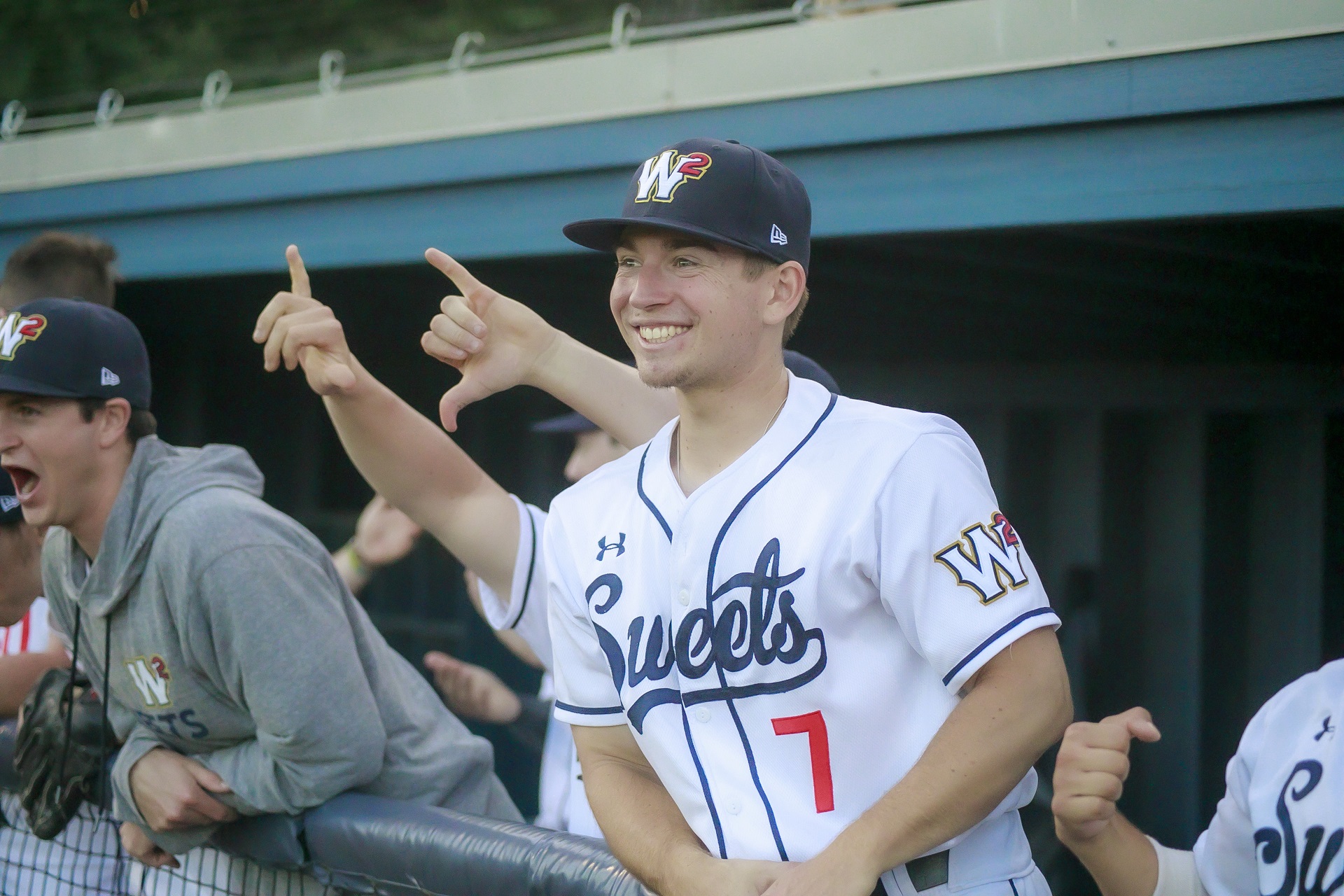 The Walla Walla Sweets scored twice in the first inning, three times in the third inning, and five more times in the sixth inning Saturday night on their way to an 11-5 victory over the Yakima Valley Pippins in West Coast League baseball action at Yakima County Stadium.
Saturday's game will be remembered by Sweets Nation for more than runs, hits, and errors. It was a night in which the 2019 Walla Walla nine achieved the franchise's third 30-win season and both Travis Craven and Patrick Caulfield made their way into the WCL record book.
Ryan Johnston led off the first inning with a double and scored two outs later on a two-bagger by Cesar Lopez – who crossed home after consecutive walks to Caleb Farmer, Bryce Vitt, and Turner Edwards.
Historic moment No. 1 occurred when Craven took the mound for his 13th start of the season, a WCL record, and commemorated the occasion with an inning-and-a-third of scoreless baseball.
The Sweets provided more two-out magic in the third inning. Vitt and Chazz Martinez both singled and tallied when Carson Green homered to left field. The round tripper was Green's second of the season. He hit a game-winning, two-run dinger in the ninth inning at Wenatchee on June 14.
Reliever Landon Boeneke followed Craven with two-and-two-thirds innings of two-hit ball and got some defensive help in the fourth inning. The Pippins' Kyle Dean led off with a hit to left-center. Johnston cut it off before throwing a strike to second baseman Justin Folz to deny Dean's bid for a double.
Sweets right-hander Nate Dahle walked three of the first four hitters he saw in the fifth inning, but retired the final two to escape unscathed.
Historic moment No. 2 came in a five-run sixth inning. Folz doubled, Johnston walked,  and Parker Price legged out a bunt base hit. Caulfield scored two with a single and Lopez produced an RBI single. Lopez got in a pickle between first and second after Caulfield took a stride toward third. Caulfield advanced to third and Lopez managed to get back to first. Caulfield was credited with a stolen base, his WCL record-setting 41st of 2019. One out later, Vitt walked and Martinez scored Caulfield with a fielder's choice. The last run was the result of a Yakima Valley error.
The Pippins scored five times in the eighth inning before Parker Price single handedly produced a run in the ninth. He singled, stole second, went to third on an error, and scored on a passed ball.
Lefty Brayde Hirai threw a 1-2-3 ninth to end the game.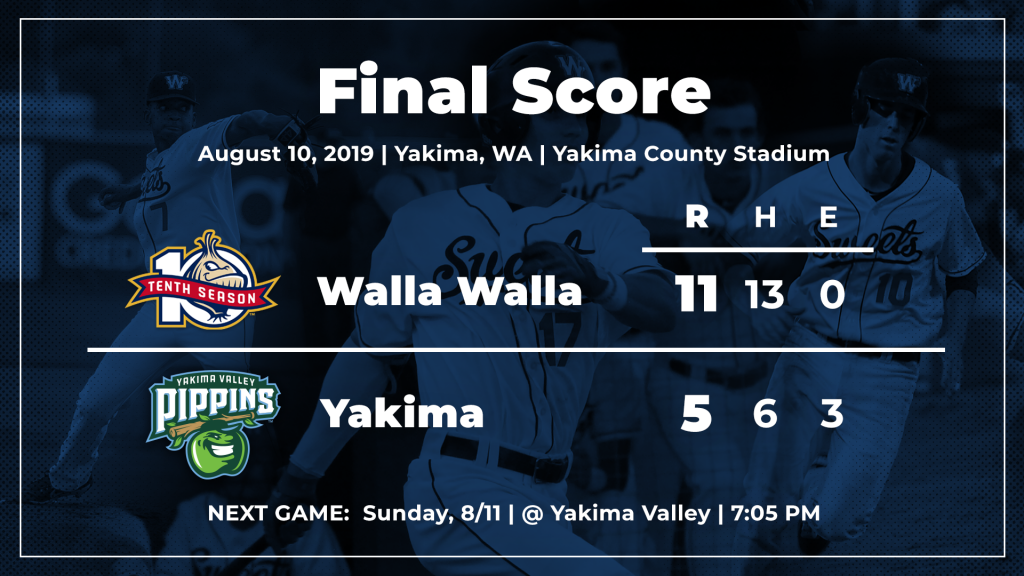 The final game of the series, and regular season, starts Sunday night at 7:05.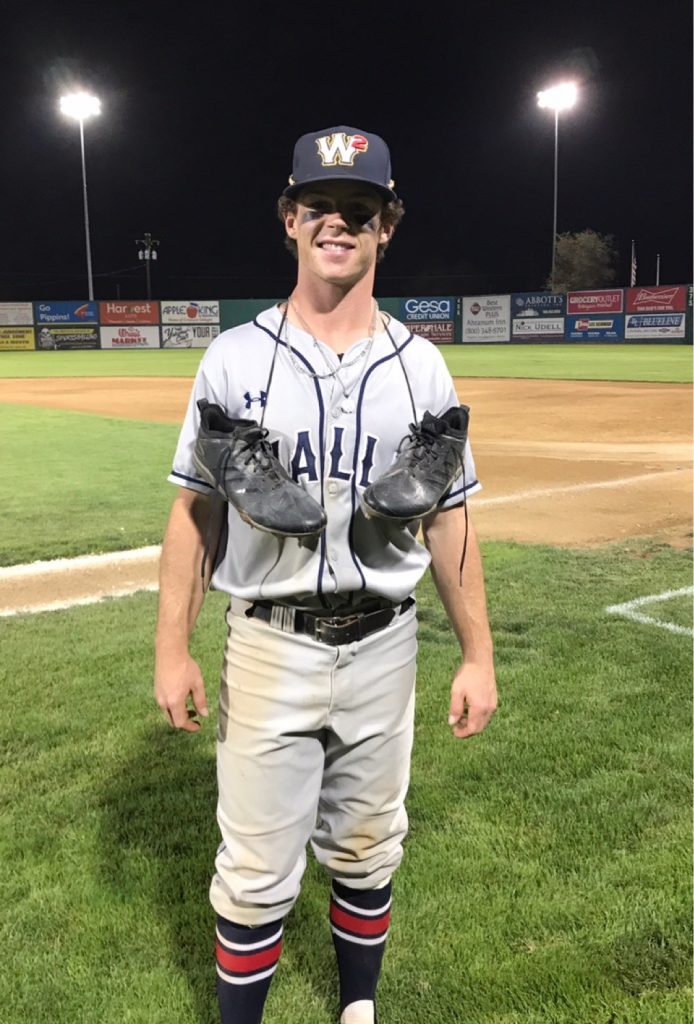 Patrick Caulfield after breaking the all-time WCL Stolen Base Record