Playoff-Bound Sweets at Yakima This Weekend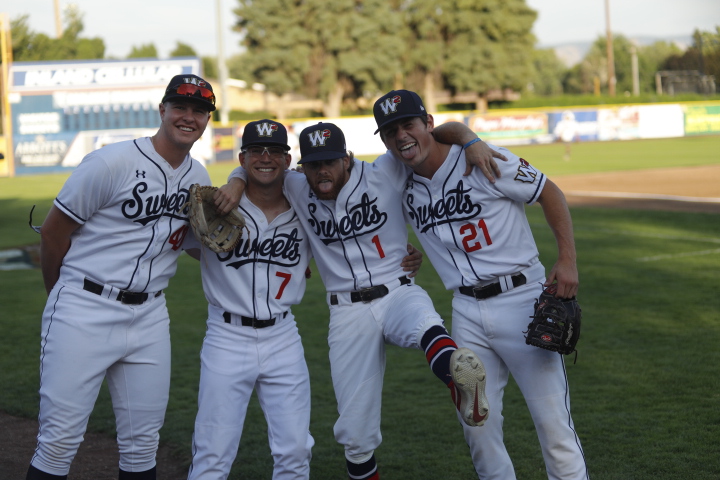 The Walla Walla Sweets, fresh off clinching the third West Coast League playoff berth in franchise history, conclude the 2019 regular season this weekend with a three-game road series against the Yakima Valley Pippins (8-17 in the WCL's second half, 19-32 overall).
Games will be played at 6:35 p.m. on both Friday and Saturday, and 7:05 p.m. on Sunday at Yakima County Stadium.
Walla Walla (11-12, 29-21) finished off a 4-and-2 homestand, its last of the regular season, and a stretch of 15 games in as many days on Wednesday night by completing a three-game sweep of the Kelowna Falcons, 4-0, at Borleske Stadium – the team's first shutout since a 3-0 home blanking of Bend on June 7. The Sweets downed their north-of-the-border rival 10-2 on Tuesday and opened the series Aug. 2 with a 6-2 triumph. A series setback -two losses to one against Ridgefield – was wedged between the Friday and Tuesday contests with Kelowna. Walla Walla's lone win versus the Raptors occurred on Sunday night when the Sweets rose from oblivion to score four runs in the bottom of the ninth inning for an 8-7 conquest.
Walla Walla pitchers Brayde Hirai, Ty Hueckman, Jake Dahle, and Reid Sebby teamed up to foil the Falcons on three hits and strike out 15 Wednesday night. Kelowna had just one runner get as far as third in the game. The Sweets managed just three hits themselves, but two proved to be productive – a one-out home run by Ryan Johnston in the fifth inning and a sixth-inning RBI single by Caleb Farmer. Walla Walla also employed opportunism and little ball. Parker Price and Patrick Caulfield walked in the first inning, executed a double steal, and Price scored on an error. Caulfield walked to lead off the sixth, stole second, Cesar Lopez accepted a free pass and, after a double theft, Bryce Vitt grounded to shortstop to score Caulfield, who enters the final weekend of regular-season play with a league-leading 38 stolen bases.
The Sweets banged out 14 hits on Tuesday. Justin Folz set the pace with three while Lopez, Vitt, Chazz Martinez, and Emanuel Dean socked two hits apiece. Dean had three runs batted in, Vitt and Price contributed two each, and Lopez, Martinez, and Folz chipped in one RBI apiece.
Vitt belted a three-run double and Dean singled him home in the last of the ninth inning on Sunday in Walla Walla's come-from-behind effort – its second walk-off win of the season.
Hueckman, Nate Dahle, and Spencer Schwehr fashioned nine innings of five-hit, 11-strikeout ball in the homestand opener. Martinez started the scoring in a five-run second inning with a two-RBI single and Dean tattooed a three-run homer. Price delivered an RBI knock in the fourth.
Caulfield comes into the weekend sixth in the WCL with a .331 batting average. Lopez is third in RBI with 35 – only trailing Ridgefield's Michael Hicks (42) and Briley Knight of Corvallis (40). Hueckman is tied for second in wins (5) with Bellingham's Nick Proctor and Jackson Arnsdorf of Corvallis, and is fourth in earned run average (2.90).
Yakima Valley enters its final homestand of 2019 smarting after three tough losses at Cowlitz – 2-0 on Tuesday, 5-4 Wednesday, and 3-1 on Thursday. Eddie Pelc, Brian Rice, and Brady Hormel had two hits apiece on Thursday. Pitchers Mark Woinarowicz and A.J. Wood tossed in relief on Thursday and kept the Pippins close by skunking the Black Bears over the final seven-and-two-third innings.
Pippins' pitchers Joe Magrisi and Jack Gonzales have distinguished themselves as tough customers this summer. Magrisi leads the West Coast League with 66 strikeouts and Gonzales ranks sixth with a 3.62 ERA.