Sweets Come Back Massively
Sweets come back from a 3 run deficit to take game 2 against the Ridgefield Raptors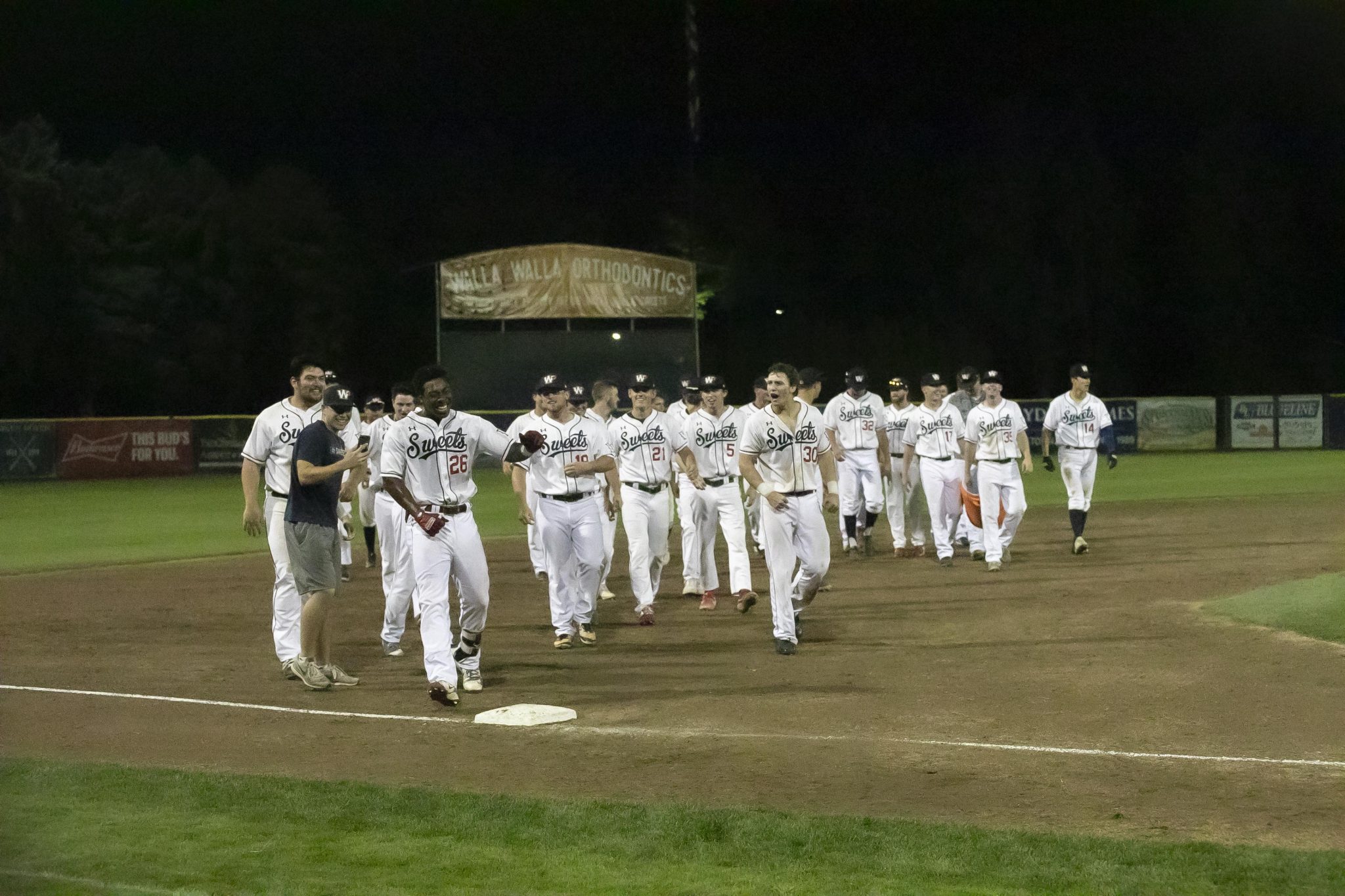 All appeared lost for the Walla Walla Sweets during West Coast League baseball action Sunday night at Borleske Stadium.
Visiting Ridgefield scored three tie-breaking runs in the top of the ninth inning to take a 7-4 lead.
The Raptors were three outs away from securing their second win in as many nights against the home nine.
But Sweets Bryce Vitt and Emanuel Dean collectively authored a seemingly unthinkable ending in the bottom of the ninth.
Vitt blasted a three-run, game-tying double and Dean singled him in two pitches later to give Walla Walla a stunning 8-7 victory.
The win improved the Sweets second-half record to 9-11 and overall mark to 27-20.
Ridgefield's Michael Hicks knocked in the first run of the game with a one-out, third-inning single.
Walla Walla responded with an ace in the home third. Ryan Johnston singled with one out and raced to third on a Patrick Caulfield double. Cesar Lopez followed with an infield hit that scored Johnston.
Zac Berryman was hit by a pitch to start the last half of inning four. Vitt walked, and Connor Cirillo moved the runners up with a bouncer to third. Johnston lined a single that brought both Berryman and Vitt home and gave the Sweets a 3-1 lead.
The Raptors' Grayson Sterling tied things up with a two-out, two-RBI double in the fifth and Jack Bauer gave Ridgefield a 4-3 edge in the sixth with a sacrifice fly to center field.
Vitt gutted out a base on balls in the bottom of the sixth and advanced to third on a Cirillo two-bagger. Johnston scored Vitt with a bouncing ball to shortstop.
Sweets reliever Jake Dahle and Ridgefield's Drake Estes shut out their respective opponents in both the seventh and eighth innings.
But in the ninth, Jake Dahle allowed a two-out, two-run single to Michael Yourg and Willie Cano singled for a run against Nick Irwin to give the Raptors what appeared to be an insurmountable 7-4 lead. Irwin, a.k.a. Bones, struck out Dominic Enbody to end the inning.
Cameron Repetti, who set the Sweets down 1-2-3 in the ninth inning Saturday night to earn the save in a 9-8 Ridgefield triumph, walked Brock Ephan to start Sunday's last of the ninth. Pinch-runner Connor Lemma went to third following back-to-back singles by Caleb Farmer and Chazz Martinez. One out later, Vitt towered a Repetti pitch into the right-center alley that tied the game at 7-7. Vitt hustled to third on the play on an errant throw home by Raptors' second baseman Wyatt Hoffman.
"I just saw a slider out of his hand and drove it the other way," Vitt said. "I haven't hit a ball like that all summer."
Dean decided the outcome on a 1-0 pitch that he bounced through the box and into center.
"I prayed to God and asked Him to help me out," Dean said. "It (the pitch) was a fastball and I gave it my best swing. Credit (for the potential game-winning moment) should go to Bryce."
"I knew we weren't out of it," Vitt said. "L.P. (Larry Price, assistant coach) said 'We're scoring four.' We just came out firing."
POST GAME INTERVIEW WITH BRYCE VITT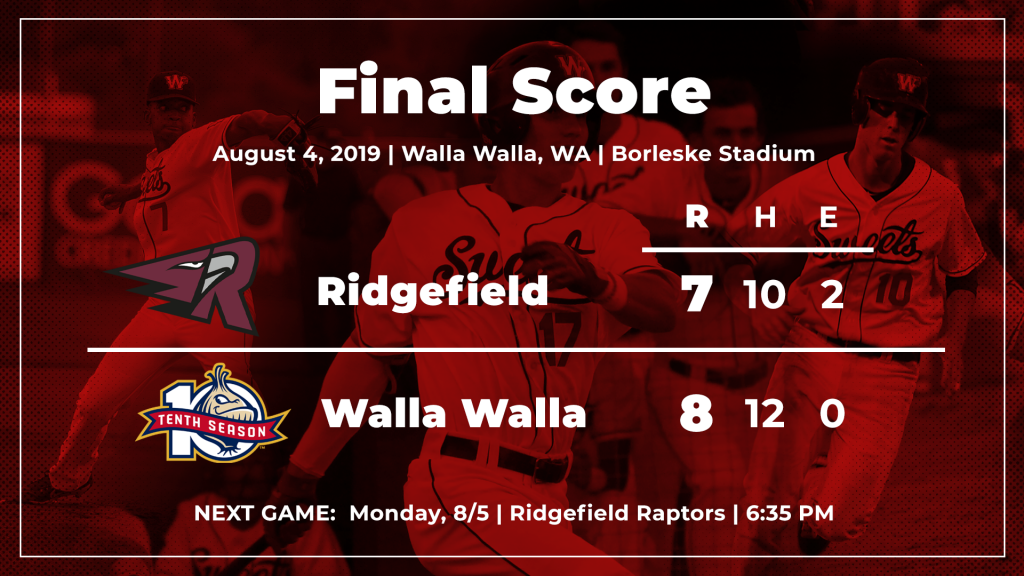 The rubber game of the three-game series is Monday night at 6:35.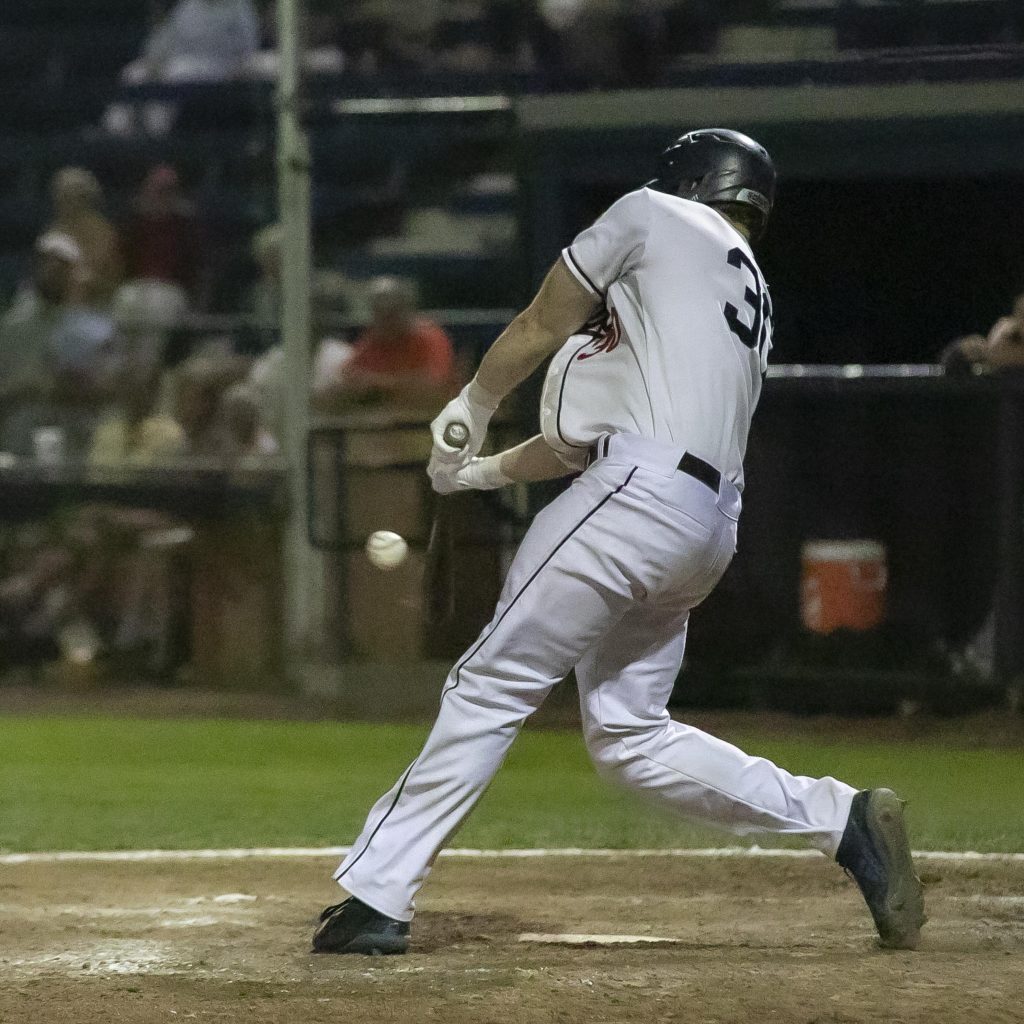 Game Winning Hit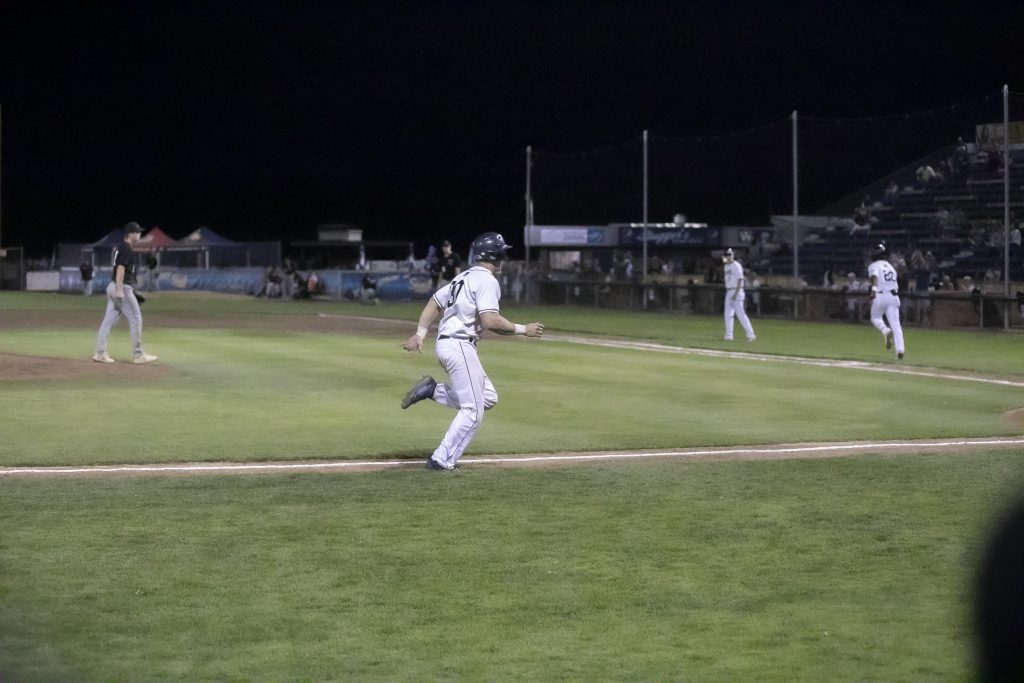 Coming Home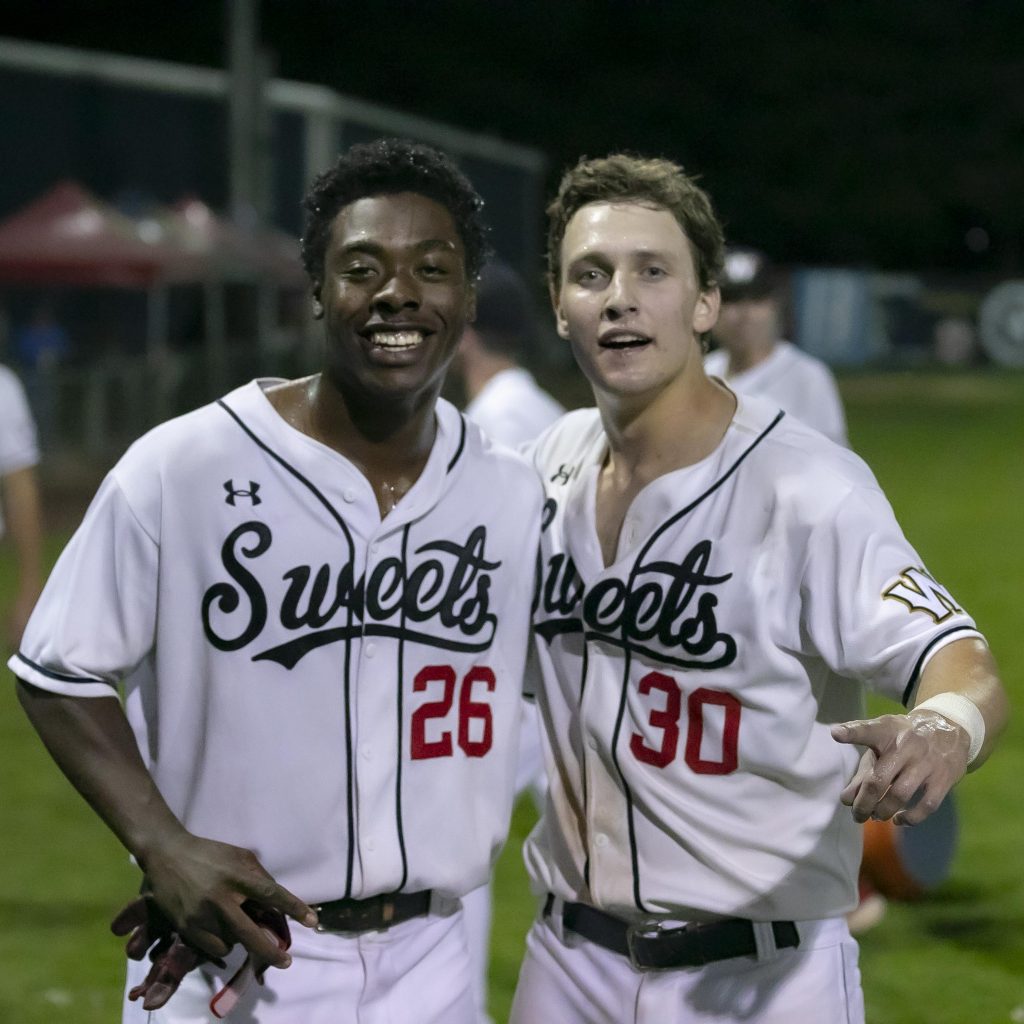 Realizing That You Just Did That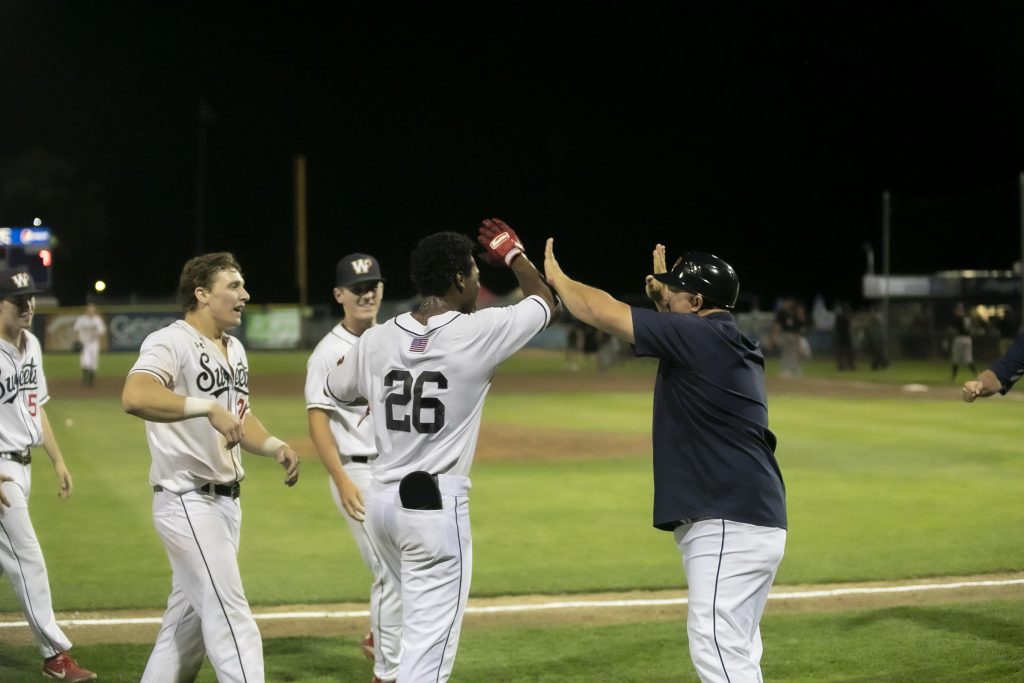 Celebration