Sweets Double Up Cowlitz, Take Series
Sweets repeat their successful outing at Cowlitz and take the series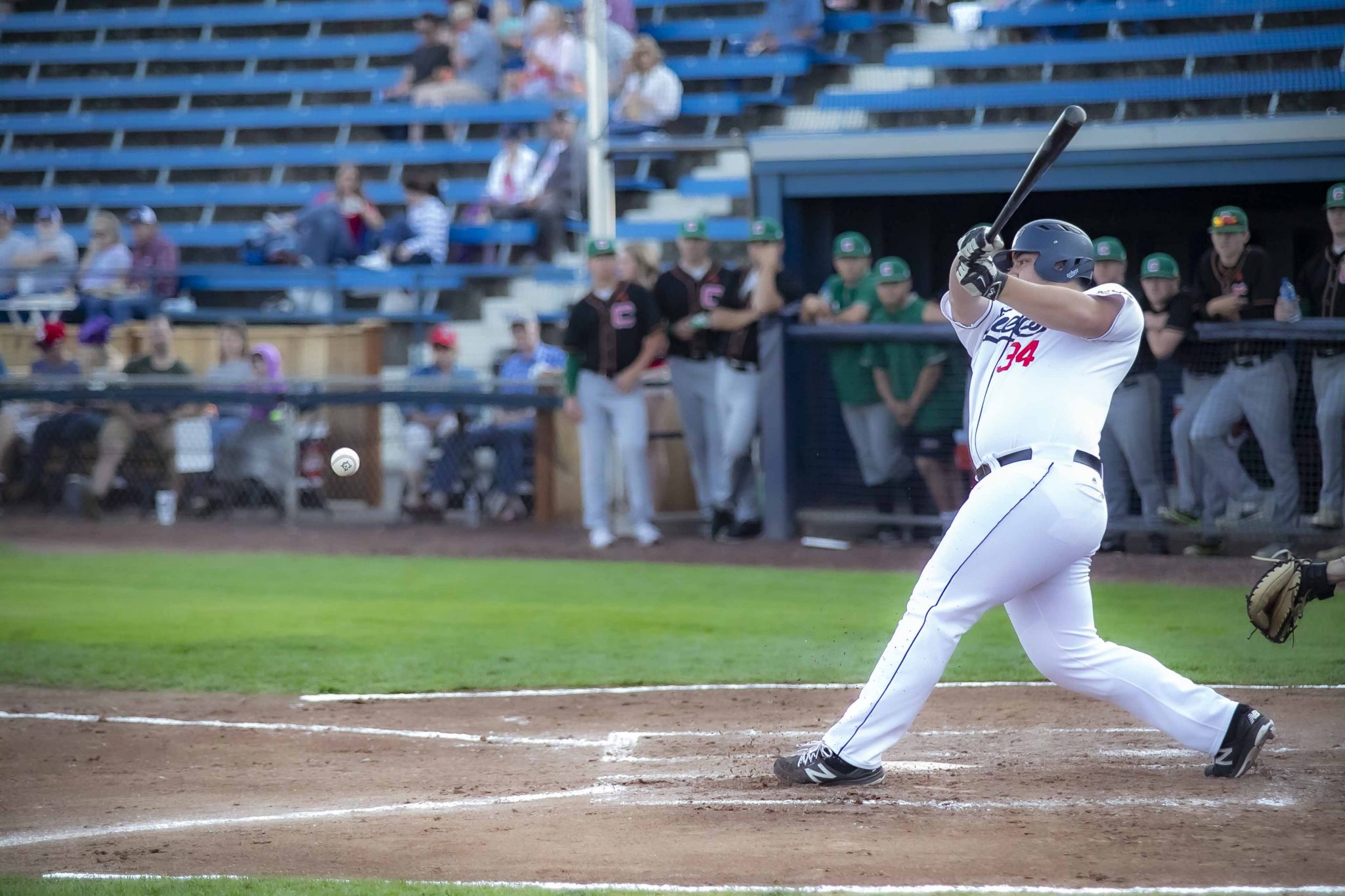 Designated hitter Brock Ephan drove in five runs and left-hander Travis Craven recorded his first win of the season Monday night as the Walla Walla Sweets rallied from an early 2-0 deficit to post a 12-6 victory over the Cowlitz Black Bears in the rubber game of a three-game West Coast League baseball series at Lower Columbia College's Story Field in Longview.
Walla Walla, which scored 12 runs in a 12-2 triumph on Sunday, used nine hits and 10 walks from Black Bears' pitchers to post its second one-sided victory in succession.
Monday's conquest clinched the Sweets ninth series win of 2019 and the season set with Cowlitz four victories to two. Walla Walla took two of three games from the Black Bears when the teams met July 2-4 at Borleske Stadium.
Monday's game did not start out in promising fashion for the visitors. Cowlitz center fielder Austin Bell led off the first inning with a five-pitch walk against Craven. The Black Bears' Andres Sosa took Craven's next delivery over the right-field wall to put Cowlitz up 2-0.
Black Bears' starter Alex Salazar no-hit Walla Walla through the first three innings and faced the minimum number of hitters.
Craven regained the composure that earned him a spot on the WCL South Division All-Star team and retired 12 of the 15 hitters he faced in the second through fifth innings.
The Sweets got the offense in gear in the top of the fourth inning. Ryan Johnston and Justin Folz walked. Cesar Lopez knifed an RBI double through the left-center field alley that scored Johnston and sent Folz to third. Chazz Martinez was handed a free pass, and Brock Ephan torched a two-bagger to right field that brought in Folz and Lopez, and advanced Martinez to third. Martinez scored on a wild pitch and Ephan took third. Ephan scored on a Caleb Farmer single to center.
Connor Cirillo walked to lead off a four-run fifth inning. One out later, Folz earned a base on balls. Martinez walked to load the bases, and Ephan lasered a three-RBI double to right center. Farmer, as he did in the fourth inning, sent Ephan to the plate with a single that grew Walla Walla's lead to seven tallies, 9-2.
The Sweets scored two more times in the sixth. Bryce Vitt led off with a base knock and went to second on a one-out walk issued to Johnston. Folz doubled to right to score Vitt and advance Johnston to third. Johnston hit home plate on a Lopez bouncer to second.
Newcomer Jake Dahle threw scoreless sixth and seventh frames before his teammates scored their last run of the game. Folz lined a one-out single to right and Lopez sent him around with a two-base hit.
Cowlitz scored twice in both the eighth and ninth innings to establish the final margin.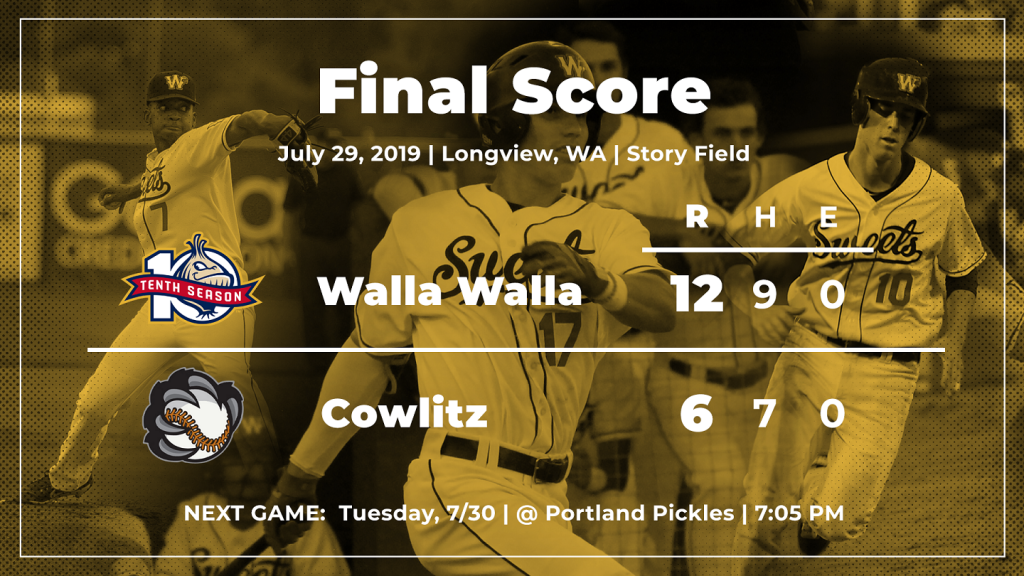 Walla Walla starts a three-game series in Portland Tuesday night at 7:05.