Sweets take game two against the Military All-Stars
The Walla Walla Sweets improved to 4-0 in non-West Coast League games Friday night after an 18-3 victory over the Military All-Stars at Borleske Stadium.
Walla Walla is now 23-10 overall after improving the franchise's all-time record to 38-4 against non-WCL opponents.
The Sweets displayed a bit of the rocket's red glare on a night when they honored the memory of a local hero – military member Matthew Fazzari – in a moving pre-game ceremony, fans applauded enthusiastically for the Military All-Stars and saluted them for their service, and $2,500+ dollars was raised for the local Veterans Center.
Chazz Martinez lifted a 361-foot fly over the left-field wall leading off the second inning for the game's first tally. Emanuel Dean followed with a double and later scored on a sacrifice fly to right by Connor Cirillo.
The Sweets scored four more times in the third. Martinez – with a runner on – Dean, and David Le Bioda hit back-to-back-to-back homers. Martinez (384 feet) and Dean (411) went to left and Le Bioda (392) homered to right.
Walla Walla scored eight runs in the fourth. Le Bioda and Cirillo started the scoring with consecutive RBI singles; Mason Kokodynski was hit by a pitch with the bases loaded; and Connor Coballes, and Michael Petrie further highlighted the frame with run-scoring singles of their own.
The All-Stars got three runs back in the fifth inning. Tim Duncan drove in two with a triple and Matthew Sorrow doubled him home.
Carson Green brought in a run in the fifth for the Sweets, and both Travis Craven and Charles Harrison produced RBI singles in the eighth.
Walla Walla starting pitcher Nate Dahle threw four hitless innings. He struck out four and walked an equal number of hitters.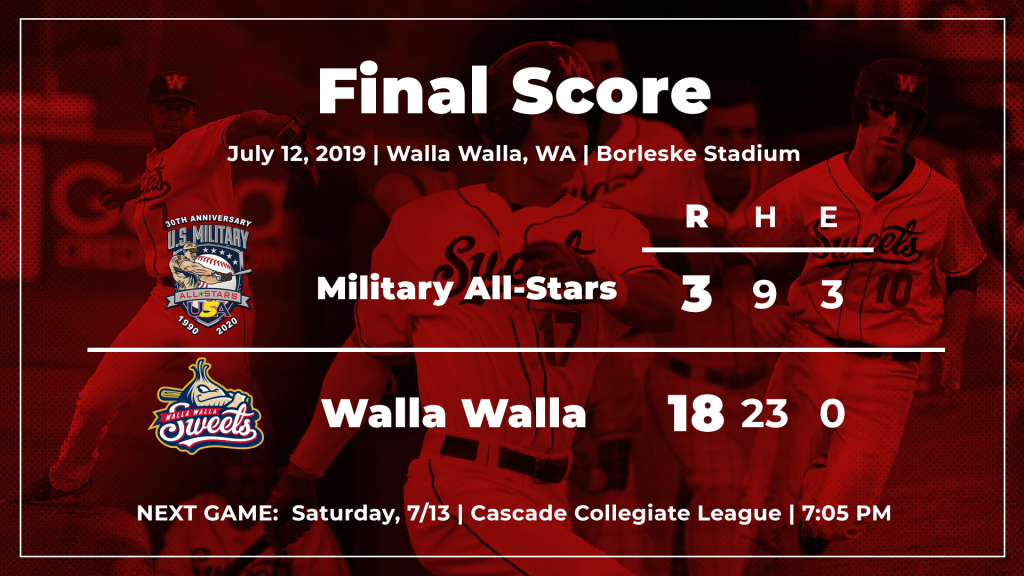 The Sweets continue their six-game stay at Borleske Stadium Saturday night against a select team made up of Cascade Collegiate League athletes. First pitch is scheduled for 7:05.
POST GAME INTERVIEW WITH THE MARINER MOOSE