Sweets Sweeter Than Sweet
Sweets take game 1 over the Military All-Stars.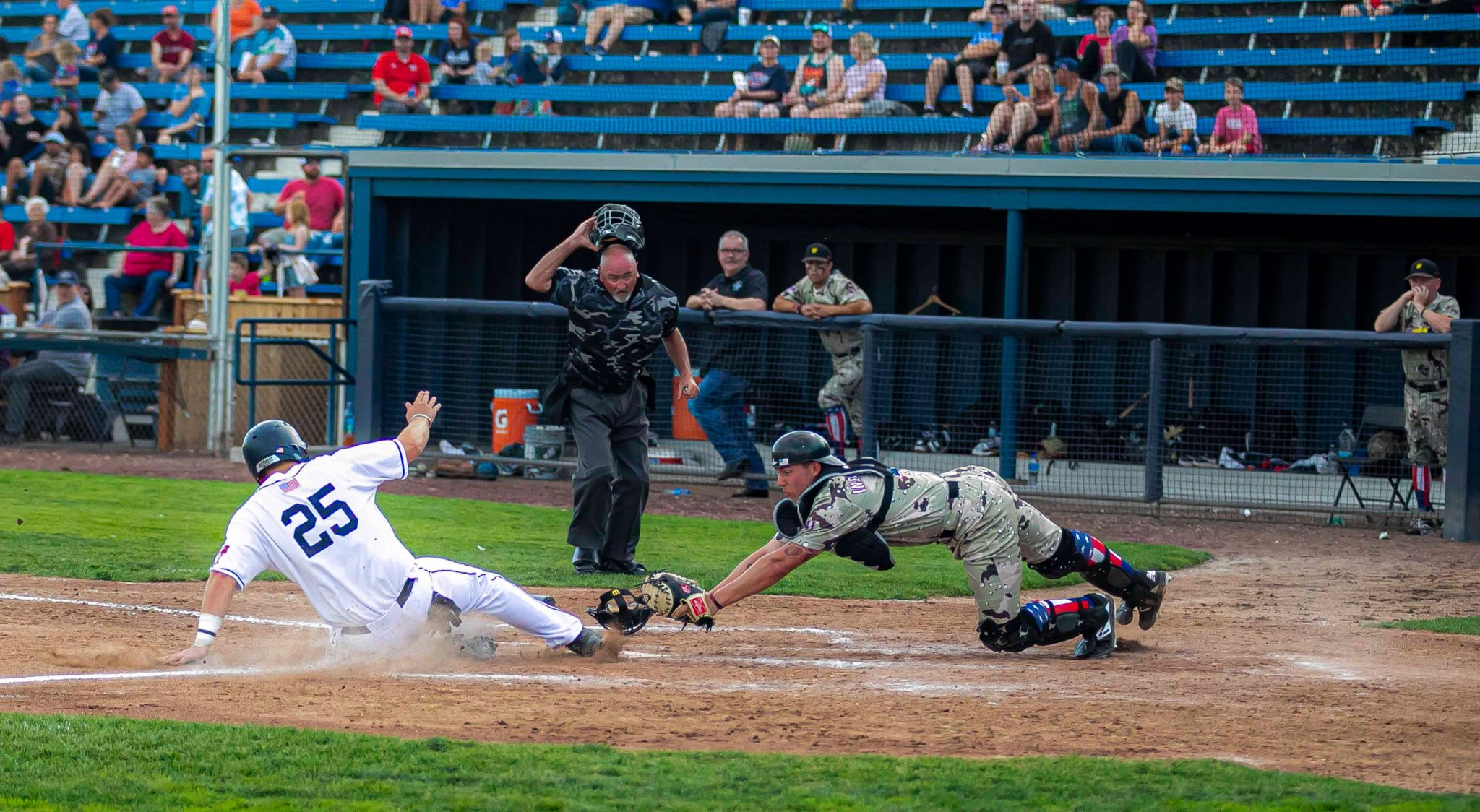 The Walla Walla Sweets opened a six-game homestand at historic Borleske Stadium in fine fashion Thursday night with a 9-3, non-West Coast League victory over the Military All-Stars in a game much closer than the final tally suggests.
Walla Walla improved the franchise's all-time record against non-WCL opponents to 37-4. It won two games against the Highline Bears in early June to complete an unblemished, season-opening run of home games at 8-0.
Sweets starting pitcher Mason Kokodynski shut out the All-Stars over the first two innings. He retired them in order in the first and slithered out of a first-and-second, two-out scenario in the second.
The All-Stars scored twice in the third inning. Ranz Bodison and Jordan Falcon executed a double steal to produce the first run and the second scored on an error.
The Sweets picked up their first run in the home portion of inning three. Kokodynski led off with a double, moved to third on a 6-3 ground out by Connor Coballes, and scored on a sacrifice fly lifted to right field by Connor Cirillo.
Walla Walla claimed the lead for keeps in the fourth inning. Emanuel Dean started the frame with a single and went to second when Bryson Spagnuolo walked. Jordan Stubbings doubled both runners in and scored one out later on a David Le Bioda sac fly to right.
Tim Duncan brought the Military All-Stars within one, 4-3, in the top half of the seventh inning with an RBI single that scored Falcon – who reached base with a one-out double.
The Sweets responded with four runs in their half of the seventh. Kokodynski led off with a walk and Coballes singled him to third. Cirillo doubled in Kokodynski and sent Coballes skedaddling to third. Carson Green, Dean, and Ben Fariss followed with walks – the latter two of which forced in a run. Stubbings brought in the final run of the inning with a single.
Cirillo led off the Walla Walla eighth with a walk. He scooted into second on a wild pitch and scored on a Green single.
Sweets pitchers displayed a fair amount of courage throughout the game. Kokodynski lasted three innings, Spagnuolo pitched for an equal amount of innings despite issuing five walks, Coballes allowed one run in his two innings of mound duty, and Andrew Mosiello was able to overcome two walks to hurl a scoreless ninth.
The Military All-Stars stranded 14 runners in the game.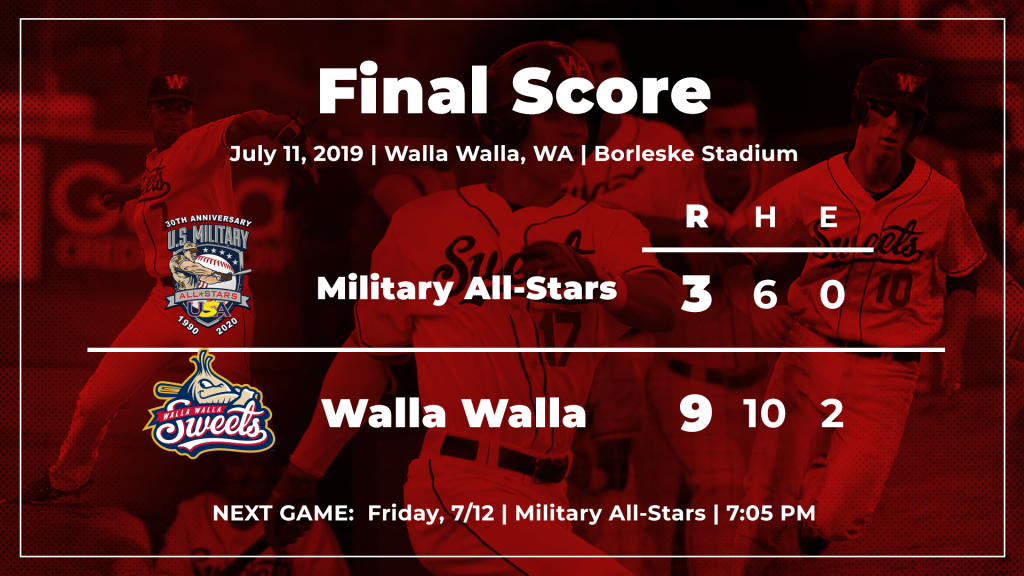 The final game of the two-game series, which will feature an appearance by the Mariner Moose, is Friday at 7:05 p.m.