Sweets score 11 runs, all with 2 outs in the inning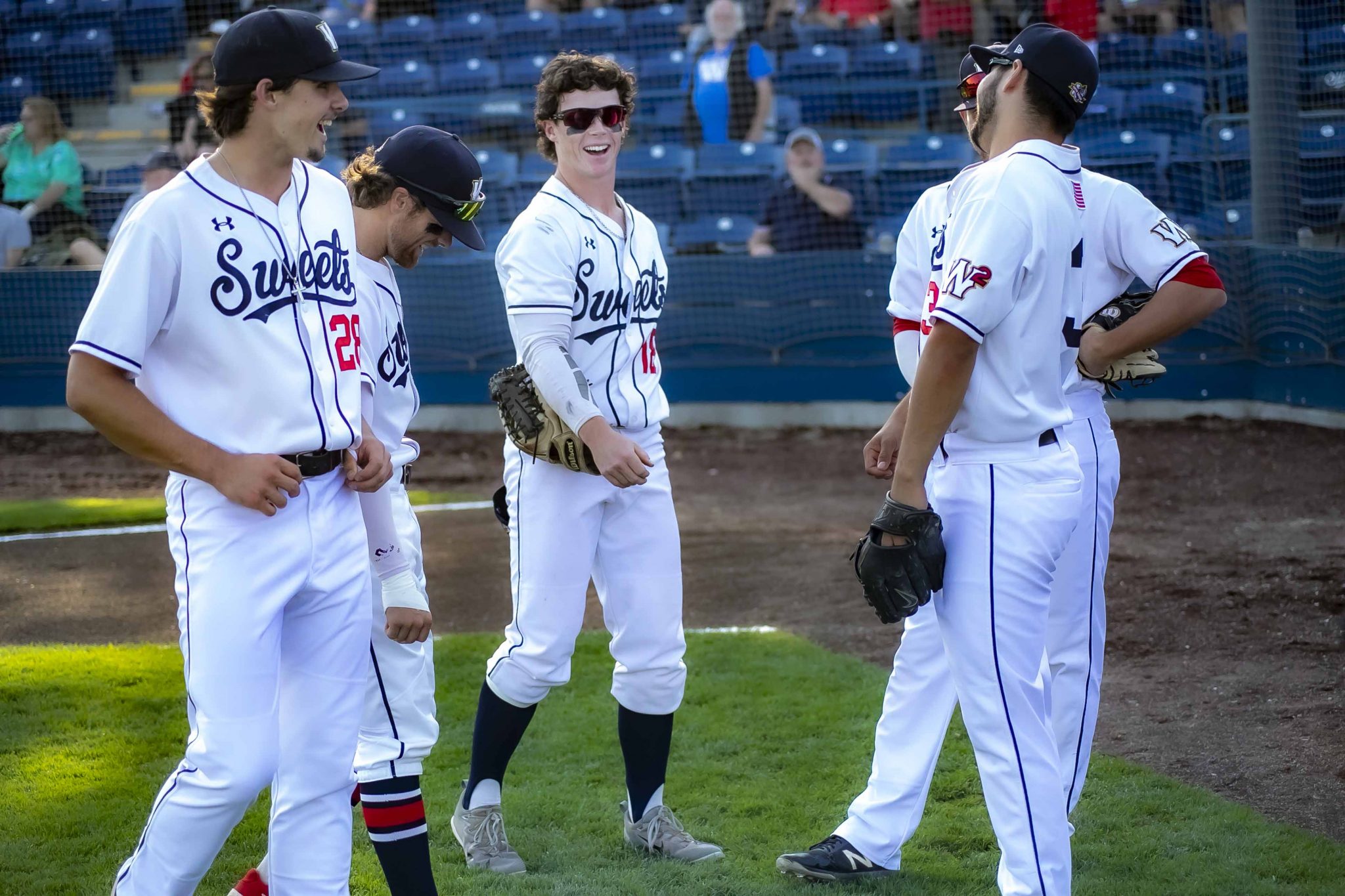 The Walla Walla Sweets took the words opportunism and manufacturing to a new level during West Coast League baseball action Tuesday night at Joe Martin Field in Bellingham.
Walla Walla scored all of its runs with two out as it rallied from a 4-0 deficit and produced an 11-7 victory over the Bells to even the three-game series at one win apiece.
Bellingham tallied four runs on four hits against Sweets starting pitcher Ben Johnson in the bottom of the first inning. Right-hander Landon Boeneke prevented further damage by getting Cole Hinkelman to pop out to third baseman Justin Folz to end the inning.
The Sweets commenced their comeback in the second inning. Caleb Farmer was hit by a pitch with two out and scored when Chazz Martinez launched a 2-0 pitch from Bells' starter Brenden Argomaniz 405 feet over the right-field wall. That sliced the four-run difference to two, 4-2.
Boeneke threw a scoreless second, but allowed a run in the third. It may have been a bigger inning for the Bells, but Martinez threw out Nick DeNicola – who tried to score from second base on an RBI single by Hinkelman – at home plate, otherwise the Bellingham lead would have grown to 6-2.
Farmer walked with two out in the fourth and went to third when Martinez ripped a double. He scored on a wild pitch that made the score 6-3.
Walla Walla inched two runs closer in the fifth. Ryan Johnston walked with two out, stole second and went to third on a wild pitch. Justin Folz was hit by a pitch, then stole second. Cesar Lopez scored both Johnston and Folz with a single to right.
The Sweets evened things up in the sixth. Martinez drew a base on balls with, yes, two out and was balked to second base by Bells' reliever Gabe Hughes. He stole third, then scored on a wild pitch.
Bellingham reclaimed the edge in the home seventh on an RBI single off the bat of Collin Burns.
But Walla Walla took control with three runs in the eighth and two more in the ninth.
Jordan Stubbings collected a free pass with – that's right – two out in the eighth. He moved to third on a single by Farmer.  Stubbings scored and Farmer went to third on an errant pick-off throw to third by Bells' catcher Danny Martin that struck Stubbings and rolled down the left-field line. Martinez walked to put runners at the corners. Ben Fariss scored Farmer and advanced Martinez to third with a double past third and down the left-field line. Martinez scored on a wild pitch.
Patrick Caulfield, who stole his league-leading 22nd base in the third inning, led off the ninth with a single and Johnston singled. One out later, Caulfield went to third on a pitch that bounced away from Martin. But he pounced on the ball and threw to second to get Johnston. Caulfield scored on a wild pitch and, after walks to Lopez, Stubbings, Farmer, and Martinez, the Sweets had their final margin of victory.
While the Sweets prospered in the final two innings, reliever Wyatt Boone blanked the Bells. Bellingham got a runner on in each of the last two innings, but Boone did not buckle. He ended the eighth by striking out Austin Kretzschmar, and finished the game with back-to-back K's of Hinkelman and Burns.
POST GAME INTERVIEW WITH CHAZZ MARTINEZ AND WYATT BOONE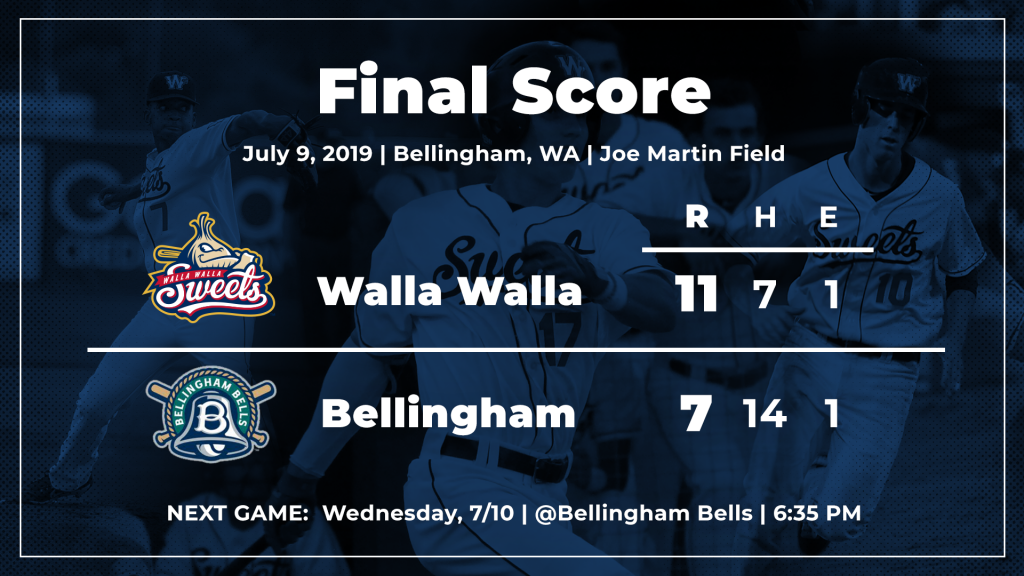 Walla Walla, which improved its record in Tuesday games against WCL opposition to 4-1, play the rubber game of its series with the Bells Wednesday night at 6:35.