Sweets Clinch Series With Raptors, Remain in First
The Sweets take their sixth series win of the year with 13 runs against the Raptors.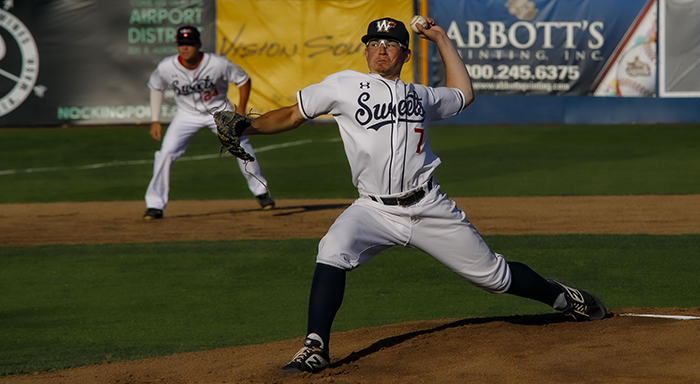 The number 13 proved to be a lucky one for the Walla Walla Sweets during West Coast League South Division baseball action Saturday night at the Ridgefield Sports Complex.
Walla Walla built a 5-0 lead after an inning-and-a-half, squandered it in the bottom of the fourth, then rebounded in a big way by scoring four times in the seventh inning and an equal number of times in the ninth as part of a wild 13-9 victory over the Raptors.
The Sweets, who clinched their sixth series win of the season, still possess a one-game lead in the WCL South standings over red-hot Corvallis – which claimed its eighth win in succession on Saturday, a 7-1 triumph over Yakima Valley.
Patrick Caulfield started the pre-holiday fireworks on Saturday night with a lead-off, star-spangled home run to right field on the third pitch from Ridgefield starting pitcher Zach Barnes. Justin Folz followed with a walk, stole second and scored a strikeout and single by Cesar Lopez later on a Jordan Stubbings sacrifice fly to right.
Walla Walla scored three more times against Barnes in the second inning. Caulfield rapped a two-out single, Folz and Chazz Martinez walked, and Lopez crunched a two-RBI double off the right-field wall that scored Caulfield and Folz. Martinez crossed the plate on an infield error to cap the frame's scoring.
Sweets starter Travis Craven pitched one-hit ball and struck out four over the first three innings.
But in the bottom of the fourth, the Raptors scored a half-dozen times to take a 6-5 edge. The big blow was a game-tying, three-run homer to right by Dusty Garcia.
Meanwhile, Barnes fashioned a stretch in which he retired 13 hitters in a row after a rocky start.
Sweets reliever Ben Johnson kept his team's chances for victory within reach by throwing three perfect frames (five through seven).  Johnson, like Craven, fanned four hitters.
Relief pitcher Wesley Harper entered in the seventh and Caulfield greeted him with a double. Folz singled him to third, then stole second. Lopez was issued an intentional walk one out later. Stubbings then bounced a single up the middle that scored two runs that put the Sweets up 7-6. Parker Price moved Lopez to third and Stubbings to second with an infield out. Ryan Johnston worked Harper for a walk to load the bases. Caleb Farmer and pinch-hitter Emanuel Dean earned bases on balls from reliever Carter Powell to bring in Lopez and Stubbings, respectively.
Walla Walla put up another four spot in the ninth. Price slapped a one-out single, stole second and, after a walk to Johnston, went to third on a lost-in-the-lights single to left by Farmer. The runners moved up on a wild pitch and, with two out, Caulfield ended his second four-hit night of the season with a two-run single to center.
The Raptors scored three times in the ninth to create the final margin of difference.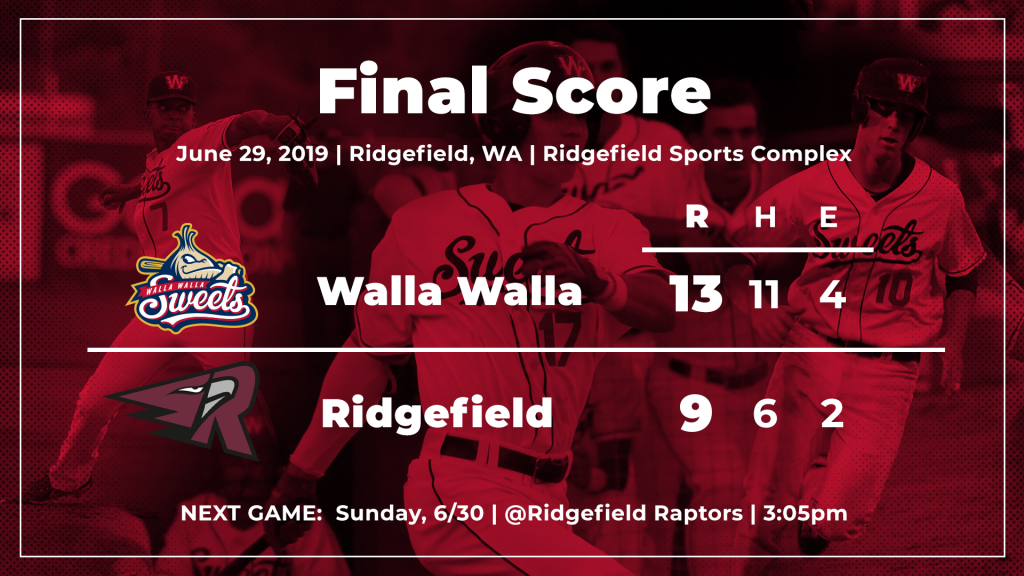 The series finale is Sunday at 3:05 p.m. The Sweets probable starting pitcher will be Chazz Martinez.