The Bend Elks win the series in a close 2-1 game.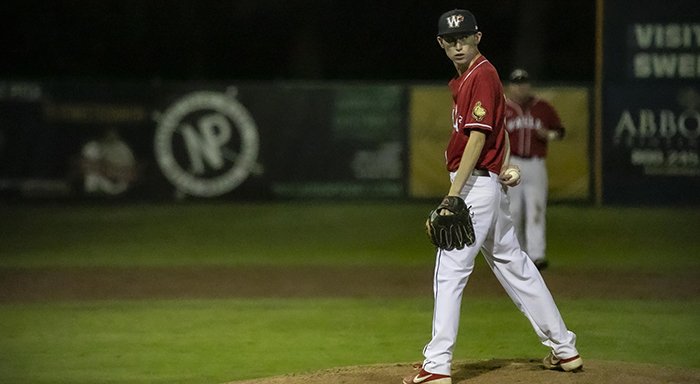 The Bend Elks used strong efforts on the pitching mound Wednesday night to post a 2-1 victory over the Walla Walla Sweets in the middle game of a three-game West Coast League baseball series at Vince Genna Stadium.
Bend inched closer to the .500 mark and clinched the series with Wednesday's win. The Elks are now 8-9 on the season.
Walla Walla, now in the midst a three-game losing streak, dropped to 12-5 and saw its lead in the WCL South Division reduced to a single game over three-time defending champion Corvallis. The Knights moved into sole possession of second place on Wednesday with a 13-1 home romp over Ridgefield.
The Sweets pushed across their only run of the night in the top of the first inning. Justin Folz, the No. 2 hitter in the WCL (.404 avg.), singled with one out. Chazz Martinez walked and, one out later, Emanuel Dean drew a base on balls from Elks' starting pitcher Ricky Castro. Parker Price followed with a bouncer up the middle that Bend second baseman Nico Burgarello smothered. Folz scored on the play, but Martinez got himself into a pickle between third and home and was tagged out by Bend third baseman Efry Cervantes to end the frame.
Sweets starting pitcher Travis Craven gave up a hit in the bottom of the first, but the southpaw registered two strikeouts along the way.
The Elks tied the game in the home second. Justin Parsons hit a one-out single and scored on a two-out double by Cervantes.
Patrick Caulfield led off the third with an infield single and advanced to second on a throwing error by Cervantes. Caulfield stole his league-leading 13th base of the season moments later, but was picked off third by Elks' catcher Jason Bush.
Craven gave up a base knock in the home third, but ended the inning by delivering a called third strike to Bush.
The Sweets loaded the bases in the fourth, but were unable to produce the tiebreaking run. Walla Walla managed just two baserunners from the fifth inning on.
Pitchers Brennan Patterson and Ben Johnson pitched two innings of shutout relief apiece for the Sweets after Craven exited.
It stayed even until the bottom of the eighth. Sweets reliever Charles Harrison entered and struck out Burgarello to start the frame. Nelson Padilla then made contact for a single. After Chase Fernlund popped out to first baseman Brock Ephan, Bush singled to send Padilla to second. Padilla scored what proved to be the winning run on a Zach Needham single to right field.
Bend closer Coen Wynne pitched a clean ninth for the save.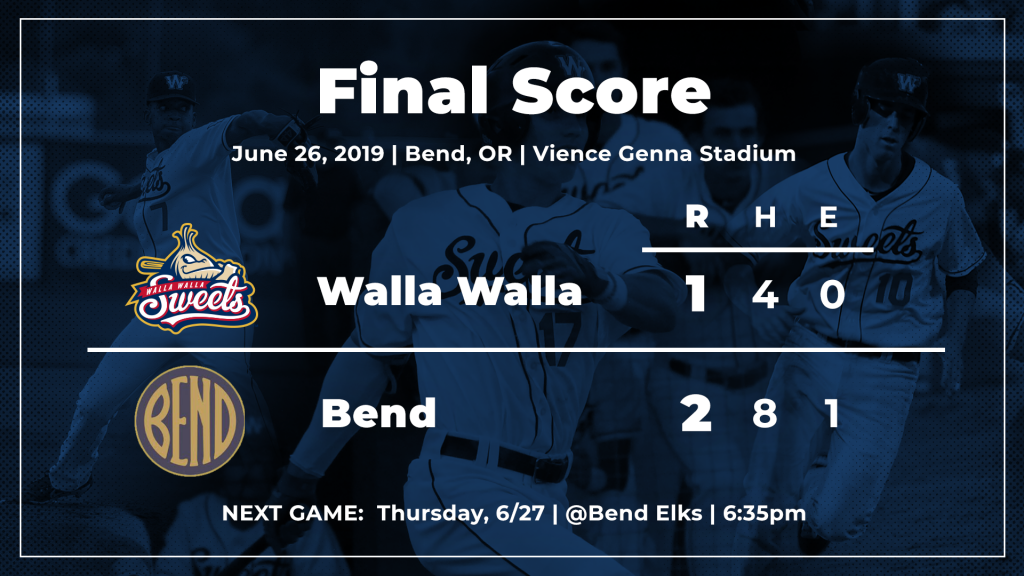 The final game of the series is Thursday night at 6:35. Right-hander Andrew Mosiello is the scheduled starter for the Sweets and will be opposed by Bend righty Kyle Wade.