Sweets More Kosher Than Pickles
Sweets win rubber match against Pickles in a exhilarating game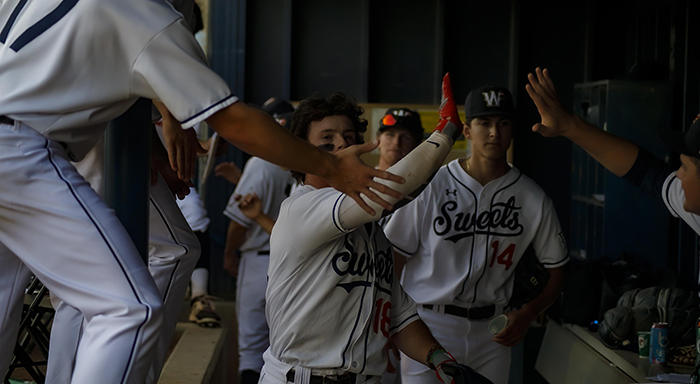 On a night when his father Jeff – a former Major League infielder – threw out the ceremonial first onion, Walla Walla Sweets second baseman Connor Cirillo accepted the toss, took a bite out of the onion, then took a bite out of the visiting Portland Pickles a short time later.
Cirillo had two hits – including a game-tying, three-run home run that keyed a five-run, second-inning rally – that helped the West Coast League's South Division leaders to a series-clinching 9-6 victory on Thursday night at historic Borleske Stadium.
Walla Walla improved to 10-2 on the season while Portland fell to 5-10. Thursday's win clinched the mid-week series for the Sweets by two victories to one. Walla Walla has now won four straight series to begin the 2019 campaign. The season began with home sweeps of three-time defending WCL champion Corvallis and Bend and, after a two-game sweep of non-league opponent Highline, the Sweets took two of three games in Wenatchee last weekend before achieving a similar result against Portland.
The Pickles scored twice in the first inning. Alex Lambeau drew a one-out walk and scored on a triple by John Jensen. Darius Perry scored Jensen with a ground ball to shortstop.
Portland added to its lead in the second inning. Kyle Velasquez reached base on a two-out error and scored on a Brendan Power single.
With two out and one on in the Sweets second, Caden Cortese drew a walk on four pitches and set the stage for Cirillo. He delivered a mighty swing on the first pitch he eyed from Portland starting pitcher Jonathan Kelly and dropped it over the left-field wall to tie the game at 3-3. Patrick Caulfield followed with a double and scored on a bad-hop hit to right off the bat of Cesar Lopez.  Ben Fariss sent Lopez to third with a single prior to the execution of a double steal by the duo that produced the final run of the inning.
"A fastball down the middle was all I was looking for," Cirillo said. "Coach told me to look for something I could kill and I did. I knew it was gone."
Watch the Post-Game Interview Here.
Reliever Ben Johnson retired the Pickles 1-2-3 in the top of the third inning and the Sweets tallied twice in the home half. Jordan Stubbings led off with a single and scored on a double to right by Caleb Farmer. With two out, Cirillo brought in Farmer with a single to give the Sweets a 7-3 lead.
Alex Shanks belted a solo home run to left in the fourth inning for Portland. The Pickles drew two runs closer in the fifth on a wild pitch and a Perry grounder.
Brock Ephan, pinch-hitting in the bottom of the fifth inning, worked the count to 2-0 against Portland reliever Nicolas Lopez before unloading a 421-foot home run to left that re-established a multiple-run edge for the home team.
"It felt awesome," Ephan said. "He fell behind 2-0 and I had a feeling he was coming back with a fastball. It felt good to get back in the hit column."
Caulfield led off the Walla Walla sixth with the second of three hits he had on the night. He advanced to second on a Lopez grounder to the right side, ran to third on a wild pitch, and scored on a Fariss single.
Pitchers Chazz Martinez, Dimick Wood, and Fariss did not allow a run in their five total innings of mound work. Two inherited runners scored against Martinez, but he retired all three hitters he faced in the fifth. Wood hurled innings six, seven, and eight and did not allow a hit. Fariss started the ninth inning by K'ing Chase Luttrell and Kyle Velasquez, but issued a walk to Power and a single to Kyle Manzardo. He regained his poise, though, and retired Lambeau on a fly to right to end the contest.
"I like the way they continue to battle every inning," Walla Walla manager Frank Mutz said. "They keep coming back. That's the personality. They want to win. They keep grinding at it."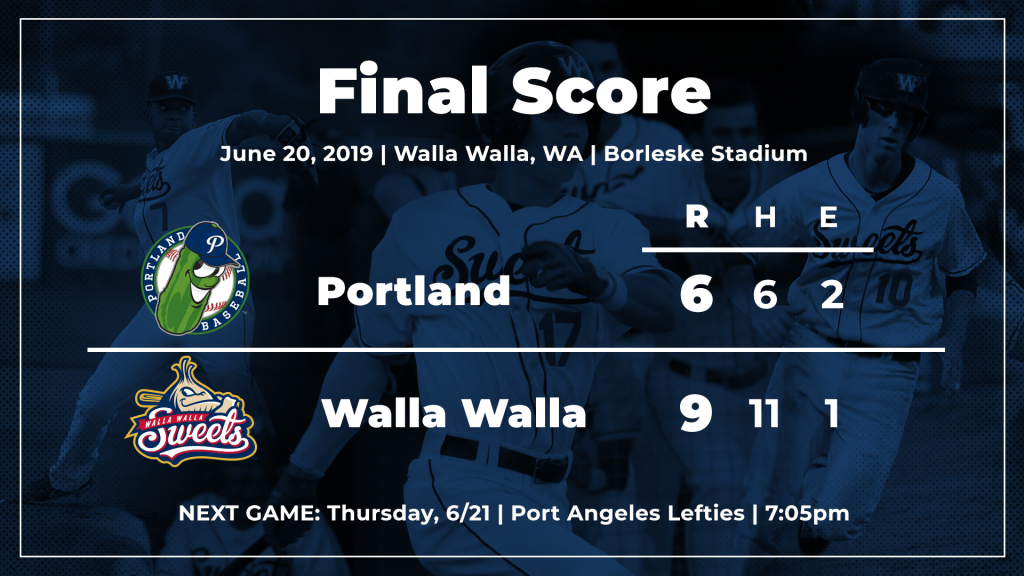 The Sweets open a three-game series with Port Angeles Friday night at 7:05. Saturday's game is also scheduled for a 7:05 start and Sunday night's finale begins at 6:05.