Sweets Ranked in Top 50 of Summer Collegiate Baseball Attendance for Ninth Straight Year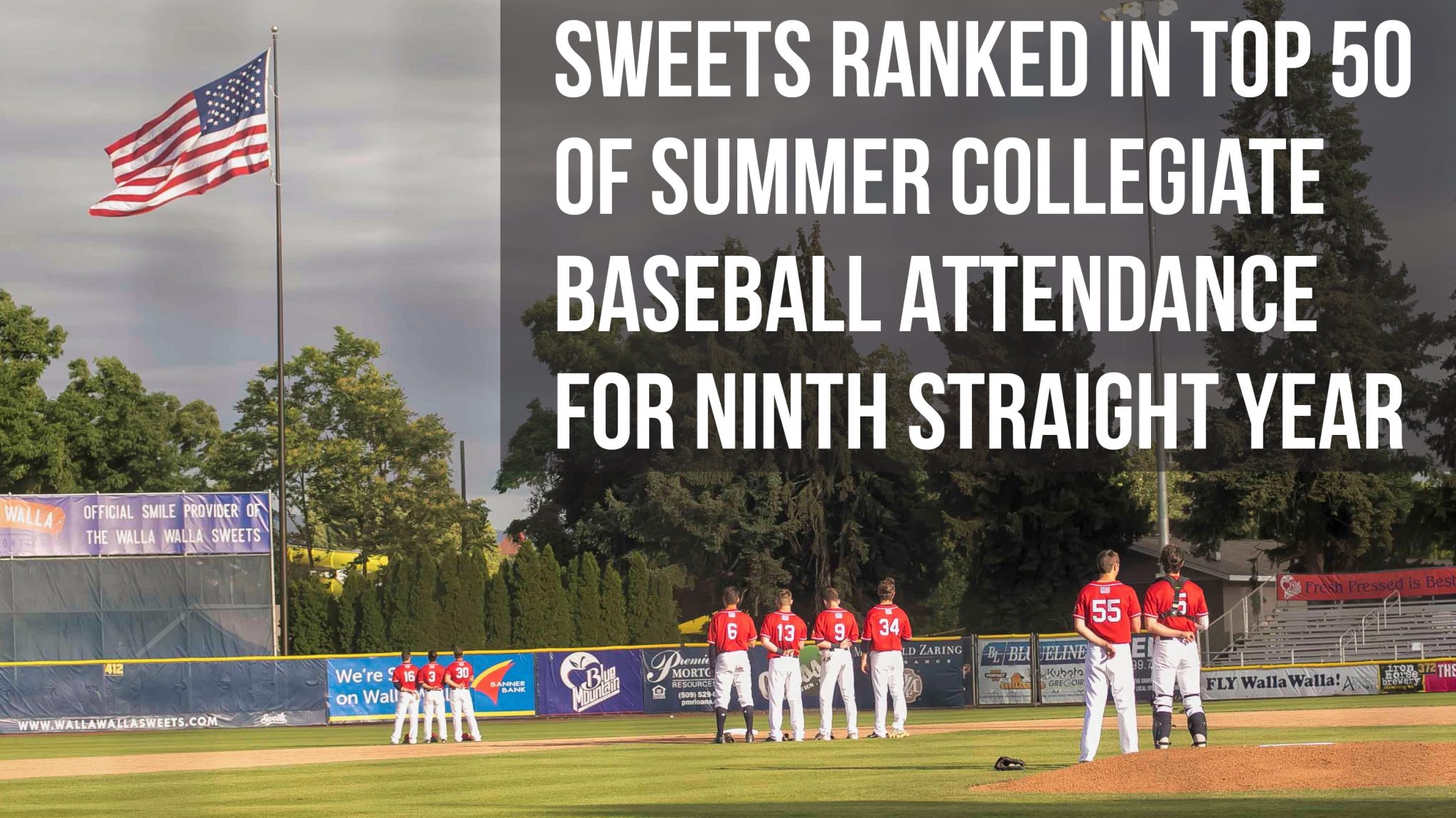 Walla Walla, Wash. – It was another great season of Sweets baseball at Borleske Stadium in 2018 thanks to the tremendous support of the Walla Walla community. For the ninth consecutive season, the Sweets ranked in the top 50 of Ballpark Business's 2018 Summer Collegiate Top 100 Attendance Rankings.
"The continued support for this team from the community has been truly incredible," said Sweets team president Zachary Fraser. "Year in and year out our fans pack Borleske Stadium and make it such a fun and electric environment. It means a great deal to all of us to have such a passionate fan base that continues to get acknowledgement as one of the top draws in collegiate summer baseball."
The Sweets came in at 49 on this year's Ballpark Business attendance rankings with an average of 1,255 fans per game. Including non-league games, Walla Walla drew over 38,000 fans to Borleske Stadium this summer.
Fans that came out to watch the Sweets play at home this season were treated to a lot of winning. Walla Walla finished with an impressive overall record of 24-8 at Borleske Stadium in addition to going 9-0 in series at home against West Coast League opponents.
There were a lot of exciting promotions throughout the 2018 season at home for the Sweets as well. Adam West Night featured caped crusader inspired uniforms, a commemorative Sweets statue giveaway, and a fantastic post-game firework display.
The famous 'Who's on First?' skit was brought to life on Abbott and Costello Night with St. Louis Wolves jerseys that featured players' names from the routine. Fans saw what could have been with the three-game Walla Walla Wallabies series where the Sweets wore alternate reality Wallabies uniforms.
Mariner Moose came out and put on a show for Walla Walla fans while terrorizing the team's on-field emcee Sean McKillip. There were Terrific Tuesdays, BOGO Wednesdays, Throwback Thursdays, Bud Light Batting Practices and much more.
The collective efforts of the team's management and staff culminated into what was yet another terrific season of Walla Walla Sweets baseball, which as always was made entirely possible by the team's incredible fan base. With the team's tenth season upcoming in 2019, expect more of the same in what will undoubtedly be another fun and thrilling summer of Walla Walla Sweets baseball.