WWCC Warriors Combine for Shutout in Sweets Victory over Kelowna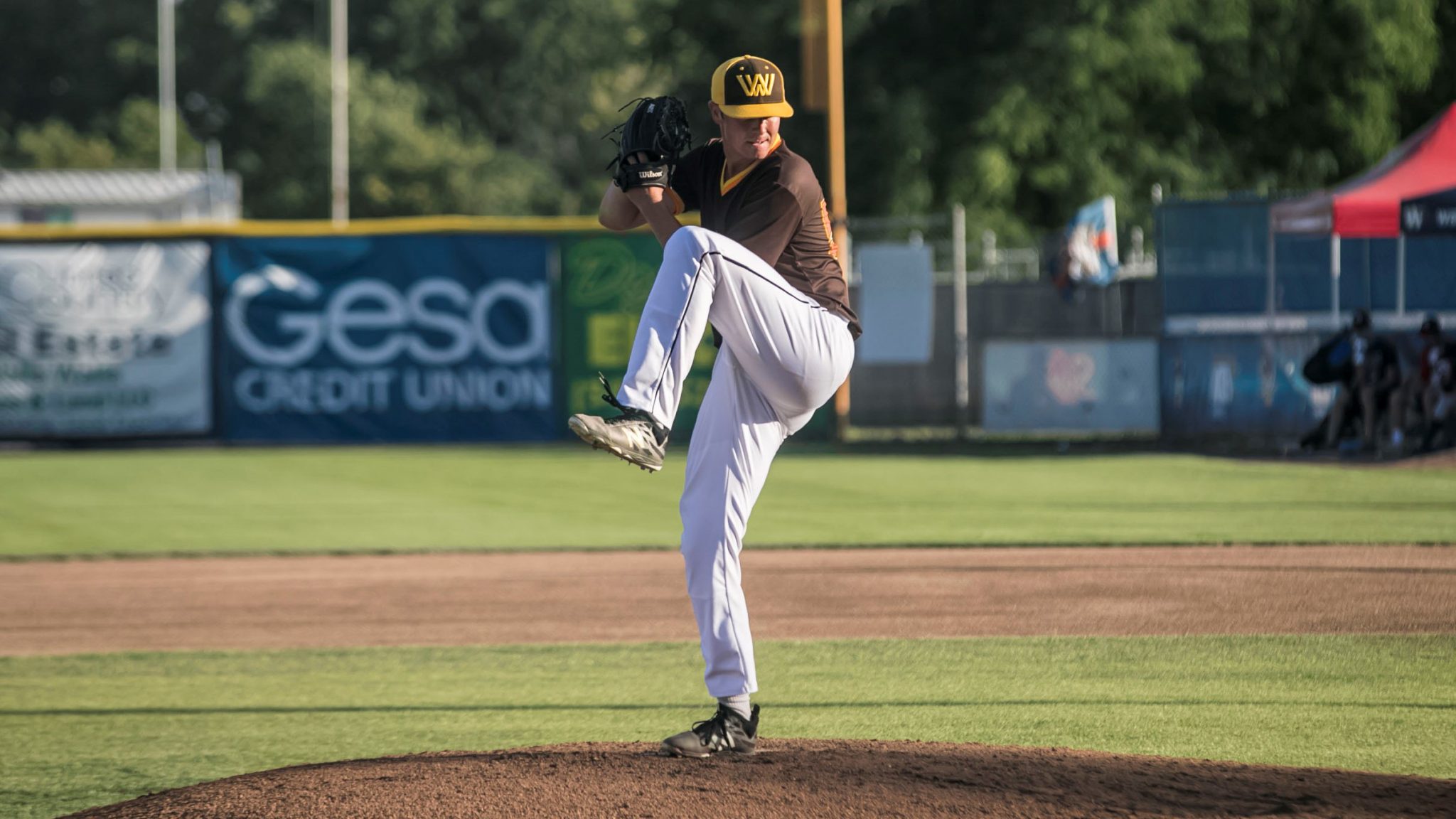 Walla Walla, Wash. – The WWCC Warriors are going to have quite a pitching staff to be dealt with next year, and it was on full display Thursday night. Led by two Warriors, the Sweets shut out the Kelowna Falcons in the series finale at Borleske Stadium by a final score of 2-0.
The Sweets got their first run of the game in the bottom of the second inning. After hitting the game-tying homerun last night, Ben Fariss dug in to lead off the frame against Kelowna starter Trevor Brigden.
He then promptly drilled a moonshot over the left field wall that got all the way out into the trees for a solo homerun to make it 1-0. That proved to be one of the biggest swings on the night as it was almost entirely pitching and defense the rest of the way.
Michael Peterson got the start for Walla Walla on the mound and was sensational throughout. He had all of his pitches working and was able to keep the Kelowna hitters off balance all game long.
As a result, Peterson tossed seven shutout innings for the Sweets while racking up nine strikeouts. Perhaps even more impressive was the fact that over those seven innings, he allowed just two baserunners on one hit and one walk.
The offense for the Sweets finally arrived once again in the bottom of the sixth inning. With one out in the frame, Cesar Lopez ripped a ball deep into the right-centerfield gap.
[vc_row][vc_column width="1/2″][vc_single_image image="4370″ img_size="full" alignment="center"][/vc_column][vc_column width="1/2″][vc_single_image image="4371″ img_size="full" alignment="center"][/vc_column][/vc_row]
The ball got all the way out to the wall which allowed Lopez to reach third base on a triple. Ryan Johnston then lifted a ball into shallow right-centerfield.
The right fielder caught the ball and relayed the throw home with the runner tagging from third. The throw bounced in and got away from the catcher to allow Lopez to score on the RBI sacrifice fly which made it 2-0.
Brayde Hirai took over on the mound for the Sweets in the top of the eighth inning. He followed suit with an impressive performance just like his collegiate teammate Peterson.
Hirai went back-to-back scoreless innings in the eighth and ninth inning while allowing just two hits and striking out three. That secured the shutout in an all-WWCC Warrior pitching performance as the Sweets got the victory in the series finale against the Falcons by a final score of 2-0.
Walla Walla gets set to open up their final home series of the 2018 season on Friday as the Yakima Valley Pippins come to town. First pitch of game one is slated for 6:35 PM.
[vc_row][vc_column width="1/2″][vc_single_image image="4372″ img_size="full" alignment="center"][/vc_column][vc_column width="1/2″][vc_single_image image="4373″ img_size="full" alignment="center"][/vc_column][/vc_row]