Sweets Video Broadcast Subscription Now Availabe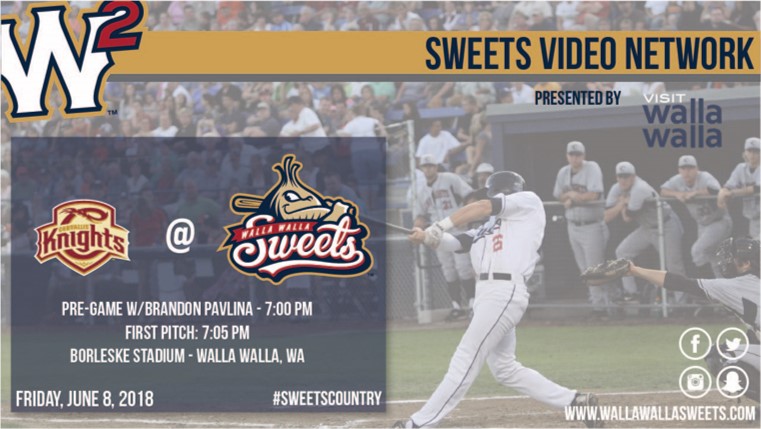 Walla Walla, Wash. – With the Sweets' home opener just over two weeks away, everything is coming together in preparation for another exciting season of Sweets baseball, including the brand-new video stream. Fans can now purchase their season subscription on Boxcast to be able to catch every Sweets home game for the 2018 season.

To do so, follow the link below to purchase your Channel Ticket:


The price for the Channel Ticket will be $189.99 + tax and will include all thirty-two regular season home games. The cost per game for the season subscription breaks down to $5.93/game/stream. It is important to note that streams will not be available for mass distribution or for sharing and are intended for private viewing only.

Additionally, fans who purchase a season subscription (Channel Ticket) will receive a confirmation email containing their viewing link for the season. That link is how individuals will access ALL games, so they should NOT delete the email. The club recommends bookmarking the confirmation email, so fans with the Channel Ticket know right where it is and don't accidentally delete it.

Single-game tickets will also be available throughout the course of the season for fans to purchase if they are unable to make it out to the ball game that evening. The price for the individual Game Ticket for the stream will be $8.99 + tax. Be sure to follow our social media feeds on Twitter and Facebook to get the link to the stream on the day of the game to purchase single-game streaming tickets.

The Sweets video broadcast will be a single-camera operation in 2018, traditional to what is seen with many colleges across the country. Development is already in place to allow for a multi-camera broadcast in the 2019 season. The video stream will be a simulcast of audio from award-winning Sweets' radio broadcasts on KTEL Fox News Radio 1490 AM and 99.7 FM with new, separate advertising opportunities available through the video platform.

Twice this season, the Sweets will be featured as the WCL Game of the Week where the broadcast will be shared league-wide via the WCL website. These dates will be Thursday, July 19 against the Bellingham Bells and Thursday, August 2 against the Kelowna Falcons.