10 Things to Know About Sweets Baseball – March 27, 2018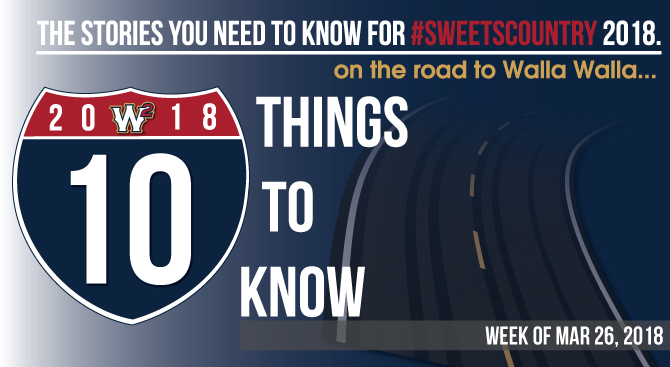 With the college season picking up speed and Opening Day for the Sweets rapidly approaching, stay up to date on how our players are performing with another round of "10 Things to Know"!
1. Tanner Cunha (LHP) from Sacramento City College has gotten off to a great start in his first collegiate season. His most recent outing against Cosumnes River College, Cunha got the start, only surrender two hits over five innings pitched and gave up an unearned run. In seven appearances on the season, he's compiled a 2.33 ERA and 16 strikeouts in 19.1 innings pitched.
2. The University of Utah won two of three home games against Sacramento State this past weekend, and both Sweets players from the Utes played in the series. Matt Richardson (SS) went 2-for-10 with a run scored and 4 RBI over the three games. Justin Kelly (RHP) appeared in the rubber match of the series, allowed just one earned run in 4.1 innings pitched with five strikeouts and recorded the win.
3. Talented senior for C.K. McClatchy High School, Jack Filby (Util) has unsurprisingly been on a roll at the plate to begin the season. Through eight games, the UCLA commit has a .364 batting average to go along with two triples and nine RBI.
4. Central Washington University was able to take three of four games against Saint Martin's this past weekend, and although Mitch Lesmeister (IF) cooled off slightly, he still contributed to the team's victories. In the series, he went 3-for-15 including a double, a triple, two walks and five runs scored. He still carries a .316 batting average on the season.
5. Jordan Hovey (IF) has been getting back on track for the Creighton Bluejays as of late. He got the start this past Friday against Illinois State and went 1-1 with two walks, two stolen bases, and a run scored.
6. Several 2018 Sweets players squared off in the series between Northwest Nazarene University and Montana State University Billings over the weekend, with MSUB winning three of the four games. Zach Penrod (Util/NNU) went 4-for-13 in the series with two walks and two runs scored. On the mound, he threw for 1.1 innings over two appearances with two strikeouts and one earned run. Jalen Garcia (OF/MSUB) finally came back down to Earth after getting off to a scorching hot start, going 1-for-17 in the series, but he was still able to add three runs scored and three stolen bases.
[vc_row][vc_column width="1/2″][vc_single_image image="3018″ img_size="full" alignment="center"][vc_column_text]Jordan Hovey (OF)
Image from:
gocreighton.com
[/vc_column_text][/vc_column][vc_column width="1/2″][vc_single_image image="3022″ img_size="full" alignment="center"][vc_column_text]Matt Richardson (SS)
Image from:
utahutes.com
[/vc_column_text][/vc_column][/vc_row]
7. Washington State University dropped two of three games on the road against the University of Arizona over the weekend. Danny Sinatro (OF) went 1-for-4 with a hit by pitch over two games, and in two appearances out of the bullpen, Bryce Moyle (LHP) gave up one earned run with one strikeout over 2.0 innings pitched.
8. An upcoming series where fans will get to see some future Sweets in action will be when Central Washington hosts Montana State University Billings this weekend. It will be a four-game series with a duo of doubleheaders on Friday (3/30) and Saturday (3/31). Stellar freshman Mitch Lesmeister (IF) will take the field for the Wildcats while Jalen Garcia (OF) and Carson Woolery (RHP) will oppose him for the Yellowjackets.
9. Former righty hurler for the Sweets, Chris Lincoln (RHP) has been performing well in his second season with UC Santa Barbara. He has appeared in 10 games, including two starts, and has a 1.93 ERA with 24 strikeouts over 23.1 innings pitched. His last outing came against San Jose State this past weekend where Lincoln started the game and went 6.2 innings with six strikeouts and one earned run.
10. Vinny Capra (SS), a member of the 2017 Sweets team, has been on fire to start his senior season for the University of Richmond. He has racked up a .341 batting average, 23 walks, six doubles and 16 RBI. In a three-game series against UMass this past weekend, Capra went 3-for-10 with three runs scored and four RBI.