Former Sweets Pitcher Easton Lucas Makes Major League Debut
Left Handed Pitcher Becomes Third Sweets Alum to Debut in 2023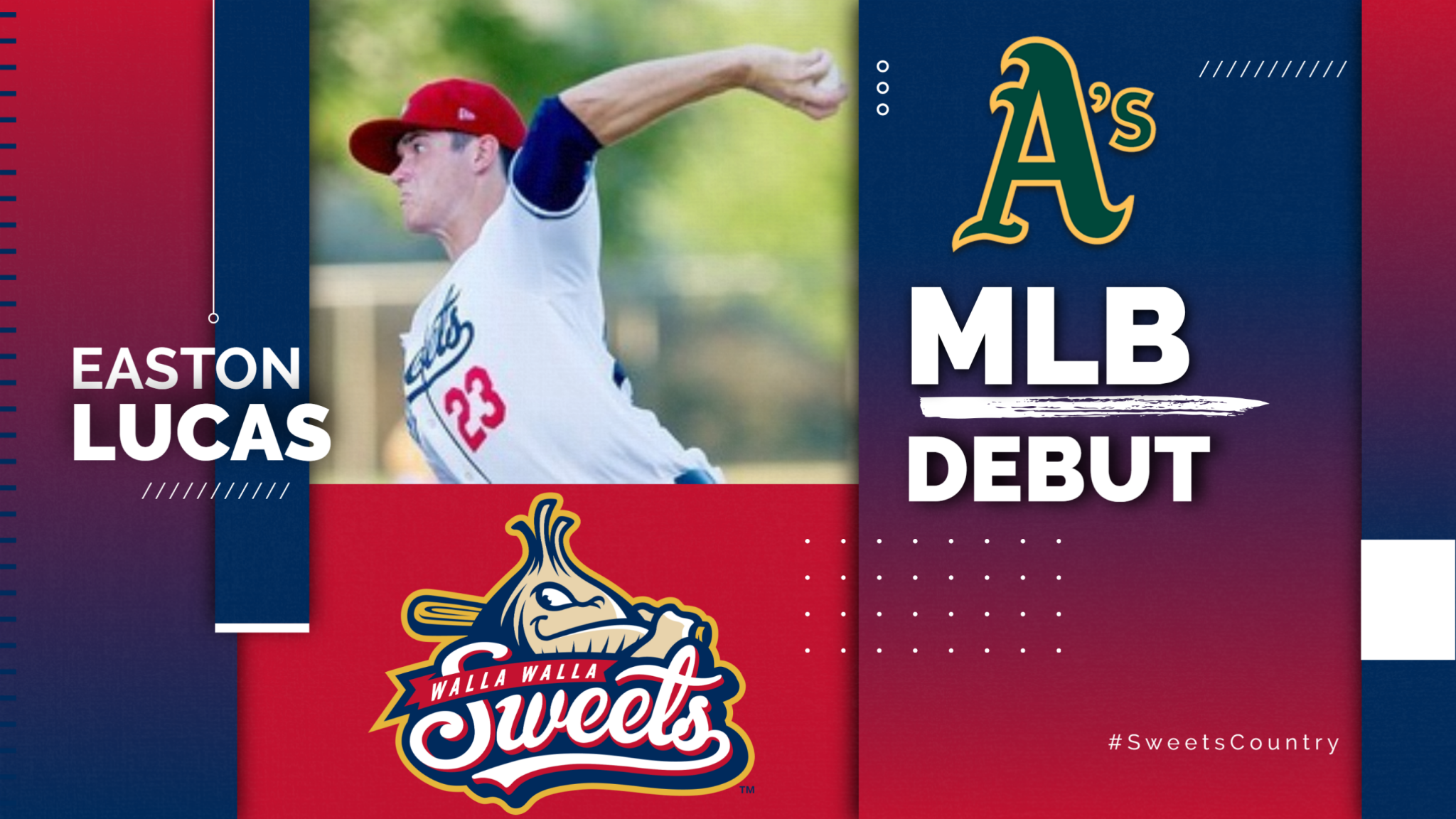 WALLA WALLA, WA – For the third time this year, a former Sweets player has made it to The Show.
Easton Lucas, a left handed pitcher who was recently called up by the Oakland Athletics, made his first appearance on a major league diamond last night on the road against the Texas Rangers.  The southpaw came on in a relief appearance to start the bottom of the 4th inning for Oakland.
Lucas pitched one inning, allowing one run on two hits and two walks, while also picking up his first major league strikeout.  The A's would go on to defeat the Rangers 6-3.
The appearance by Lucas marked the second time in two weeks that a former Sweets pitcher has made their big league debut.  He follows pitcher Darius Vines of the Atlanta Braves, who made his major league debut in a start against the Colorado Rockies just one week prior.  Vines pitched six innings in a winning effort to earn his first ever major league win.
Like Vines, Lucas was a two year player in Walla Walla, playing for both the 2015 and 2016 Sweets teams.
In 2015, Easton appeared in 12 games, eight of them starts, ending with a record of 1-1 while striking out 44 batters and walking just 15 in 48 innings pitched.  He finished the season with a 2.43 ERA.
For the 2016 season, Lucas was outstanding for Walla Walla.  He finished the season with ten appearances, all of them starts, going 7-2 with 55 strikeouts against 14 walks in 52 ⅓ innings pitched.  He ended the year with an impressive ERA of 2.39.
Lucas was a two time West Coast League All Star during his time in Walla Walla, while also earning 1st team All-WCL honors in 2016.  He also earned WCL honorable mention honors in his 2015 season with the Sweets.
In the 2019 MLB Draft, the Miami Marlins selected Easton in the 14th round (411th overall).  Less than six months after being drafted, Lucas was traded by the Marlins to the Baltimore Orioles.  After spending the last three plus seasons in Baltimore's farm system, Lucas was traded by the Orioles to the Oakland A's, where he spent just a few short months in the minor leagues before his call up earlier this week.
Lucas becomes the 15th former Sweet to make his major league debut.  He joins fellow alums Vines and left handed pitcher Chris Murphy, also a member of the 2016 Sweets team, to make their big league debuts in 2023.
Oakland continues its series against the Rangers today, with first pitch scheduled for 4:05 PM PST.