Sweets Rally Late But Drop the Finale vs Nanaimo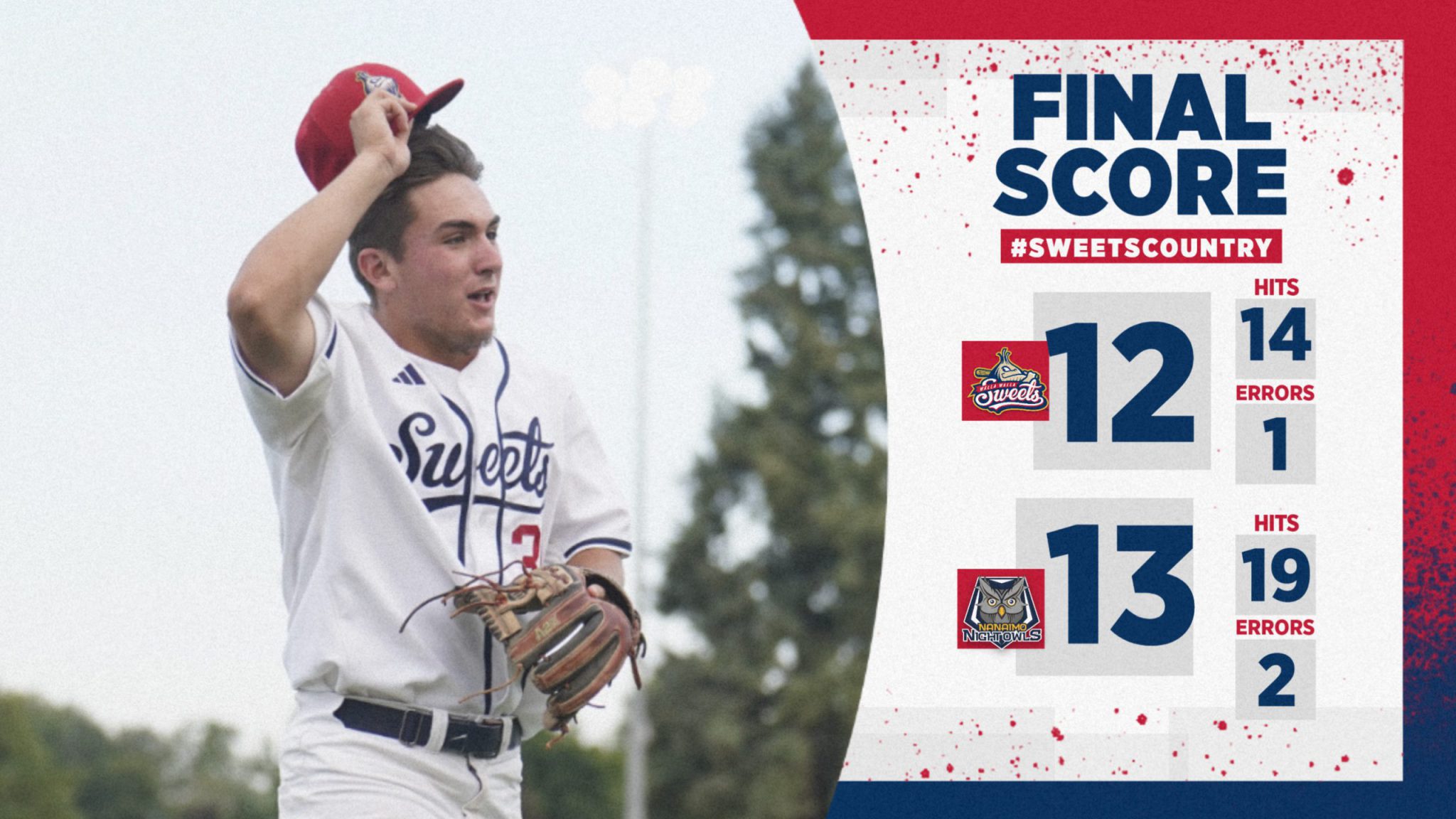 WALLA WALLA, WA- The Walla Walla Sweets fired four runs in the ninth but came up just short vs the NightOwls dropping the final game vs the Nanaimo 13-12 on Sunday night. With the win, the NightOwls swept Walla Walla in each of the first two series between the two franchises. With the loss, the Sweets fall to 10-20 overall.
 Nanaimo pulled away early with a 6-0 lead into the bottom of the third when the Sweets first got on the board. Andrew Graham kicked off the scoring for the Sweets scoring Cruz Hepburn to get the scoring started for Walla Walla. Graham posted a season-best 5 hits for Walla Walla with a pair of RBIs on the night.
Nanaimo fired back with a run in the top of the fifth and Aidan Espinoza would match it by scoring Davis Carr to cut the lead back to 5.
The Sweets needed a huge inning and they found two of them in the sixth and seventh. In the sixth, Davis Carr played a bunt down which ended up scoring two due to a throwing error from the pitcher trying to sit down Carr on the sacrifice play. Cruz Hepburn brought in Carr an at-bat later grounding out to cap off a three-run inning.
Walla Walla's seventh inning was just as impressive scoring another three runs starting with a Jakob Marquez two-run double. Maxton Martin matched the big double with an RBI base hit scoring Marquez to tie the game up into the eighth. 
Nanaimo added another run in the top of the eighth but towered four runs in the top of the ninth which ended up being enough for Nanaimo but not without a fight from the Sweets.
Martin led off the bottom of the ninth going first pitch swinging driving one to right field which left the yard for Martin's first home run with the Sweets. Walla Walla then worked with the bases loaded however Payton Knowles hit into a fielder's choice play but scored Logan Meyer to cut the lead to three. 
Andrew Graham's final knock of the ball game came at a huge spot driving in Carr to cut it to a two-run game in the bottom of the ninth. Aidan Espinoza followed with a sacrifice fly RBI scoring Knowles, which ended up being the Sweets finale blow in the finale.
Sweets by the Numbers
Graham's 5 hits are the highest from a Sweet this season

Martin hit his first home-run with the Sweets.

Marquez, Graham, Martin, and Espinoza all drove in two runs

Knowles extended his on-base streak to 21 games
 Up Next
Sweets travel off to Portland on 7/11/23 at 7:05 P.M