Hara's Season Best Outing Helps Sweets Over Pippins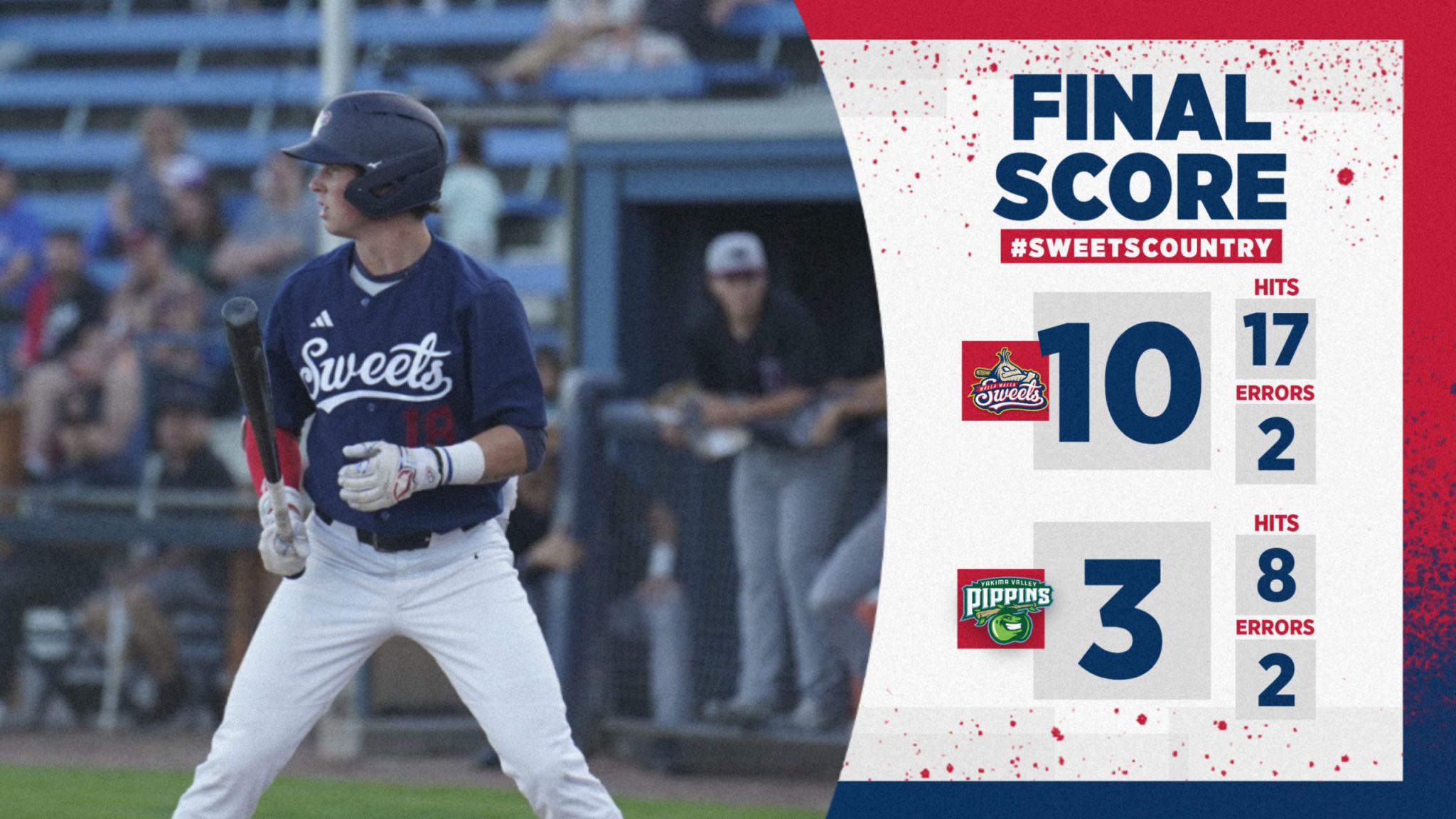 WALLA WALLA, WA-  The Walla Walla Sweets had a season-best outing on Sunday night as they took the first installment of the Battle of the Basin with a game-three win 10-3. With the Win Walla Walla moves to 7-11 and has won their last two league sets.
For the third straight game, Walla Walla got on the board first when Kennedy Hara extended a hit streak of three games reaching on a base hit to right to kick off the bottom of the first. Hara was in danger of being left on base but Manny Casillas came to save the day driving in the WCL on-base percentage leader in Hara giving Walla Walla a 1-0 lead.
Sweets went on to extend their lead to 2-0 adding a run in the third when Casillas again stepped up to the plate driving in Ben Parker. However, Yakima Valley answered back with a run scored in the top of the fourth to cut the lead back to one.
The Sweets answered the run being scored incredibly fast firing four runs back at the Pippins in the bottom of the fourth. In the fourth Hara added to his impressive day with his second hit of the ball game driving in Kevin Spear to start off the huge inning for the Onion Boyz.
Walla Walla went on to answer their own big inning with a just as strong fifth inning scoring three runs in the next frame. Hara again came to work and again drove in a run with another base hit to drive in Jakob Marquez who led off the inning with a double. 
In the sixth Heitaro Hayashi wrapped up his impressive day where he picked up the win going six innings allowing only one run in the victory.
Sweets by the Numbers
– Hara had a season-best 4/6 day at the plate.
– Walla Walla had a season-best 17 hits in the win.
– Heitaro Hayashi went six innings striking out 5 in the win.
– Walla Walla gave up a season-low in walks with 1.
 Up Next
Sweets start a six-game road trip as they square off with Cowlitz in Longview, WA on Tuesday  6/27/23 at 6:35 P.M