Sweets Announce Deep Group of First Years For 2023
Sweets Announce Blake Wittman, Reilly Kirkpatrick, Kennedy Hara, and Francisco Lopez for the 2023 season.
WALLA WALLA, Wash– The Walla Walla Sweets have announced Blake Wittman, Reilly Kirkpatrick, Kennedy Hara, and Francisco Lopez for the 2023 season. All four will be making their debuts for the Sweets and in the WCL in 2023.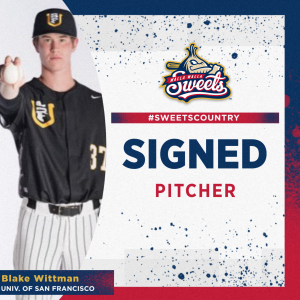 Blake Wittman starts the new group of Sweets coming to Walla Walla through the University of San Francisco. Wittman is a 6'1 200lbs right-handed pitcher who has made 5 appearances in 2023 for the Dons, posting a 1-1 record in 4.2 innings pitched. Wittman hails from Seattle Washington, where he played high school ball at Newport High School, ranking as a top 50 prospect in the Evergreen State.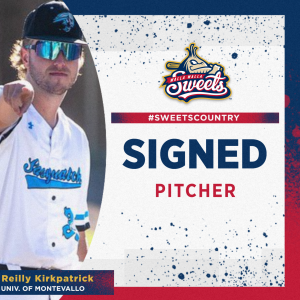 Reilly Kirkpatrick comes to the Sweets from the University of Montevallo where in 2023 he appeared in 19 games, with a 7.15 ERA, and 2 saves in 11.1 innings pitched. Kirkpatrick spent his first collegiate season in the Big South at USC-Upstate. He saw action in two contests vs Georgia and Georgia Tech, striking out four batters in the two matchups. Kirkpatrick resides in Omaha Nebraska where he played high school ball at V.J. and Angela Skutt Catholic, ranking as a top 15 prospect in Nebraska by Perfect Game.
Kennedy Hara heads to the Columbia Basin after spending his freshman season at Colorado Mesa in Grand Junction, CO.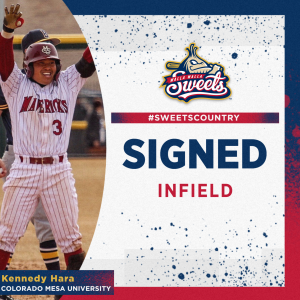 Hara has been solid in his first year at CMU, posting a .333 avg and a .615 slugging percentage with 2 home runs and 11 RBIs in only 16 games played. Hara has seen action across the infield, primarily as a middle infielder at second base with the Mavericks. Hara is another Hawaiian coming to Walla Walla by way of Mid-Pacific Institute in Honolulu. While with the Pueos, Hara was an All-State Honorable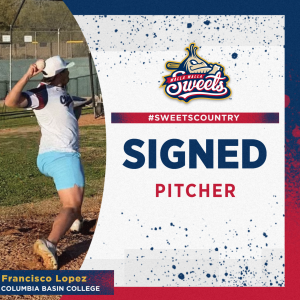 Mention, batting over .400 in his career. Hara comes from a deep baseball family, as his brother Jordan plays baseball at East Texas Baptist after spending his undergraduate seasons at Pacific.
Francisco Lopez rounds out the group of new Sweets as he gets set to join Columbia Basin College in 2024. Lopez comes to the by Tucson, AZ