Three New Faces Join the Sweets For 2023 Season
Cole Miller, Aiden Espinoza, and Vicente Feliciano all get set to join the Sweets for 2023
WALLA WALLA, Wash- Three new faces will be making their way to Eastern Washington as Vicente Feliciano (San Mateo), Cole Miller (UCLA), and Aiden Espinoza (UCLA) will all be joining the Sweets this summer.
Feliciano joins the Sweets by way of the College of San Mateo, where in his freshman season he is putting up impressive numbers, batting .243 with 6 RBIs in 13 games in 2023. Feliciano is a Washington native who returns to the Evergreen State after his collegiate season, to play with the Sweets for the first time in his career. Feliciano is a middle infielder who played high school ball at Auburn Mountain View outside Seattle. 
"It's a great tradition down there and I'm excited to be a part of it," said Feliciano. "It's gonna be awesome to be in front of my family this summer."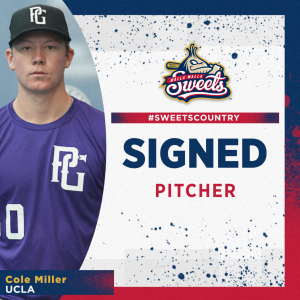 Miller is one of two UCLA incomings set to join the Sweets this summer. Miller hails from Newbury Park, CA and is getting set to join the Sweets for the first time in his career, as well as his first experience in the WCL. Miller is a big intimidating presence on the mound, standing at 6'5 and with a fastball that consistently sits in the mid-to-low 90s. 
"I'm really excited for this summer," said Miller. "I'm excited to see the people who really care about it (the Sweets) and the fans because it's not something I've ever witnessed."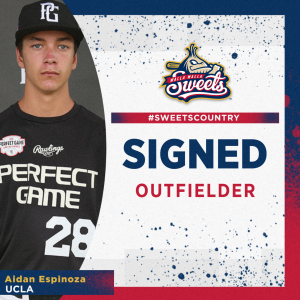 Espinoza rounds out the two incoming Bruins coming from Huntington Beach, CA. Espinoza is a centerfielder at Huntington Beach High School where he was recently named to the Preseason All-State Team after hitting .388 with 10 stolen bases in 2022. Espinoza has grabbed countless awards during his time at Huntington Beach, being a 3x Underclassmen All-American, as well as being named to the All-Tournament Team at the 2022 17U PG World Series.
"It's gonna be awesome, and I'm excited to see a lot of people who are really into baseball, and see some really great players compete against each other, and hope to win a whole lot of games" said Espinoza.