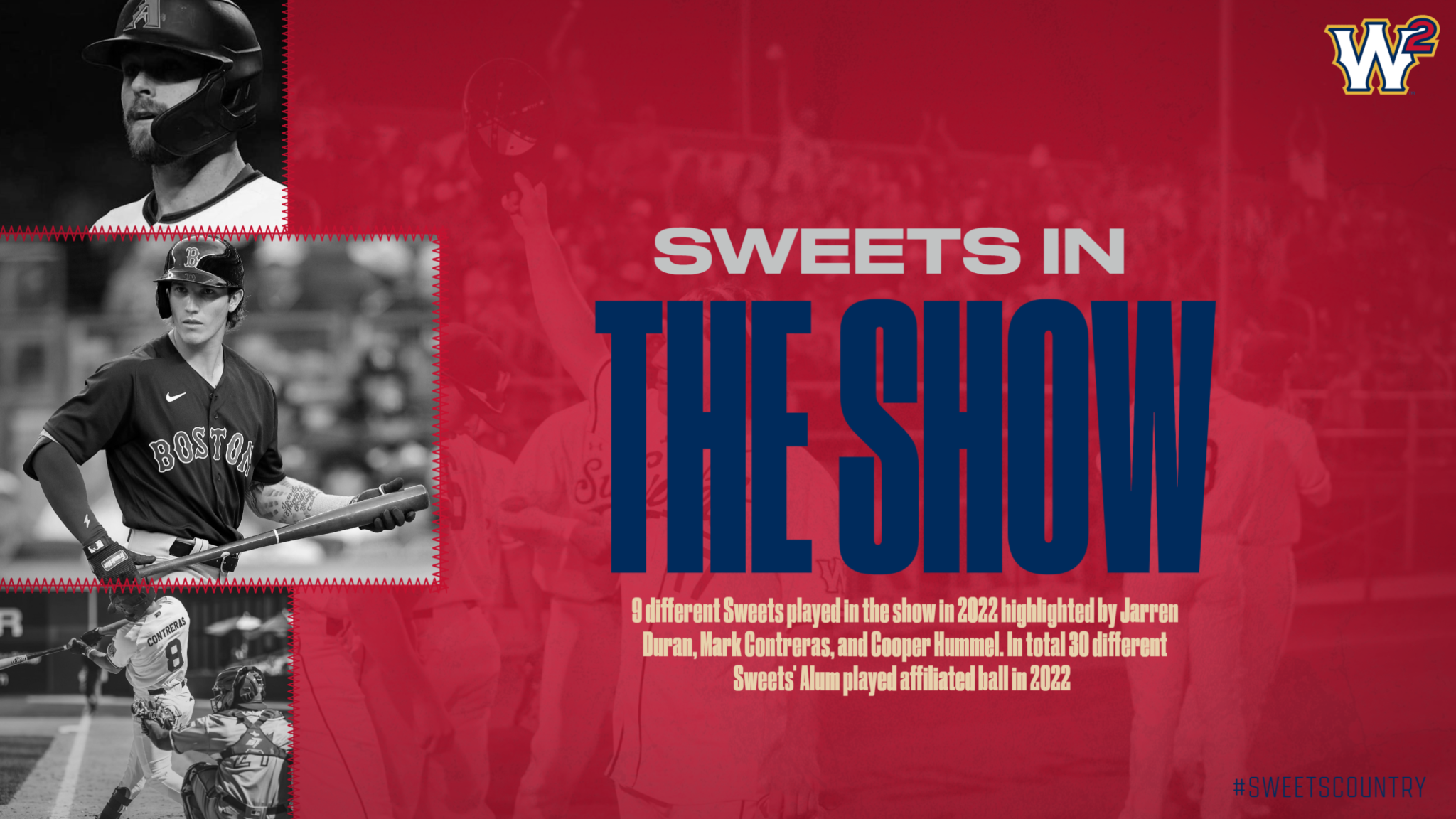 WALLA WALLA, Wash- In 2022, Sweets alumni succeeded at some of the highest levels of baseball with 30 former Sweets playing affiliated ball and 9 of which found themselves playing in The Show. Cooper Hummel, Mark Contreras, Vinny Capra, Sean Bouchard, and Garrett Mitchell made their Major League debut in 2022. 
Four former Sweets returned to The Show in 2022 as Justin Bruihl, Cody Poteet Jarren Duran, and Taylor Jones all continued their major league careers. Bruihl, who played with the Sweets back in 2016 pitched 23.2 innings in his second season with the Dodgers and posted a 3.80 ERA in 2022. Poteet played in 12 games for Miami with two starts posting a 3.86 ERA in 28 innings in his second season with the Marlins. Jones played 35 games in 2021 for the Houston Astros. The 2013 Sweet alum battled injuries that left him off of the major league roster for most of the year however did see action in the Astros series vs the Red Sox in august. Duran, another member of the 2016 Sweets squad, played in almost 60 games with the Red Sox batting .283 with three home runs and 17 RBIs in his second big league season. 
Cooper Hummel had a very interesting 2022 as the 2014 Sweet was called up to the D-Backs in early April. Hummel ended up playing 66 games for Arizona while batting .176 with 3 HRs and 17 RBIs. Hummel's first hit however was possibly the most memorable with the former Portland Pilot going yard to dead center vs the Padres. Hummel's offseason has been even more memorable as the Portland native returning to the Pacific Northwest as he was recently traded to Seattle. 
Mark Contreras, made his major league debut for the Minnesota Twins on May 11th, 2022 against the Houston Astros in Minnesota as a defensive replacement for Twins centerfielder Byron Buxton in the 4th inning of the game. He later collected his first major league RBI on a sacrifice fly in the 5th inning of the same game. Contreras played almost 60 games for Minnesota with 3 HRs and 6 RBIs.
Garret Mitchell made his debut for the Milwaukee Brewers on August 27th verse the Chicago White Sox. Mitchell quickly made an impact for the Brewers as in his first start he would go ¼ with a 2-run base hit. Mitchell followed it up with a pair of RBIs the next day agianst the Pirates. Mitchell played 28 games for the Brewers and hit .312 in that span. 
Sean Bouchard, who was a former WCL All-Star with the Sweets in 2014 made his big league debut Bouchard had a remarkable rookie campaign, debuting on June 19 and hit .297/.454/.500 in 27 games. However, his rookie season was halted due to an injury that saw him spend time on the IL. 
Finally, Vinny Capra played with Walla Walla in 2017 and made his big league debut made his major league debut on May 1st, 2022. Capra played eight games with Toronto with a .429 on-base percentage. 
In 2022, 298 alumni of West Coast League teams were active in affiliated professional baseball.
The 2022 list of affiliated professionals includes a record 62 former West Coast League players who appeared in the Major Leagues this year
FULL LIST OF WCL ALUMNI- https://westcoastleague.com/298-wcl-alumni-active-in-affiliated-baseball/