Sweets Name Jarrod Molnaa as New Head Coach for 2023 Season
Current WWCC baseball manager to lead Sweets coaching staff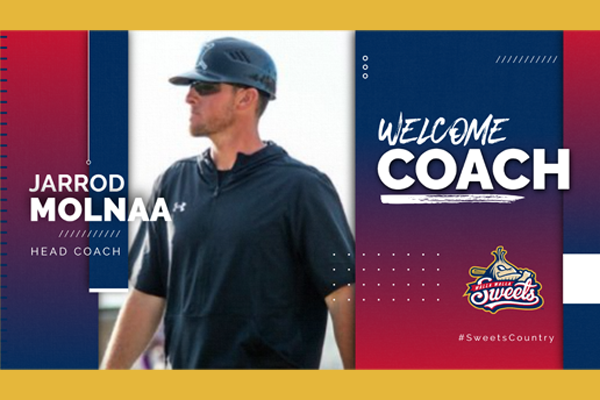 WALLA WALLA, Wash-  A former Walla Walla Sweets pitcher will return to Borleske Stadium next summer as the team's new manager.
Jarrod Molnaa, who pitched for the Sweets in the West Coast League in 2017, is no stranger to the Columbia Valley, after assuming the head coaching duties at Walla Walla Community College just prior to the 2022 season.
"Walla Walla has a phenomenal community that loves its baseball, and the Sweets are a big part of summertime here in town," said Molnaa, who also pitched at WWCC. "Having the opportunity to stay here at home to coach a group of talented young men in one of the premier summer leagues in the country is nothing short of a dream set up for me."
Molnaa is entering his second year rebuilding the WWCC program. This past spring, the Warriors finished 8-34, a two-game improvement over the 2021 season and the college's best finish since 2018. Prior to that, Molnaa spent two seasons as an assistant coach at Montana State University-Billings, where he also pitched.
"I'm thrilled to bring on Jarrod as our head coach," Sweets general manager Cody Miller said. "His experience as both a player and a coach in the West Coast League will be a great asset for our team as we get ready for the 2023 season."
In 2021, Molnaa was head coach of the Spearfish (South Dakota) Sasquatch, a member of the wood-bat Independence Baseball League. That summer, the club won 46 games — more than doubling the highest win total in the organization's history — and captured the club's first playoff and championship series appearances.
From 2013-2017, Molnaa gained two All-Region selections at WWCC. Molnaa continued his career at Bellevue University, where he gained an All-Conference nod before finishing his collegiate career at the NCAA D2 ranks with MSUB, where he helped lead the Yellowjackets to their first-ever GNAC championship.
Season tickets are now on sale for the Sweets 2023 summer season.  A schedule is expected to be announced by the West Coast League later this fall.