Sweets Announce Two Young Assistants to Coaching Staff
Sweets announce Peter Abinanti and Brandon Vial to join Brandon Van Horn's staff this summer.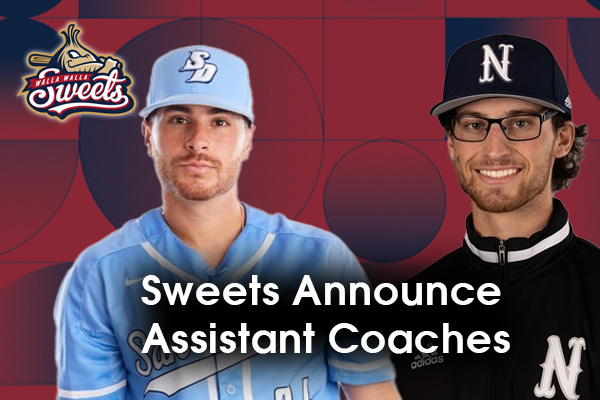 WALLA WALLA, Wash- Peter Abinanti and Brandon Vial are joining Brandon Van Horn's coaching staff this Summer in Walla Walla. Both Abinanti and Vial are bringing a youthful energy to an already young staff with manager Van Horn. 
Abinanti joins the staff as the Sweets hitting and first base coach. Abinanti hails from West Hills, CA, and played collegiately at San Diego in his grad year and spent two seasons at St John's University in New York. Abinanti received his bachelor's in sports management from St. John's. During his playing career with the Red Storm, he hit .252 with a slugging percentage of .277 and a .412 OB%. 
"I'm looking forward to having a great impactful summer with the team and organization." said Abinanti "I'm very excited to be in Walla Walla this summer, and it'll be very exciting to watch our guys compete every pitch."
Brandon Vial is the Sweets pitching coach for the 2022 season. While Vial is young, he does have a lot of experience. Vial is currently an assistant coach at Lewis and Clark State College and previously was the Director of Player Development Initiatives at Georgia Gwinnett College, where he won the 2021 Avista NAIA World Series. 
"Vial is a tireless worker and has been grinding away to put the roster together. He also brings experience when it comes to handling a pitching staff for a whole summer and doing it at a high level" said Sweets Manager Brandon Van Horn. 
Vial played collegiately at Austin Peay State, where he had a career 5.09 ERA with 73 career strikeouts and a 5-7 record.
Manager Van Horn says the biggest advantage for the staff is their youth.
"I couldn't be more pumped for the two guys joining the staff this summer. Our youth as a staff is a huge advantage over other clubs when it comes to building relationships with players" said Van Horn. "My biggest priority is developing the boys mentally, physically, emotionally, and I have complete confidence our staff will be able to do that at a high level."
The Sweets begin the 2022 season on the road against the Ridgefield Raptors on Friday, June 3.  The Sweets home opener is scheduled for Friday, June 10, with a 7:05 scheduled first pitch.  Tickets are on sale now at Sweetstickets.com