Sweets Alumnus Cooper Hummel Makes Arizona Diamondbacks Opening Day Roster
Hummel becomes the seventh former Sweet to make a MLB roster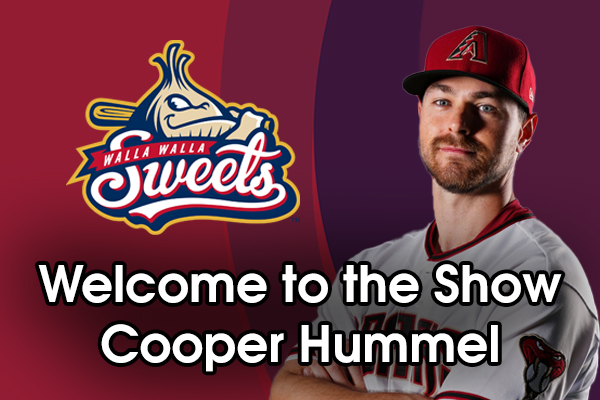 WALLA WALLA, WA – Cooper Hummel has made The Show.
The 2014 Sweet alum learned Wednesday that he will be making the opening day roster for the Arizona Diamondbacks.  Hummel becomes the seventh Sweet to make it to the major leagues, joining former alumni Matt Hall, Taylor Jones, Cody Poteet, Jay Flaa, Jarren Duran, and Justin Bruihl.
Hummel, who attended the University of Portland, was selected in the 18th round (531 overall) by the Milwaukee Brewers in the 2016 MLB Draft.  He spent five seasons in the Brewers minor league system before being traded to the Diamondbacks during the 2021 season.
Hummel, who plays outfield and catcher, hit .284 for the Sweets in 2014, with seven doubles, one home run, 12 RBI, and 14 walks.
This past season in the minors, he posted a .311 batting average, while hitting 12 homers and 52 RBI.
The Diamondbacks open at home against the San Diego Padres today, April 7.