Big Texan Pitcher and Golden Coast Catcher Join Sweets Country for 2022
Sweets add a Pitcher-Catcher duo from outside of Washington for the upcoming season.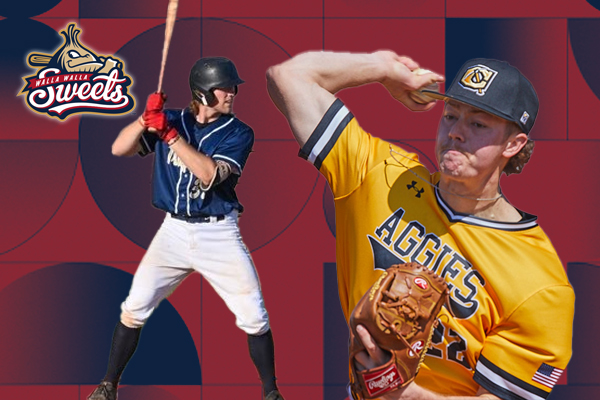 WALLA WALLA, Wash- Tyler Cornett and Nick Strong get set to spend their summer in the Pacific Northwest. Both Cornett and Strong come from outside of the Pacific Northwest. They also will be spending their first seasons in Walla Walla and the West Coast League.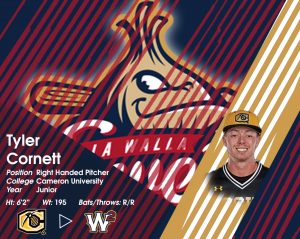 Cornett is a big 6'2, right-handed pitcher from Cameron University in Oklahoma. However, he is initially from near the Burlington Northern Santa Fe line, from Shallowater, Texas. Cornett has a few hobbies such as fishing, hunting, bowling, and roping. 
The Texan is ready to bring his southern swag to the Sweets.
"I definitely bring the accent, that's for sure" said Cornett. "I do have a little swag to myself: I do wear boots, I got plenty of belt buckles, plenty of hats." 
 Cornett says the most important thing about him is his competitiveness. 
"I love to win; I play the game hard." said Cornett "I bring my own energy to the field and I think people could tell. Especially this year, guys are chirping me from the other dugout and I love that stuff, it gets me going. But honestly, I'm just a big go-getter."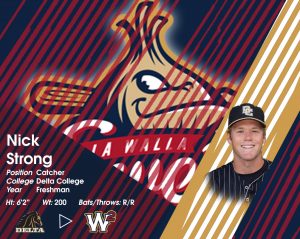 Nick Strong is a catcher from Vacaville, California, just outside the Bay Area. Strong attends San Joaquin Delta College and this year is putting up impressive numbers at the NJCAA level. In 2022, Strong is batting .258 with a .597 slugging percentage, as he has five home runs and 20 RBIs. In 62 at-bats, he has 16 hits and 11 of them going for extra bases. 
"I'm looking forward most to the competition, being around several Division I guys and competing with some of the best guys around from different colleges and meeting new people; that's what it's all about," said Strong.
Strong now joins a strong group behind the plate, as he is now the third catcher announced on the roster, joining Shane Gipson from Richmond and Kevin Spear who will be attending Gonzaga. 
"I think it could be good I'm kind of in between the both of them," said Strong "I can learn from the older catcher Gipson a bit and with the kid coming in, both of us can help him and mentor him in a way," said Strong.