Nevada Wolfpack Teammates Join the Sweets for the 2022 Campaign           
Sweets announce additions of a pitcher and first baseman from Nevada to the roster this summer.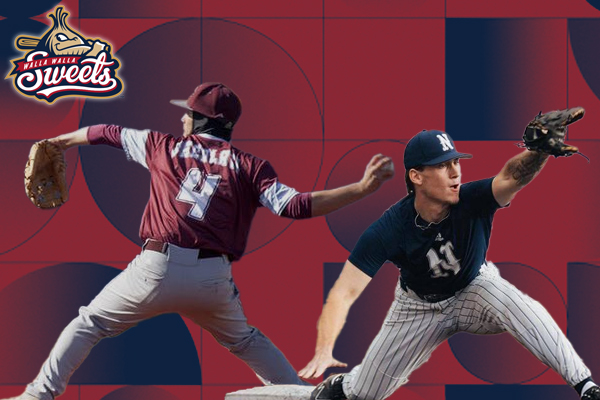 WALLA WALLA, Wash-  Derek Decolati and Jaxon Woodhouse will be joining the Walla Walla Sweets this summer. Decolati and Woodhouse both play collegiately at Nevada and will bring their strong college chemistry to the Sweets this June.
Decolati is a right-handed pitcher from Las Vegas, Nevada, playing his high school ball at Cimmaron Memorial High School. Decolati is currently in his junior year at Nevada after previously attending South Mountain College in Pheonix, Arizona. During his time with the Cougars, he amassed a 4.30 ERA in 46 innings pitched and 33 strikeouts. Decolati also worked at the plate a bit his freshman season at SMCC, batting .276 with 10 runs, a double, two home runs, and four RBIs on the year.
http://https://youtu.be/t3ok2Tq6AbI
Something Decolati is looking forward to is bringing his big personality to Sweets Country this June.
"Definitely going to be fun. I love the fans and I love summer ball because of how you can interact with the fans," said Decolati. "Tons of kids, they all love it and look up to you so it's nice to be able to be a role model."
Decolati is joined by friend and teammate Jaxon Woodhouse. Woodhouse is a first baseman from Vancouver, Washington who played high school ball at Union High School.
Woodhouse is very familiar with the West Coast League previously playing for the Portland Pickles last season. The Vancouver, Washington native grew up less than 45 minutes from Portland and is excited to have the chance to play in front of friends and family once again this summer.
"I'm excited to meet some new guys and go home when I can and vice versa they'll come to me so I'm stoked,"  said Woodhouse. 
Woodhouse appeared in 4 games during the Pickles series' with Bend and Bellingham in early August. 
"When it comes to summer ball, I love it.  I feel there's a lot less pressure," said Woodhouse. "The energy is light, people are playing loose, the fans are in there, and it makes a huge difference." 
The Wolfpack start their season this Friday, February 18 vs Grand Canyon University in Phoenix, Arizona.