College Teammates Will Bring South Florida Swag to Walla Walla
Sweets add two Bethune-Cookman pitchers for 2022 campaign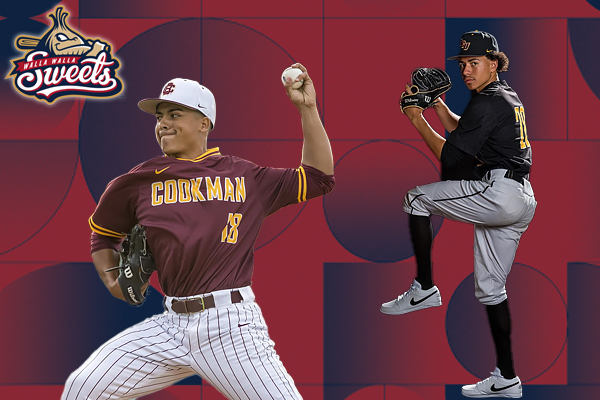 WALLA WALLA, Wash- Bethune-Cookman teammates Knickolas Billings and Alec Mendez will be sporting red and blue this summer as members of the Walla Walla Sweets. Both Billings and Mendez join the Sweets from south Florida and will be playing in Walla Walla for the first time this summer.
Billings resides in Miramar, Florida, just north of Miami. The south Florida native was a standout at Somerset Academy Charter high school in Pembroke Pines. Billings was named to the 2019 5A District 14 team and 2019 All Broward County second team his senior year at Somerset, where he posted a 4-0 record and a 1.21 ERA, with 59 strikeouts in 40.1 innings pitched.
Billings briefly played with the Savannah Bananas of the Coastal Plains League. Savannah is one of the most famous summer ball teams, with a unique twist on entertainment and fan experience. The Bananas are known as the first-ever and world famous Baseball Circus. Billings said he had to learn dances in the locker room and perform shirtless during his time with the Bananas, but claimed it made him a better player. 
"If there was one way to describe that program, it would be different but in a good way. You'll never see any type of baseball like that. Savannah does it completely different than anything I've ever seen before," said Billings. "Overall it does make you play better baseball and have more fun because you are not so focused and not so tense."
Billings is joined by fellow Wildcat Alec Mendez, which he says is a great opportunity.
"It's going to be exciting. I've been with Alec since my freshman year so it's been about three years I've got to be around him," said Billings. "He knows what I can do and I know what he can do so I mean we have a common goal of showing what we do down here up there."
During his time at BCU, Mendez turned into a reliable southpaw starter.  He posted the team's second-highest innings pitched total, going 59.2 innings in his freshman year when he transitioned from reliever to starter. In his senior year of high school, he went 5-1  with a 2.31 ERA over 30.1 innings, and also earned a save. He posted a .449 batting average for the Wolverines.
Mendez is coming off Tommy John surgery and did not play baseball in 2021.
Both pitchers are south Florida through and through and will look to bring that energy to Walla Walla on and off the field. 
"We are gonna bring energy. I got the same thing as Knicko (Knickolas). We have unlimited energy, we have swag, we bring a different game out there, we make people want to come out to the game," said Mendez. "We show people why we are the best in the country."