Gipson and Spear Will Work Behind the Dish For The Sweets This Summer
Two Division I catchers will be joining the Sweets this summer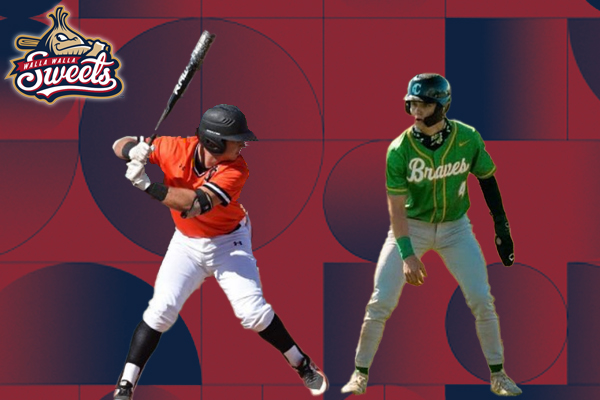 WALLA WALLA, Wash- Kevin Spear and Shane Gipson will be spending their summer in the Pacific Northwest as members of the Walla Walla Sweets. The two catchers are very different, especially in age: Spear will be entering his freshman year at Gonzaga next fall, and Gipson will be entering his junior season at Richmond this spring as a graduate transfer. Both will join the Sweets for the first time.
The 6-foot-tall Spear will be one of the youngest Sweets come this summer,  joining by way of Bishop Blanchet High School in Seattle. Spear started and lettered for Blanchet all four years, serving as captain over the past two seasons. Spear also earned First Team All-League honors and a selection to the 2021 Area Code Games over the spring. Spear is a great athlete who can play multiple positions as he also appeared at shortstop for the Braves. Spear was ranked No. 23 in the state among 2022 prospects by Baseball Northwest.
"My pitching coach at Gonzaga gave me a call and told me I would be heading to the WCL and playing for the Sweets and I was stoked," Spear said. "It's something I've been looking forward to since I was a little kid and I'm gonna use this offseason to really get prepared and see some great competition this summer."
Spear isn't the only Bulldog joining the Sweets this summer, as he will be joined alongside pitcher Kolby Soloman. The two met during Spear's official visit to Gonzaga and together will look to be a big part of the Zags program in the coming years. 
"He's a great guy (Soloman). He accepted me with open arms, and I'm excited to build some chemistry going into my freshman year at Gonzaga," said Spear. "That pitcher-catcher chemistry is a huge thing in baseball. It's one pitch that can turn a game around, and once he told me he was going out to Walla Walla, I was super excited and I was pumped to just get to know him better and I think it's going to be a great summer."
Gipson joins the Sweets from the University of Richmond. While Spear is looking to be the youngest Sweet this summer, Gipson will be the oldest member of the roster. Gipson brings a ton of experience behind the plate, as he's currently at his fourth school as a member of the Spiders. Prior to Richmond, Gipson spent time at Cal Poly Pomona and Ventura College in southern California. He also briefly attended the University of New Mexico in Albuquerque. In 2020, Gipson started and played in nine contests for Pomona. Gipson has battled through medical redshirts as well as COVID cancellations to eventually land at Richmond and this summer with the Sweets.
"I'm really excited to get out there," said Gipson. "I've had the last three years of college baseball get cancelled because of COVID cancellations or medical redshirts, and I'm excited for the year at Richmond and this summer with the Sweets."
The Chicago native played with a former Sweet and WCL All-Star Cesar Lopez during his stint at Cal Poly Pomona. 
"I know Cesar really well and he's said nothing but good things about Walla Walla, and when I was talking with my coach I knew I wanted to go out to Walla Walla," Gipson said. "(It) maybe a little bit of pressure and a bit of pride, but I know they send a lot of really good baseball players out there and I want to keep that track going."