Sweets Add Four Infielders for the 2022 Campaign
Four infielders will be staying in the Evergreen State to sport the blue and red with the Sweets.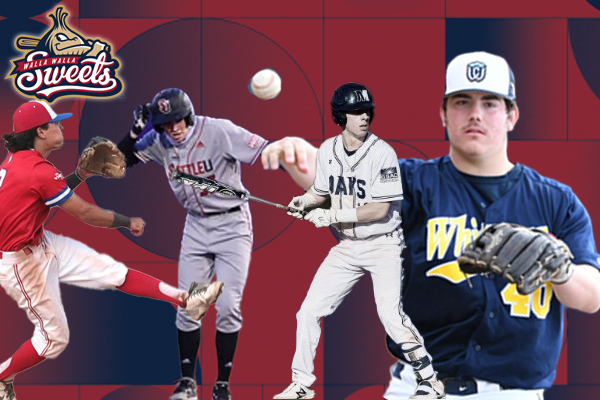 WALLA WALLA, Wash-Leo Rivera, Derek Gellos, Rowan Ramsay, and Jarred Mazzaferro all will be spending their summer in Walla Walla. This will be the first year with the Sweets for all four players.
Rivera will be continuing to play at Borleske Stadium as he comes from nearby Whitman College. Rivera is a true utility player who can play anywhere on the field getting starts at first, second, and third base for the Blues in their 2021 season. In the 2021 season, Rivera played and started in 38 games, batting .294 with three doubles and a home run for the Blues. Rivera is a 2018 graduate of O'Dea High School in Seattle, Washington, where he was a multi-sport athlete lettering in baseball, basketball, and wrestling.
"I'm definitely excited," said Rivera "Getting to stay here is something I've always wanted to do".
Gellos joins the Sweets by way of Seattle U of the Western Athletic Conference. Gellos was a three-year varsity letter winner at Issaquah HS, where he helped the Eagles reach back-to-back playoff appearances in 2018 and 2019. In his freshman year at Seattle U, Gellos saw action in 37 games and started 19 contests. He hit .263 with two doubles, six RBI's, and eight runs scored. Gellos is another do it all guy who can play anywhere on the field for the Sweets.
"The Sweets are a program I've always heard about growing up in western Washington and I'm super excited," said Gellos "every day I want to go out and prove myself as one of the best players in the country, and I think this will be a perfect opportunity to go do that".
Mazzaferro comes from the Golden State however, the 5'7 middle infielder from San Jose will stay in Washington this summer, as he plays collegiately at The University of Washington. The Sophomore for the Huskies previously played at Ohlone College, where he batted .276 with 16 RBI's in his freshman year with the Renegades. He primarily played shortstop for the Renegades and will look to bring his strong athleticism to the Sweets.
"It feels great, the PAC 12 is one of the top Conferences and I feel when I go to Walla Walla, the other teams in the West Coast League are just as competitive as it is now, " said Mazzaferro. "In the Summer every guy you face, every guy who steps up to the plate deserves to be here and it's always fun to play high-level competition."
Lastly, Rowan Ramsey comes to the Sweets by way of Yakima Valley College. The 5'10 sophomore middle infielder from Portland Oregon plays collegiately at YVC and formerly at Menlo College. Ramsey hit .302 across 36 games and 27 starts, recorded seven extra-base hits, scored 15 times, drove in 14 runs, and led the team in triples during his freshman season at Menlo . Ramsey played high school ball at Portland Central Catholic High School and helped lead the Rams to an Oregon State championship quarterfinal birth.