Sweets Drop 10th Game in a Row in Loss to Bend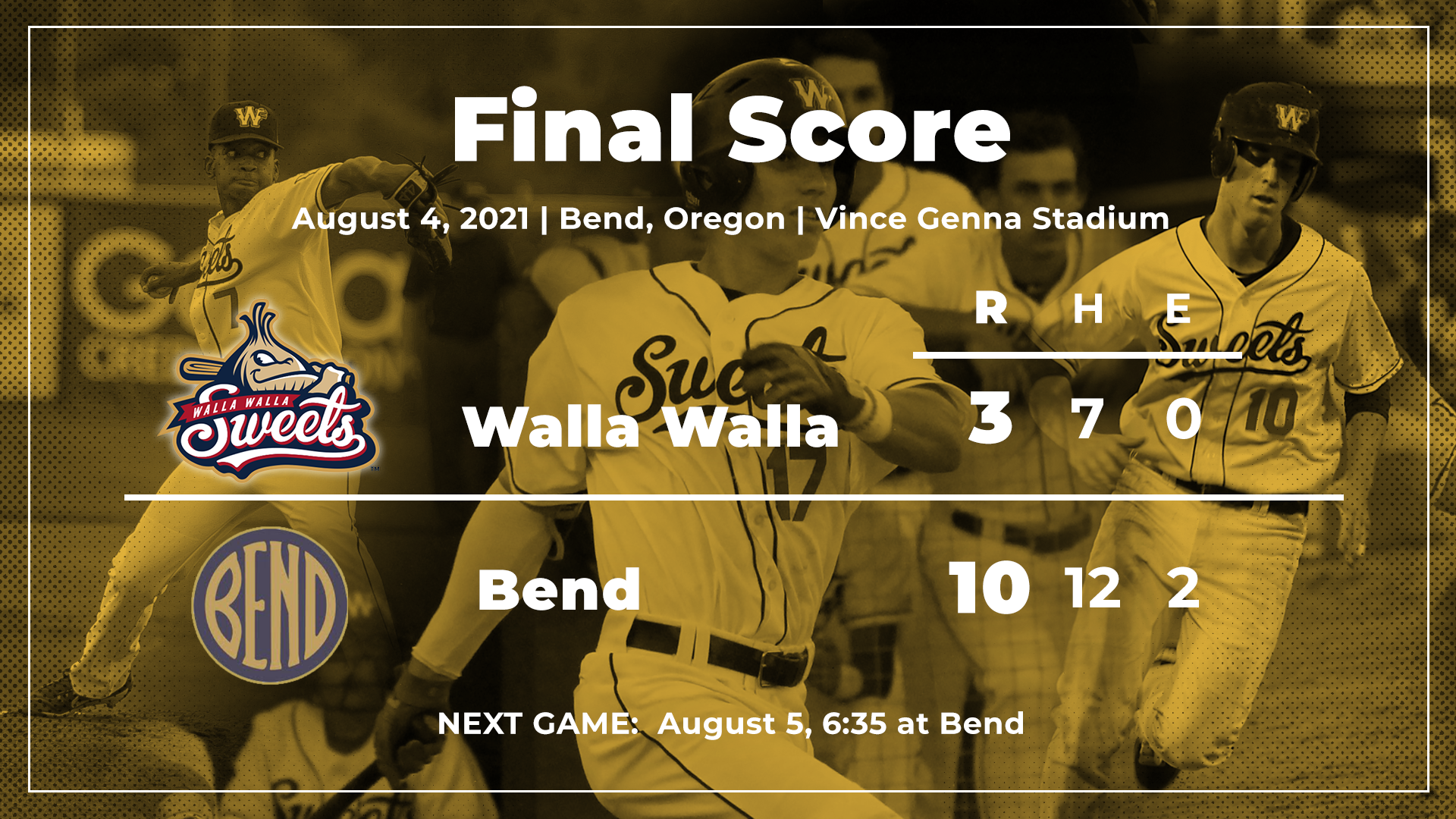 The Walla Walla Sweets fell to the Bend Elks Wednesday by a final score of 10-3.
With the defeat, the Sweets have now lost 10 consecutive games and are 14-30 overall. The Elks move to 20-21 and 10-7 in the second half.
With the win, the Elks take the first two games of the series. The first game from Tuesday was originally suspended until today, but then ruled final earlier this afternoon.
The Sweets took the early lead two batters in. Paul Myro IV doubled off the left center field wall and was brought home on a throwing error off a bunt by Seth Ryberg.
From there, the Elks took over. After scoring four runs in the bottom of the first inning of the first game, the Elks attacked early once again. Bend scored three runs in the bottom of the first on two hits, including an RBI single by Aidan Welch.
The Elks would plate three more runs in the bottom of the third, highlighted by a two-run home run by Greg Fuchs, his first home run of the season.
The Elks would plate 10 runs on 12 hits. Bend would score two more runs in the fifth and two in the seventh, with the three through seven hitters from the Elks combining for 10 hits and eight runs batted in.
The Sweets would score once in the sixth and once in the seventh. Seth Ryberg drove in Myro IV on a sacrifice fly in the sixth, and Cayden Delozier drove in a run on an RBI single in the seventh.
Jacob Kmatz, the starter for the Elks, pitched six innings and allowed one earned run with eight strikeouts.
The Sweets and Elks meet for the series finale tomorrow at 6:35 PST. The game can be streamed at www.mixlr.com/sweetsbaseball