Knights Walk-off Sweets for Second Night in a Row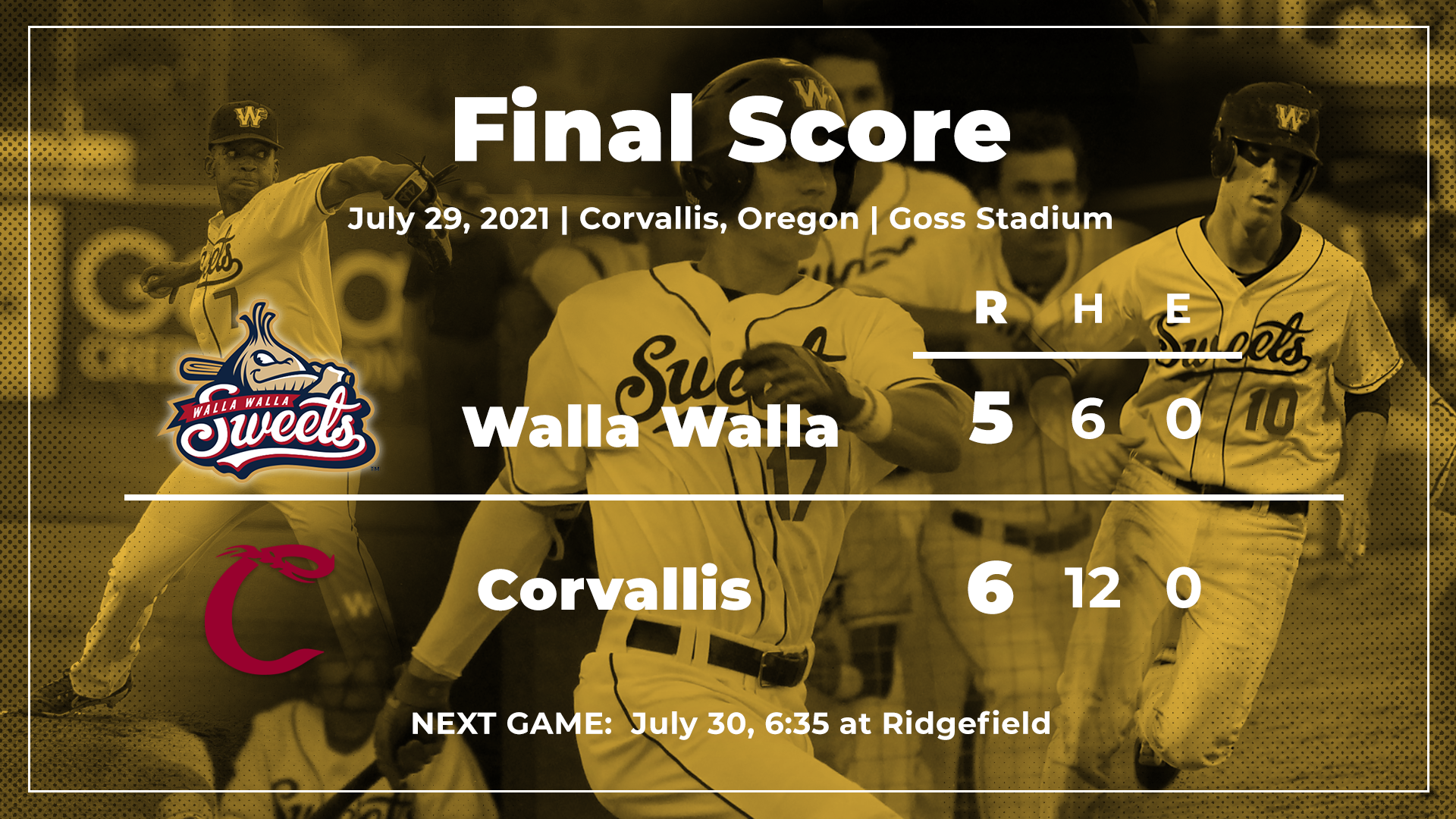 The Corvallis Knights earned their second walk-off win in a row on a wild pitch in the bottom of the ninth Thursday, defeating the Sweets 6-5.
Corvallis was down by one going into the bottom of the ninth, but a Nick Vogt single and a double by Nate Nankil to deep center tied the score at five. Two walks loaded the bases and Nankil was able to make it home with the winner on a wild pitch from Sweets' closer Eric Romo.
The Sweets scored the first foive runs of the game and had their best power-hitting game of the season. The Sweets homered four times in the first five innings of the game to take a 5-0 lead in the fifth.
Walla Walla got back-to-back home runs from Eli Paton and Justin Folz to start the top of the second. Paton would follow that up with another solo shot in the fourth, becoming the first Sweet to homer multiple times in a single game this season.
Nation Wood delivered the Sweets final runs of the game on a two-run home run off the scoreboard in right-center field. The Sweets homered multiple times in a game for the first time this season have now have 20 home runs as a team.
Despite this, Corvallis picked up the three-game sweep of the Sweets and improved to 28-8 overall. After Taison Corio's walk-off yesterday, the Knights followed that up with another victory in the bottom of the ninth.
Ethan Loveless, the ninth hitter for Corvallis, led the way for the home team. He finished with a homer, two singles and two RBIs and reached base in all four at-bats, as he was also hit by a pitch. He was also at the plate when the game-winning run scored.
Eric Romo was unable to close the game, falling to 0-3 on the season. Bradley Mullan, who pitched three scoreless innings in relief, picked up the win for the Knights.
All five of the Sweets runs in the game were the result of the four home runs. Chris Conniff had the other two hits for the Sweets, who fell to 14-25 overall and 5-10 in the second half with the loss.
The Sweets begin a three-game series with the Ridgefield Raptors Friday at 6:35 PST.